For Women's History Month, NASA and the International Space Station celebrate women from all over the world who have conducted science aboard the orbiting lab.
Women were integral in building the space station and have lived and worked aboard the microgravity laboratory since its completion, conducting scientific research for the benefit of humanity.
Here are highlights from some of the scientific investigations conducted by female astronauts on the space station:
Nicole Mann, Expedition 68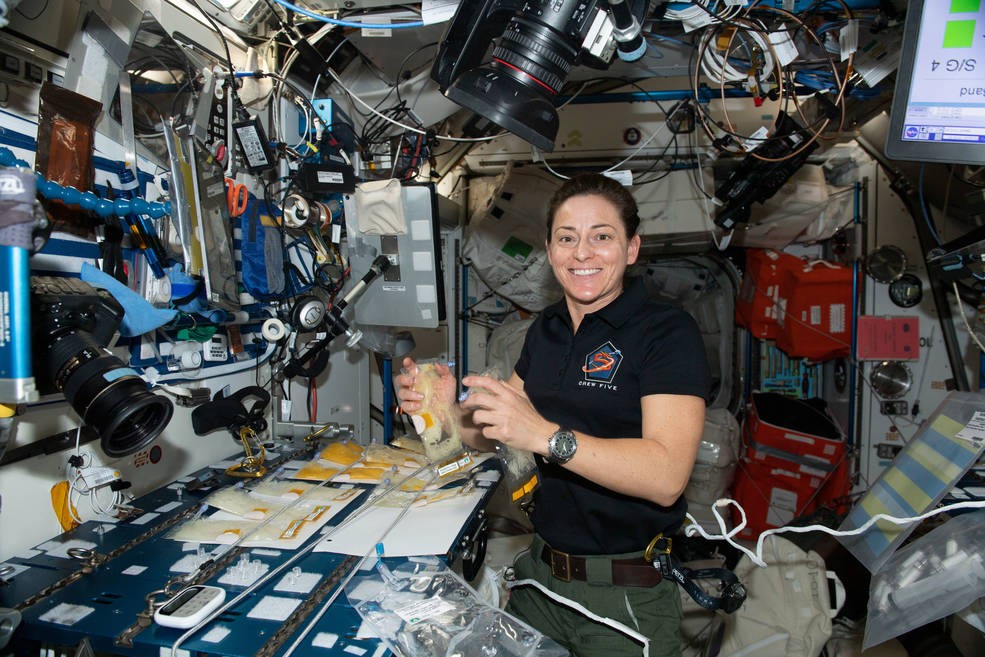 The first indigenous woman from NASA to go to space, launching Oct. 5, 2022, Nicole Aunapu Mann served as commander of NASA's SpaceX Crew-5 mission for the Commercial Crew Program (CCP). Mann is registered with the Wailacki of the Round Valley Indian Tribes. She holds bachelor's and master's degrees in mechanical engineering from the U.S. Naval Academy and Stanford University, respectively. As a Colonel in the U.S. Marine Corps, she deployed twice aboard aircraft carriers in support of combat operations in Iraq and Afghanistan. She works here on BioNutrients-2, an investigation that tests a system to produce key nutrients on demand from yogurt, a fermented milk product known as kefir, and a yeast-based beverage. Supplying adequate nutrition is key to maintaining crew health on future long-duration space missions, such as those to the Moon or Mars.
Anna Kikina, Expedition 68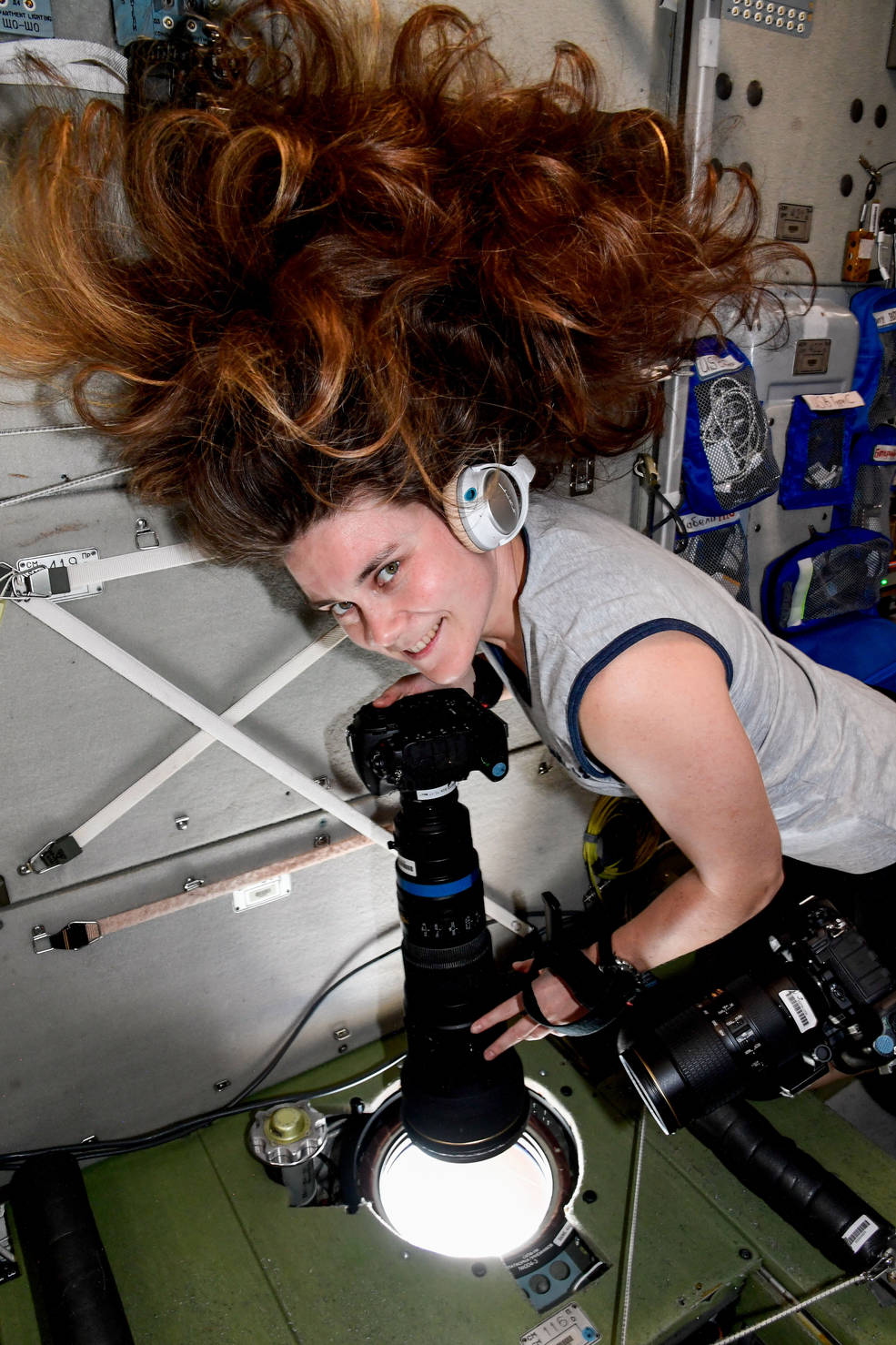 Russian cosmonaut Anna Kikina made her first trip to space in October 2022, launching from NASA's Kennedy Space Center in Florida as part of NASA's Crew-5 CCP mission. Kikina graduated from the Novosibirsk State Academy of Water Transport with a degree in economics and management in 2008 and was appointed as a candidate for the Roscosmos cosmonaut corps in October 2012. Here, she takes photos for Crew Earth Observations (CEO) through a window inside the station's Zvezda service module. Researchers use CEO imagery to record how the planet is changing over time and to monitor events needing immediate disaster-level response in support of the International Disaster Charter.
Jessica Watkins, Expedition 67/68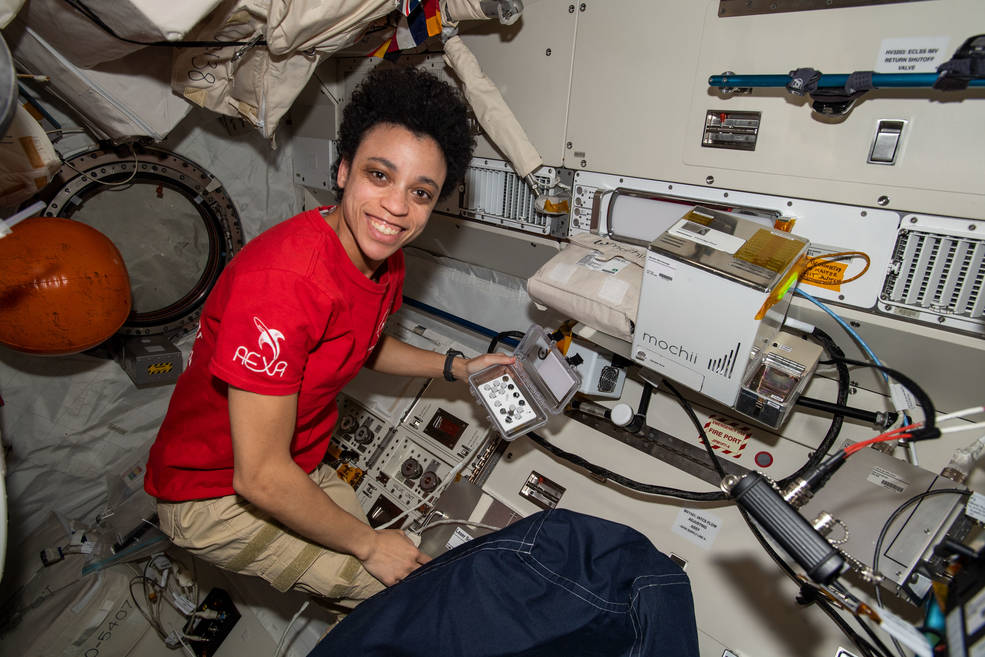 NASA astronaut Jessica Watkins launched to the space station in April 2022 as part of NASA's SpaceX Crew-4 CCP mission. Watkins earned a degree in geological and environmental sciences from Stanford University and a doctorate in geology from the University of California, Los Angeles. She conducted graduate research on the mechanisms of large landslides on Mars and Earth. In this image, she works with Mochii, a miniature scanning electron microscope that conducts real-time imaging and analysis of particles on the space station. Particles can cause vehicle and equipment malfunctions. Prior to installation of Mochii, samples had to be returned to Earth for analysis, creating delays that can put equipment and crew at risk.
Kayla Barron, Expedition 66
NASA astronaut Kayla Barron launched with NASA's SpaceX Crew-3 mission in Nov. 2021. She is shown here harvesting cotton cell samples grown for Plant Habitat-05, which explores the genetics needed to engineer certain characteristics such as drought resistance into cotton plants. The investigation could provide insight into genetic factors that control regenerative capacity, or the ability for a single cell to grow into an entire plant, and support improvements in crop growth on Earth. Barron conducted two spacewalks, one in December 2021, and a second in March 2022. She earned a bachelor's degree in systems engineering from the U.S. Naval Academy and a master's degree in nuclear engineering from the University of Cambridge and was a member of the first class of women commissioned into the submarine community.
Megan McArthur, Expedition 65
NASA's SpaceX Crew-2 mission, which launched on April 21, 2021 and remained on station for six months, included NASA astronaut Megan McArthur. In this image, she works on Cardinal Muscle, an investigation testing whether engineered tissues cultured in space could provide a model for studying muscle loss and assessing possible treatments prior to clinical trials. McArthur holds a bachelor's degree in aerospace engineering from the University of California, Los Angeles, and a doctorate in oceanography from the University of California, San Diego, where she conducted research at the Scripps Institution of Oceanography. She operated the robotic arm during space shuttle mission STS-125, the final servicing mission to improve capabilities of the Hubble Space Telescope, which continues to operate today.
Shannon Walker, Expedition 24/25, 64/65
On Nov. 15, 2020, NASA astronaut Shannon Walker launched to the space station aboard a SpaceX Dragon as part of NASA's SpaceX Crew-1 mission. In this image, she works on Capillary Structures, a study of water recycling and carbon dioxide removal methods that supports design of lightweight, more reliable life support systems for future space missions. Walker also spent 163 days in space as part of Expedition 24/25 in 2010. She has a bachelor's degree in physics and a master's and Ph.D. in space physics from Rice University. She began working in the space station program on robotics integration and later worked on avionics integration and on-orbit integrated problem-solving, then served as deputy then acting manager of the On-Orbit Engineering Office at NASA prior to selection as an astronaut candidate.
Kate Rubins, Expeditions 48/49, 63/64
After spending three months aboard the space station in 2016, NASA astronaut Kate Rubins returned in October 2020. On her first flight, Rubins successfully sequenced DNA in microgravity for the first time as part of the Biomolecule Sequencer experiment. On her second mission, from Oct. 2020 to April 2021, she worked on an experiment that uses sequencing as a tool to diagnose medical conditions and identify microbes, shown here. Rubins received a degree in molecular biology from the University of California, San Diego, and a doctorate in cancer biology from Stanford University Medical School, then headed a research lab studying viral diseases in Africa, traveling there to conduct research and supervise study sites.
Jessica Meir, Expedition 61/62
NASA astronaut Jessica Meir launched to the space station in Sept. 2019, returning to Earth in April 2020. In Oct. 2019, she completed the first all-female spacewalk with fellow NASA astronaut Christina Koch; the duo conducted two more spacewalks together in 2020. Meir holds a bachelor's degree in biology from Brown University, a master's degree in space studies from the International Space University, and a doctorate in marine biology from Scripps Institution of Oceanography at the University of California San Diego. In this photo, Meir waters the plant pillows of Mizuna mustard greens aboard the space station as part of the Veg-04B experiment. This study is part of a phased research project to address the need to produce fresh food in space and focuses on the effects of light quality and fertilizer on a leafy crop.
Christina Koch, Expedition 59/60/61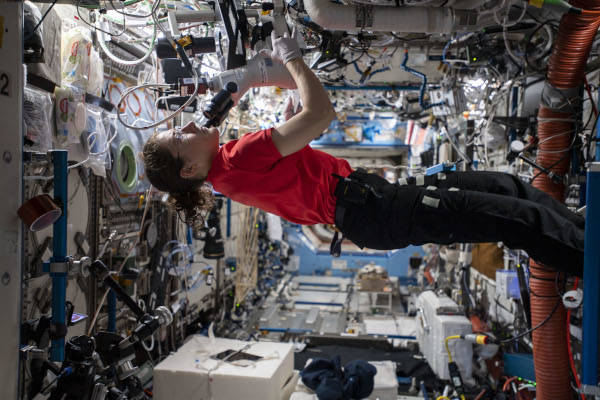 NASA astronaut Christina Koch spent 328 consecutive days in microgravity in 2019 and 2020, setting the record for the longest duration in space for a woman during a single mission. During that time, she worked on hundreds of experiments, including studies of protein crystals and plants in space. She participated in a number of studies to support future exploration missions, including research into how the human body adjusts to weightlessness, isolation, radiation, and the stress of long-duration spaceflight. Koch earned bachelor's degrees in electrical engineering and physics and a master's degree in electrical engineering from North Carolina State University in Raleigh, and worked at NASA's Goddard Space Flight Center's Laboratory for High Energy Astrophysics. There she contributed to scientific instruments on several missions studying cosmology and astrophysics. Koch served as station chief of the American Samoa Observatory and has contributed to the development of instruments used to study radiation particles for the Juno mission and the Van Allen Probe.
Anne McClain, Expeditions 57/58, 59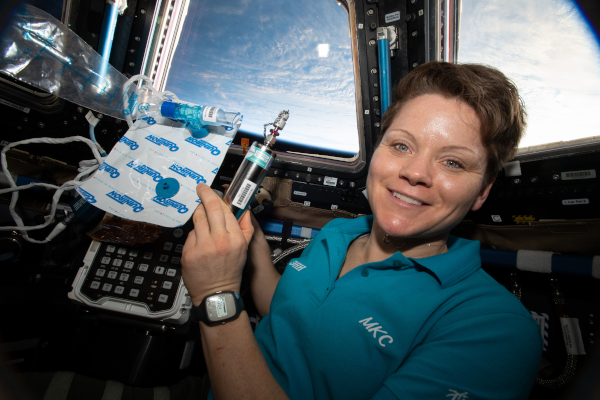 NASA astronaut Anne McClain first launched to the space station in 2018 and has spent a total of 204 days in space. Here she collects samples for Marrow, a long-term Canadian Space Agency (CSA) investigation that examined changes in bone marrow and red and white blood cell functions in space. The research team found that changes in the volume of red blood cells, documented in astronauts since the earliest space missions, is caused by a significantly increased rate of red blood cell destruction. A native of Spokane, Washington, McClain earned master's degrees in aerospace engineering and international relations. She holds the rank of Lieutenant Colonel as an Army Aviator, with more than 2,000 flight hours in 20 different types of aircraft.
Serena M. Auñón-Chancellor, Expedition 56/57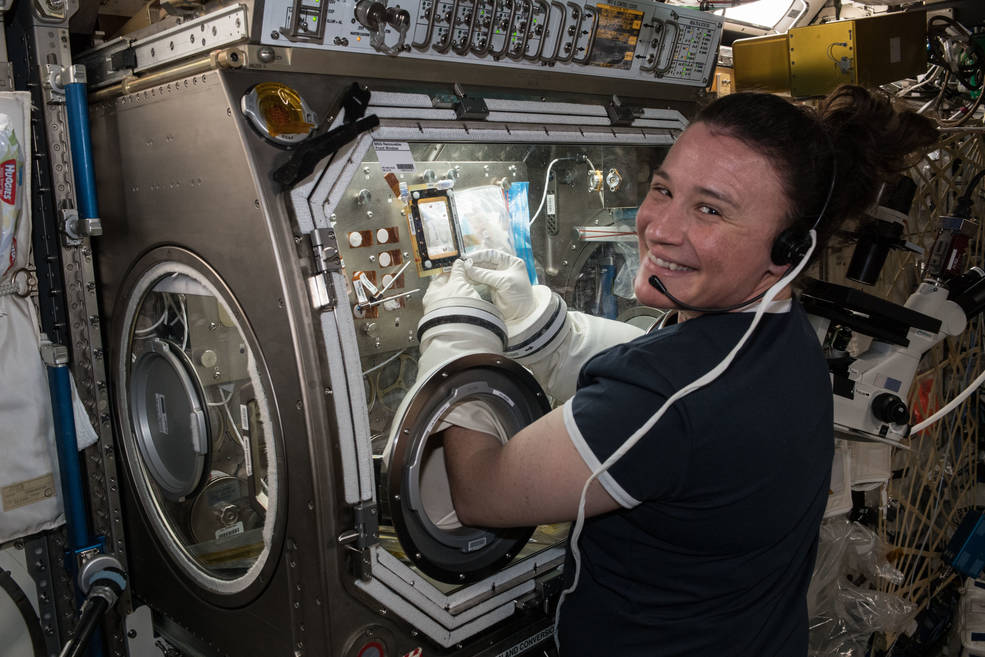 NASA astronaut Serena Auñón-Chancellor conducts research operations for the AngieX Cancer Therapy investigation inside the Microgravity Science Glovebox (MSG). This research may facilitate a cost-effective drug testing method and help develop safer and more effective vascular-targeted treatments. She spent 197 days in space during her first space mission from June to December 2018. As a NASA Flight Surgeon, Auñón-Chancellor also supported medical operations for International Space Station crew members. She has a degree in electrical engineering from The George Washington University, Washington, D.C., and a doctorate in medicine from The University of Texas – Health Science Center at Houston and is board certified in Internal and Aerospace Medicine.
Peggy Whitson, Expeditions 5, 16, 50, 51/52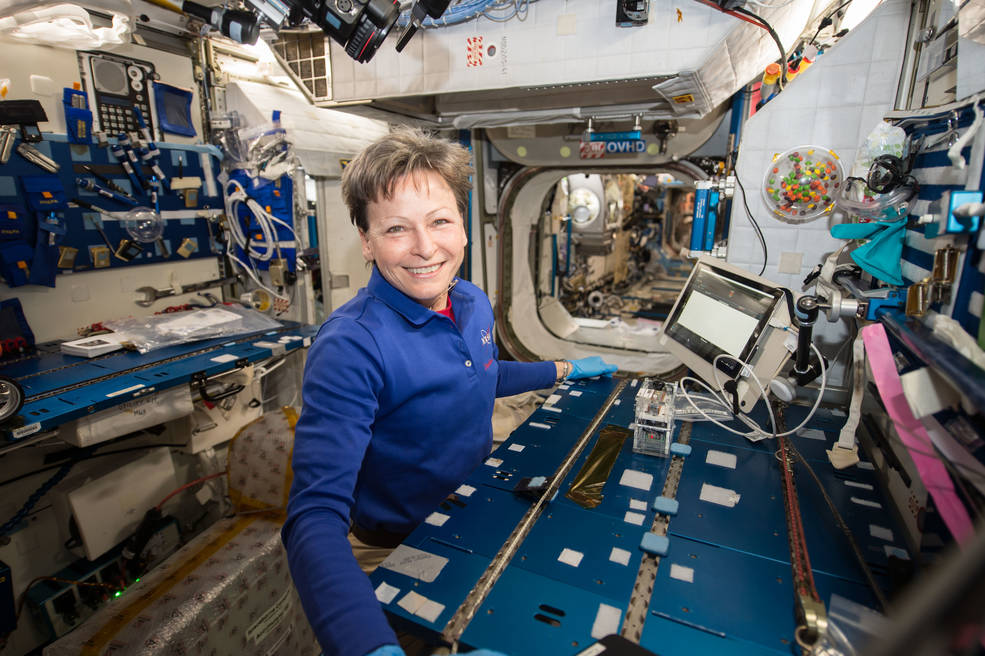 Former NASA astronaut Peggy Whitson holds numerous spaceflight records, including the U.S. record for cumulative time in space – 665 days – as well as a tie for the most spacewalks by any U.S. astronaut, and the record for the most spacewalk time for female space travelers. She has tied the record for the most spacewalks for any U.S. astronaut. She also served as the first science officer aboard the space station, the first female commander of the space station, and the first woman to be station commander on two different missions. She also is the only woman to serve as chief of the Astronaut Office. Whitson earned a degree in biology/chemistry from Iowa Wesleyan College and a doctorate in biochemistry from Rice University. In this photo, she works on the Genes in Space-3 experiment, which completed the first-ever sample-to-sequence process entirely aboard the International Space Station. This innovation makes it possible to identify microbes in real time without having to send samples back to Earth, a revolutionary step for microbiology and space exploration.
Samantha Cristoforetti, Expedition 42/43, 67/68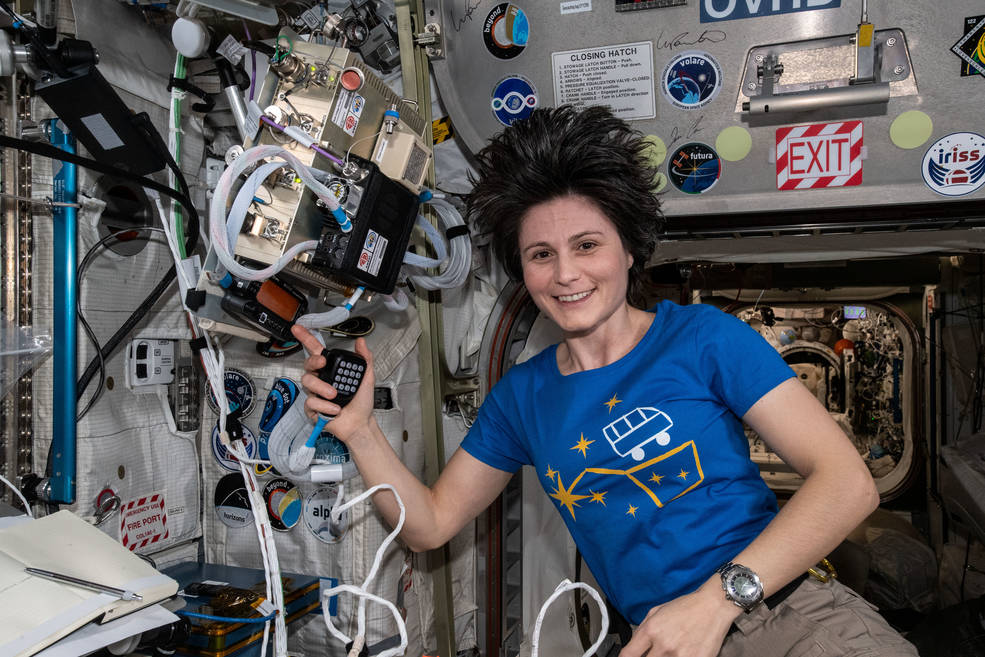 The first Italian woman in space, ESA astronaut Samantha Cristoforetti most recently flew to the space station with the SpaceX Crew-4 CCP mission in April 2022. This image shows her participating in an ISS Ham session, talking via amateur radio to students in Italy from the space station. Before their session, students study the space station, radio waves, ham or amateur radio, and related topics. They prepare a list of questions on the topics they have researched, many of them about career choices and science activities aboard the orbiting lab. Cristoforetti completed a bachelor's degree in aeronautical sciences at the University of Naples Federico II, Italy and holds a master's degree in mechanical engineering from the Technische Universität, Munich, Germany.
Elena Serova, Expedition 41/42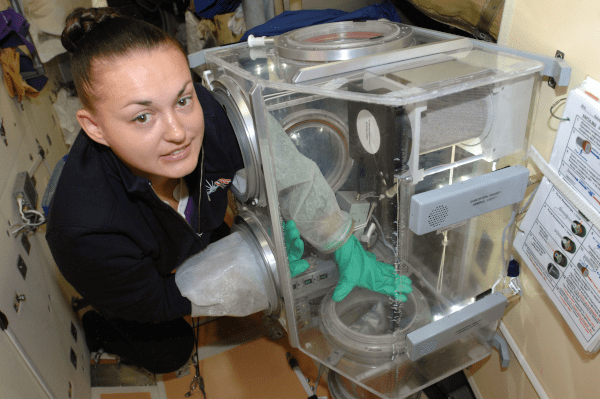 Cosmonaut Elena Serova, the first Russian woman to visit the space station on a flight from September 2014 to March 2015, works with the bioscience experiment Aseptic in the Russian Glavboks (Glovebox). The investigation assessed the reliability and efficiency of methods and equipment for assuring aseptic or sterile conditions for biological investigations performed on the space station. She graduated from the aerospace department of the Moscow Aviation Institute as a test engineer, from Moscow State Academy of Instrument-Making and Informatics as an economist, and completed a postgraduate course at the Energia Rocket Space Corporation
Karen Nyberg, Expedition 36/37
Former NASA astronaut Karen Nyberg sets up the Multi-Purpose Small Payload Rack (MSPR) fluorescence microscope in the space station's Kibo laboratory during her second spaceflight aboard the space station. The MSPR has two workspaces and a table used for a wide variety of microgravity science investigations and educational activities. Her first spaceflight was in 2008 aboard space shuttle Discovery, delivering the Japanese Experiment Module to the station. The Minnesota native earned a bachelor's degree in mechanical engineering from the University of North Dakota and a master's and doctorate in mechanical engineering from the University of Texas at Austin. Her graduate research investigated human thermoregulation and experimental metabolic testing and control, specifically related to thermal control in space suits.
Sunita Williams, Expeditions 14/15, 32/33
NASA astronaut Sunita Williams is the only person ever to have run a marathon while in space, using the Treadmill with Vibration Isolation and Stabilization System (TVIS) exercise system, shown here. She flew on both the space shuttle and Soyuz, participated in seven spacewalks, and was the second woman ever to be commander of the space station. Now she is scheduled to fly the Boeing CST-100 Starliner during its first commercial crew mission for NASA. Williams earned a bachelor's degree in physical science from the U.S. Naval Academy and a master's in engineering management at Florida Institute of Technology. As a naval aviator, she logged more than 3,000 flight hours in more than 30 different aircraft.
Cady Coleman, Expeditions 26/27
Working on the Capillary Flow Experiment (CFE), former NASA astronaut Catherine (Cady) Coleman performs a Corner Flow 2 (ICF-2) test. CFE observes the flow of fluid in microgravity, in particular capillary or wicking behavior. Coleman earned a bachelor's degree in chemistry from Massachusetts Institute of Technology and a doctorate in polymer science and engineering from the University of Massachusetts and received a commission as a second lieutenant in the U.S. Air Force. As a participant in physiological and equipment studies for the Armstrong Aeromedical Laboratory, she set several endurance and tolerance records. Coleman logged more than 4,330 total hours in space aboard the Space Shuttle Columbia and the space station.
Tracy Caldwell Dyson, Expedition 24
A system to purify water for use in intravenous administration of saline would make it possible to better treat ill or injured crew members on future long-duration space missions. The IVGEN investigation demonstrates hardware to provide that capability. NASA astronaut Tracy Caldwell Dyson sets up the experiment hardware in the station's Microgravity Science Glovebox (MSG) during her long-duration 2010 mission. As noted above, she and Shannon Walker were part of the first space station crew with more than one woman. She has a degree in chemistry from California State University Fullerton, where she competed in track and field, and a Ph.D. in chemistry from the University of California at Davis. At UC Davis, she designed and built peripheral components for a variable temperature, ultra-high vacuum scanning tunneling microscopy system.
Here are notable achievements by women in human spaceflight:
As of March 2023, 78 women have flown in space, including astronauts, cosmonauts, payload specialists, and space station participants.
The first woman in space was cosmonaut Valentina Tereshkova, who flew on Vostok 6 on June 16, 1963.
The first American woman in space, Sally Ride, flew aboard the space shuttle on the STS-7 mission in June of 1983.
Cosmonaut Svetlana Savitskaya was the first woman to participate in a spacewalk on July 25, 1984.
Former NASA astronaut Mae Jemison flew on the Space Shuttle Endeavour's STS-47 mission in 1992, becoming the first black woman in space.
Former NASA astronaut Shannon Lucid logged 223 days in space, including four shuttle missions and one on the Russian space station Mir. Until June 2007, she held the record for the most flight hours in orbit by any woman.
NASA astronaut Stephanie Wilson, currently serving as deputy of the assigned crew branch in the Astronaut Office, logged more than 42 days in space on three missions on the space shuttle and was a member of the 2009, 2013, and 2017 Astronaut Selection Boards.
Former NASA astronaut Susan Helms was the first female crew member aboard the space station, a member of Expedition 2 from March to Aug. 2001. Helms shares the record for longest single spacewalk, totaling 8 hours 56 minutes, with fellow NASA astronaut Jim Voss.
Former NASA astronaut Peggy Whitson was the first female space station commander, starting April 2008, during a six-month tour of duty on Expedition 16.
The most women in space at one time (four) happened in 2010, when Space Shuttle Discovery visited the space station for the STS-131 mission. Discovery's crew of seven included Stephanie Wilson and former NASA astronaut Dorothy Metcalf-Lindenburger, as well as JAXA (Japan Aerospace Exploration Agency) astronaut Naoko Yamazaki. The space station crew of six included NASA astronaut Tracy Caldwell Dyson.
Expedition 24 marked a first with two women, NASA astronauts Shannon Walker and Tracy Caldwell Dyson, assigned to a space station mission from April to September 2010.
The 2013 astronaut class was the first with equal numbers of women and men.
NASA astronaut Anne McClain became the first woman to live aboard the space station as part of two different crews with other women: Serena Auñón-Chancellor in 2018 and Christina Koch in 2019.
NASA astronauts Jessica Meir and Christina Koch completed the first all-female spacewalk in October 2019.
Learn more about the station's history of crew members.
Melissa Gaskill
International Space Station Program Science Office
Johnson Space Center