Shuttle-Mir
From early 1994 into 1998, seven American astronauts spent nearly 1,000 days living in orbit with Russian cosmonauts on board the space station Mir. American space shuttles rendezvoused ten times with Russia's space station Mir. Called "Phase 1," the Shuttle-Mir Program prepared the way for the International Space Station and began an era of cooperation and exploration, rarely seen in human history.
Quick Facts
During its 13 years of human occupancy, Mir hosted 125 cosmonauts and astronauts from 12 countries, including the longest single spaceflight to date.
The collaboration provided a much needed opportunity for both sides to work together, particularly important once the international partnership brought Russia into the ISS Program in 1993.
With all its modules installed, the Mir complex weighed 285,900 pounds and contained 12,400 cubic feet of habitable volume, at the time the largest spacecraft ever assembled.
35 Years Ago: Launch of Mir Space Station's First Module
On Feb. 19, 1986, the Soviet Union launched the first module of the Mir space station. Called the Mir base…
Read the Story
NASA technical publication
Mir Mission Chronicle:
Written by NASA's Scientific and Technical Information Program Office, this report chronicles dockings, module additions, configuration changes, and major events of Mir Principal Expeditions 17 through 21, November 1994 through August 1996.
Learn More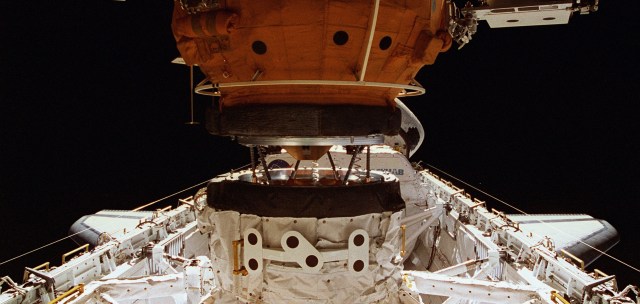 NASA