At A Glance
The Robotic Systems Technology Branch is responsible for the research, engineering, development, integration, and application of robotic hardware and software technologies for specific flight and ground robotic system applications in support of human spaceflight. The vision is to have humans and robots working side-by-side in the pursuit of exploration. Advanced robotic systems technology efforts include both remotely controlled and autonomous robots for space and terrestrial application, as well as intelligent robotics for high value functionality. Technology focal areas within the Branch include:
• Autonomy
• Human-Robot Interaction
• Simulation
• Power Dense Actuation
• Dexterous Manipulation
• Embedded Control Systems
• Tele-presence
• Sensing
Our Expertise
The Robotic Systems Technology Branch Robotic engineers focus on advanced development of sensing, perception, planning, dexterity, mobility, controls, telepresence, fault tolerance, and intelligent robotics.
Our Role in Flight Projects
Our goal is to design and build capabilities that enhance performance and productivity in pursuit of exploration both for manned and unmanned missions. Projects include: Autonomous EVA Robotic camera (AERcam), Robonaut2, Miniaturized Exercise Device 2 (MED2).
What We Need
Level 1 & 2 requirements and a customer eager to achieve success.
Challenges We Face
The Robotic Systems Technology Branch is adaptable and creative in its pursuit of technology development. What may surface as a perceived roadblock is embraced as a challenge and met with enthusiasm.
When We Engage
The Robotic Systems Technology Branch can be engaged at any point in the design, development and operation of robotic mechanisms and intelligent robotic systems; whether developing a new flight product from requirements based concept, or problem solving a solution on an existing system.
The Robotic Systems Technology Branch has expertise in design and manufacturing as well as operation and maintenance of complex robotic assets.
Points of Contact
• Jonathan Rogers, Deputy Branch Chief: jonathan.m.rogers@nasa.gov
Highlights
Humanoid Robots
Advanced dexterous robotic technology efforts focus on sensing, perception, planning, dexterity, mobility, control, telepresence, fault tolerance, and intelligent robotics. Included in these efforts is the design and development of Robonaut, an internationally recognized anthropomorphic, highly dexterous robot designed to help humans work and explore in space. A recent development effort has resulted in a highly dexterous walking robot named Valkyrie. Valkyrie development is the result of a DARPA Robotics Challenge to create a next generation bipedal robot designed to operate in a gravity environment.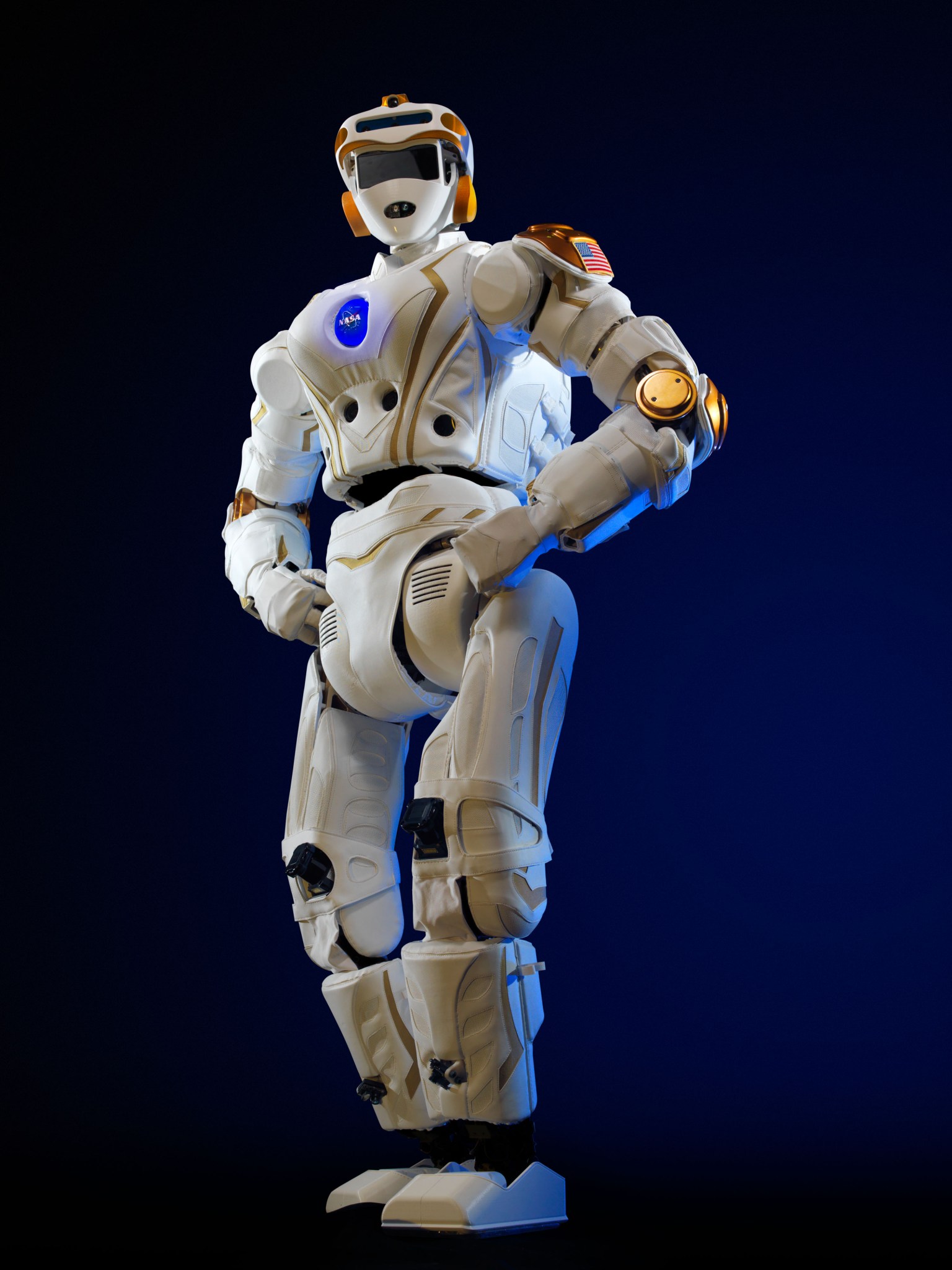 Robotic Rovers
The Branch also develops mobility systems for planetary surface exploration. Chariot was the first in a series of planetary rover prototypes, followed by Centaur-2, an unmanned autonomous rover. The Chariot series has evolved into the Multi-mission Space Exploration Vehicle (MMSEV) with the addition of a pressurized cabin for up to four astronauts. Additionally, a common robotic control standard is being developed for the control of multiple, divers robotic agents over time delay. The Branch maintains extensive relationships with other NASA centers, academia, and private sector robotics research efforts. In support of these functions, the Branch manages and operates multiple engineering development and evaluation laboratories consisting of: Dexterous Robotics Laboratory, Rover Development Laboratory, and Wearable Robotics Laboratory.
The Modular Robotic Vehicle incorporates technology first developed for use on the MMSEV. MRV is a fully drive-by-wire vehicle where throttle, steering and brake linkages between driver and vehicle are replaced with digital signals commanding electric motors. The MRV platform is a safe drive-by-wire, fail operational vehicle containing technologies crucial to future crewed space rovers and future automotive applications. The drive-by-wire nature of the vehicle allows engineers to add more sensing and additional safety features for use by drivers and driverless cars. NASA's Space technology for safety in the skies has been brought down to Earth.
The Resource Prospector (RP) Rover is a rugged terrain mobility base intended to transport a chemistry plant about the Moon's south pole in search of oxygen, water, silicon, and light metals possibly contained in the lunar regolith. RP would characterize the constituents and distribution of water and other volatiles at the poles of the moon. RP15 is a terrestrial prototype intended to help guide and inform the design of the final flight unit.

Space Exploration Vehicle
The NASA Space Exploration Vehicle (SEV) is a Moon & Mars pressurized rover prototype. The SEV was commissioned, in 2004, in response to President Bush's Vision for the United States Space Exploration, A Renewed Spirit of Discovery. In 2008, the SEV participated in SEV's first field test at Moses Lake, Washington to develop & test Lunar operations along with developing technologies in preparation for America's return to the Moon. In 2009, the SEV was honored to be the last element in President Obama's Inauguration Parade. Over the past 15 years, the SEV has been used primarily for Lunar Mission Operations Development, including Crew Evaluations & Training, Rover Technology Development, Workforce Development, and Public Inspiration. The SEV has become among NASA's most recognized non-spacebound assets alongside the Vehicle Assembly Building, Mission Control, the Shuttle Carrier Aircraft, and the Super Guppy. Most recently in 2022, the SEV participated in the DRATS Field Test at Black Point Lava Flow, Arizona. There are two SEV units – one currently is on long-term loan at the Lone Star Flight Museum, and one is in operation at the NASA Johnson Space Center.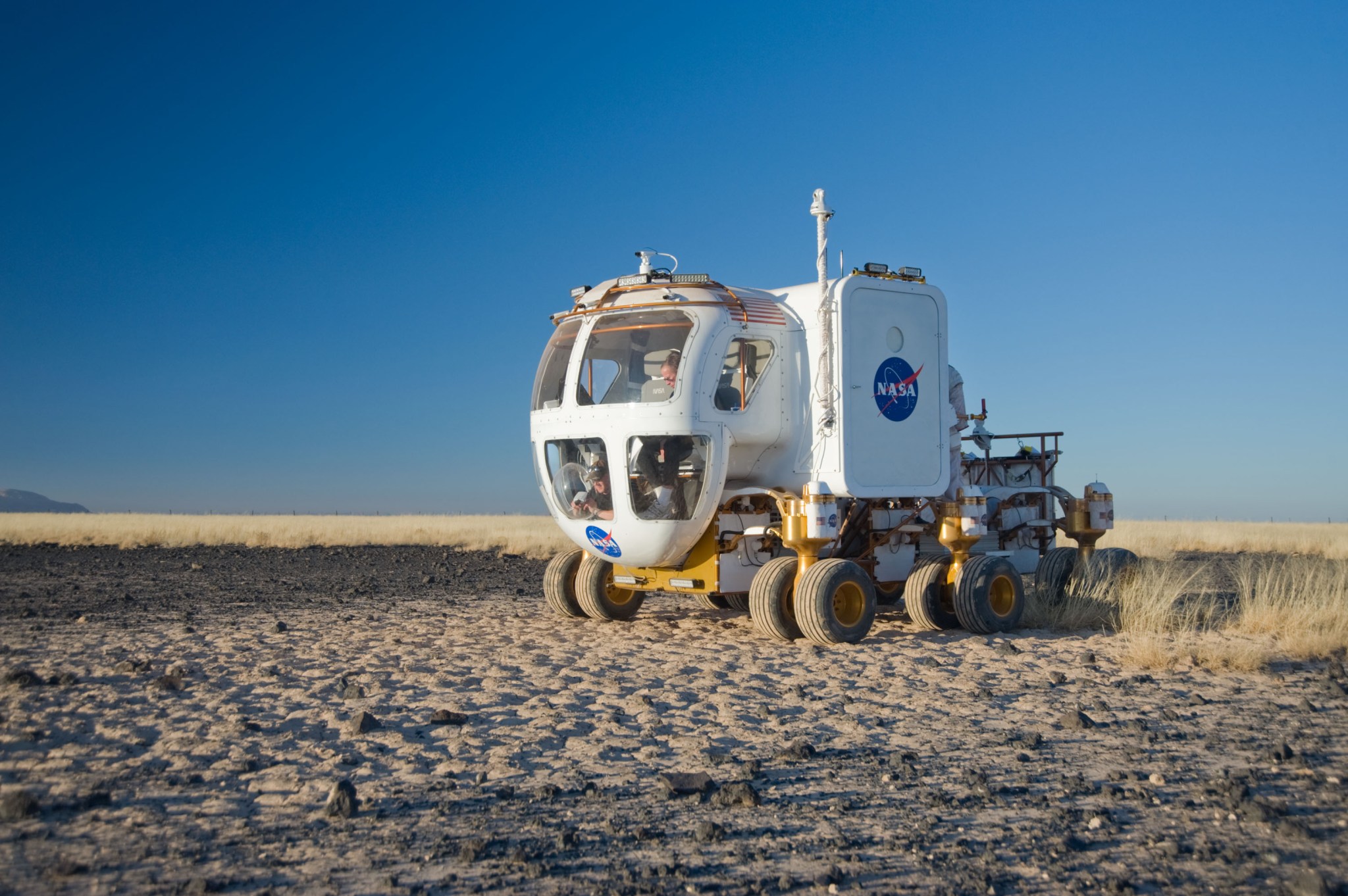 NASA/Regan Geeseman
Explore more from ER
Dynamic Systems Test Branch
The Dynamic Systems Test Branch is responsible for engineering design and operation of high-fidelity robotic facilities supporting NASA's missions along with the Simplified Aid for EVA Rescue (SAFER), and Robotic Micro Conical Tool (RMCT) flight hardware. Current work includes integration of dynamic systems with NASA mission architectures to create relevant test environments further enabling NASA's advanced exploration capabilities.