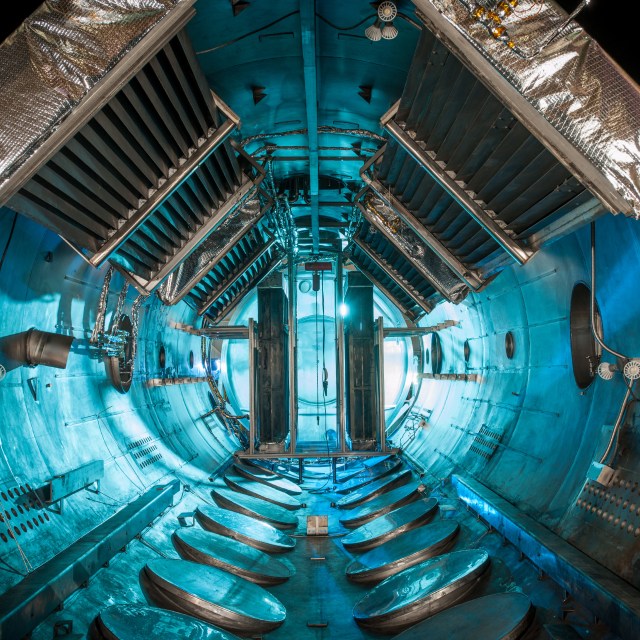 SETMO
NASA's Space Environments Test Management Office is responsible for the oversight of key test and simulation assets across the Agency's field centers nationwide. These facilities support NASA research and science and technology development with a combination of unique infrastructure and unmatched skill.
Learn More

about SETMO
Space Environments Testing Management Office
Optimizing Availability and Performance
Stewards and sustainers of NASA's $3 billion-plus portfolio of 45 aerospace facilities, the Space Environments Testing Management Office (SETMO) works to reinforce robust research capability for the Agency. SETMO-supervised assets range over four distinct testing capabilities at nine NASA centers across the country.
Coordinating with NASA headquarters offices and centers managers, SETMO provides funding and direction to optimize facility availability and performance. SETMO also oversees infrastructure investments to enable state-of-the-art operations and maintenance, enhance reliability, and improve testing technologies.
SETMO advises NASA decision makers on the Agency's Master Plan initiative involving facilities-investment strategies and practices that include both near-term and long-range objectives to make possible the specialized testing services that support NASA missions.
Reducing Flight Risk
SETMO testing assets reduce risk for terrestrial aircraft flight, during space travel, and throughout atmospheric passage on Earth and other planetary bodies.
To decrease air-travel risk, NASA's large-scale motion simulators host pilots and crew to model human-vehicle interfaces for next-generation aircraft development at all flight envelopes, from lower-speed rotorcraft to supersonic jets. Testing evaluates cruise, takeoffs, landings and anomaly management so that new vehicles are optimized for safer navigation through an increasingly dense airspace.
Space-focused testing simulations recreate conditions experienced in the extreme environments encountered during launch, flight within and beyond low-Earth orbit, and in other planetary atmospheres. The ultimate goal is to protect humans, vehicles, and the gear on which they rely by creating and testing a variety of scenarios as realistically and as accurately as possible.
To assess the impacts on and robustness of spacecraft systems, studies include the combined effects of vibration, high thermal fluctuation, and assorted stresses on structural elements, control systems, and embedded electronics. Simulations to gauge the effects of in-space radiation on human crews is made possible by an alliance with the U.S. Department of Defense that permits use of military-related facilities.
A paramount challenge is safeguarding vehicles from the extreme temperatures and conditions encountered during very high-speed atmospheric reentry at hypersonic velocities. Development of protective heat shields is essential to that effort. NASA's Arc Jet Complex is one of the world's most powerful testing tools in the SETMO portfolio used for development of advanced thermal-protection systems and materials.
The SETMO Capability Portfolio

Arc jet facilities study how high temperatures and vehicle velocities affect rockets and spacecraft as they exit and enter atmospheres on Earth and other planetary bodies in the solar system
Stationary and mobile simulators model flight handling and control characteristics to aid in the development and design of improvements to current and next-generation aircraft and spacecraft
Large-scale and other uniquely purposed chambers replicate extreme environments to certify performance of spacecraft, structures, components and instrumentation

Research laboratories evaluate human and machine protections against high-energy radiation