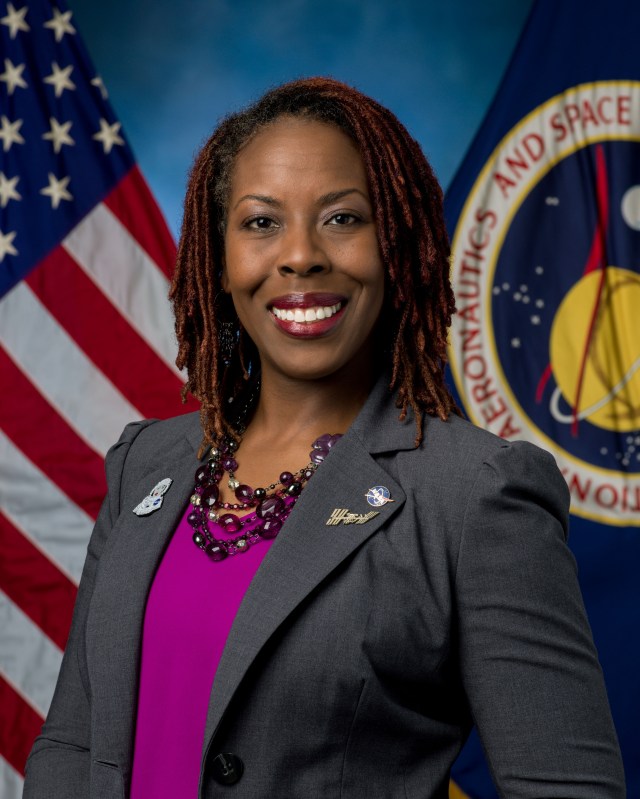 Jennifer Scott Williams
Assistant to the Center Director for Technical Integration
Mrs. Jennifer Scott Williams was born in Oklahoma City, OK. As an Air Force dependent she moved around often, which contributed to her ability to adapt to new environments quickly. After living in Tennessee, Washington, D.C., and Ohio, her family made its permanent home in Panama City, FL, where she graduated with honors from Bay High School in 1996. Thereafter, Jennifer attended Spelman College and the Georgia Institute of Technology, where she received dual Bachelor's degrees in Mathematics and in Electrical Engineering via the Atlanta University Center Dual Degree Engineering Program in 2001.
Once Jennifer graduated, she moved to Houston to work for NASA Johnson Space Center Mission Operations (MOD) as a Space Shuttle flight controller in the Instrumentation and Communications Group (INCO). While there she obtained 8 certifications and supported 24 Shuttle flights, three of which she served as Lead INCO. She attended the University of Houston part time in the Telecommunications program, where she graduated with her Master of Electrical Engineering in 2005.
After her last lead flight, Jennifer took on a rotational opportunity in the JSC Office of Education as the Minority University Research and Education Program (MUREP) manager, where she managed 8 JSC programs with a team of 4 people, all for the benefit of providing research opportunities to minority students in Higher Education.
Upon returning to MOD (now Flight Operations – FOD), she was selected as the Communications Operations Lead (INCO) for the Boeing Commercial Crew Mission Operations Team. She served as the ops focal for all Comm and Track (C&T), Operational Flight Instrumentation (OFI), commanding and telemetry development activities, and assisted Boeing engineers with display development, design, fault detection, testing, and operations concept development for the Boeing CST-100 (Starliner) spacecraft.
In May 2015, she accepted a position within the International Space Station (ISS) Program as a Research Portfolio Manager (RPM). She managed the Life Sciences portfolio at Ames Research Center, which covered mission integration and operation of several NASA sponsored research projects. She also managed integration activities that enable launch and return of the payloads to and from ISS.
In September 2020, Jennifer was selected as Branch Chief of the Applications Client Support Office. In this role, she manages a team of RPMs responsible for enabling Technology Demonstrations, STEM projects, Commercial payloads and External payloads for launch and operation aboard and return from the ISS. The clients her team serve include NASA organizations such as the Science Mission Directorate, Science and Technology Mission Directorate, Advanced Exploration Systems, as well as the ISS National Laboratory.
She is a graduate of NASA's highly competitive Foundation of Influence, Relationships, Success, and Teamwork (FIRST) program. She has been selected as Employee of the Month, awarded the Steely-eyed Missile Man for "Toughness", is a member of Montclair Who's Who among Women in North America, and was profiled in the Georgia Tech Living History Program and Alumni Magazine. She is married with two children.