NOTE:
The NASA Insignia, Logotype, identifiers, and imagery are not in the public domain. The use of the Insignia, Logotype and NASA identifiers is protected by law, and imagery is made available for use consistent with Media Usage Guidelines.
NASA Merchandise Approvals
Strict laws and regulations govern NASA policy regarding merchandising requests for producing NASA-related merchandise. NASA-related merchandise is any product which features NASA logos, identifiers, emblems, devices or imagery.
Companies interested in producing NASA-related merchandise must notify NASA's Office of Communications at NASA Headquarters in writing by sending an e-mail to merchandise@lists.nasa.gov after reviewing the policy and guidelines on this page. Your email should include designs or mock-ups of the intended NASA inspired merchandise for review.
A general overview of NASA policy follows:
Working with NASA Directly
NASA does not work through or with any intellectual property and/or licensing representatives in regards to the NASA brand or merchandising approvals. We encourage merchandisers to work with NASA directly so they get the clearest and latest guidance on proper use of our iconic identifiers and imagery.
If you are uncertain about correspondence from anyone giving the impression they represent NASA, please reach out and forward emails to hq-merchandise@mail.nasa.gov and copy Aimee Crane, NASA Merchandise and Branding Clearance Manager at aimee.c.crane@nasa.gov.
Approval Letters
NASA does not issue approval authorization letters for merchandise. Once products or designs have been approved by the merchandise and branding clearance manager through the established approval process, the products may move forward in production. Our approval email should suffice for any approval justification or documentation needed. If changes are made to the product after the approval email has been issued, the product must come through the approval process again for reevaluation.
Licensing, Access, and Exclusivity
Companies interested in producing NASA-related merchandise have equal access to NASA information.
There is no licensing or exclusivity agreement with NASA.
Appearance of Endorsement or Co-branding
As a U.S. government agency, NASA will not promote or endorse or appear to promote or endorse a commercial product, service or activity. Therefore, there are strict regulations and restrictions on the use of any of the NASA identifiers, emblems or devices, including without limitation the NASA Insignia (the "Meatball" logo), the NASA Logotype (the "Worm" logo), and the NASA Seal as addressed in more detail below.
Using terms like 'NASA approved' or 'official NASA,' or similar wording, to describe your product or association with NASA is prohibited.
NASA identifiers, emblems, devices, imagery, etc. can be used as decoration on the product, but should not be used in a manner that suggests "co-branding" of products.
No third-party identifiers, logos or other trademark visuals **(**including non-logo trademarks) can be shown together with the NASA Materials on products in a manner that suggests NASA jointly created the product or that the producer of the product is sponsored or endorsed by NASA.
Logos and other trademarks/branding created by outside merchandise producers should be separate from the NASA branding used as decoration on the product. Branding of outside clothing/product manufacturer should be limited to use on tags, insoles of shoes, and other areas of the product where product branding typically appears as labeling. For example, in the case of a T-shirt featuring the NASA Insignia as decoration on the front of the shirt, the logo of the company producing the T-shirt can appear simply on the collar tag, a hem tag, on the sleeve, or other location as typical for the company's brand; however, company logos or branding will not be placed near the NASA Insignia, or in such location(s) as detracts from the NASA Insignia decoration on the front of the shirt.
Nomenclature
Clothing and toy collections cannot use the NASA name as a title or as part of a title for any collection.
Packaging & Hangtags
Product hangtags should not include any NASA logos, identifiers, emblems or devices, though other NASA imagery may be appropriate. Specifically, NASA logos and words like "official," "genuine," "original," "authentic" etc. are not permitted on hangtags, promotional content or packaging. This regulation applies to merchandisers and NASA Exchange entities.
Use of NASA logos in a branding capacity is not permitted on packaging on products. In certain instances, incidental use of NASA logos is permitted if the product is being exhibited on the packaging itself.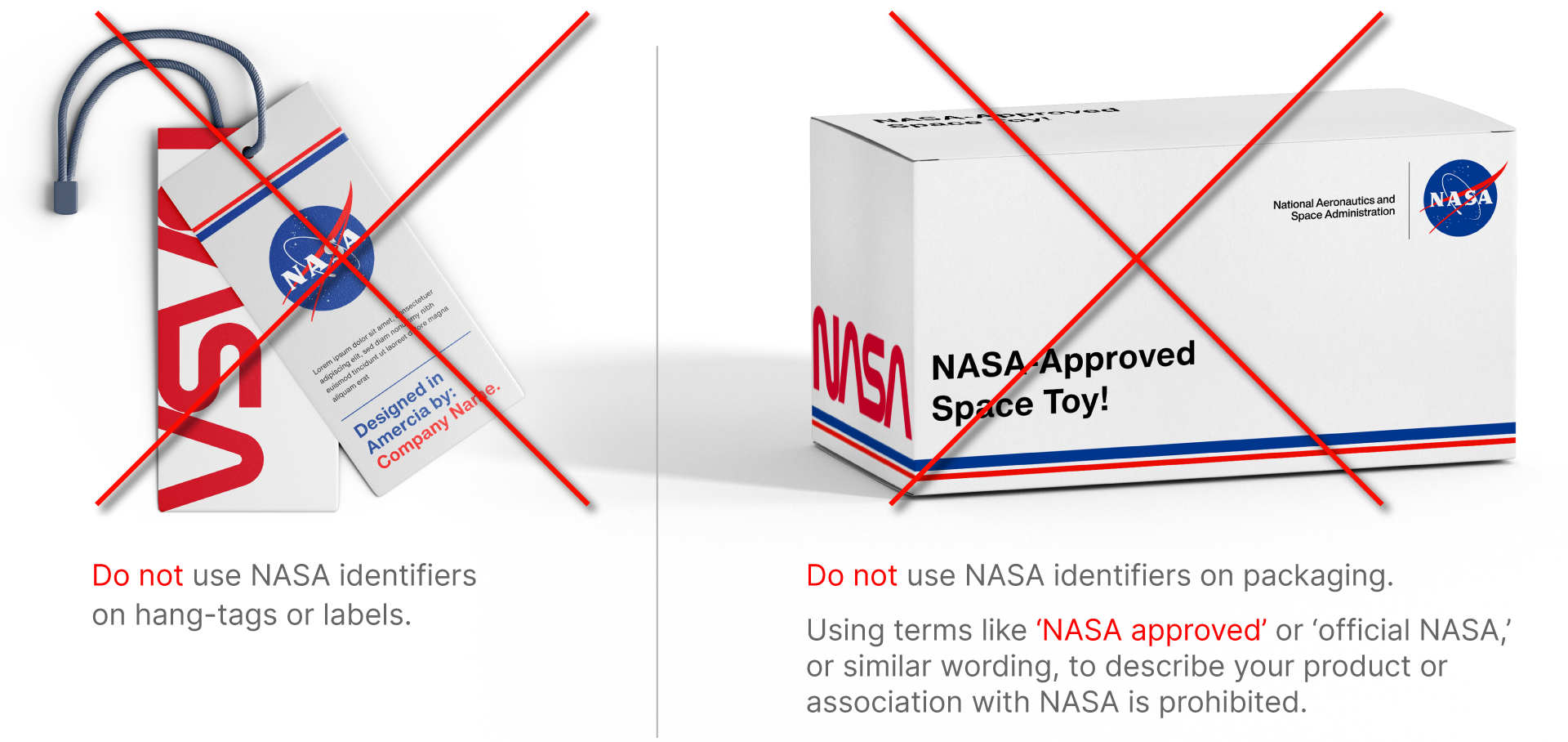 NASA Identifier, Logotype and Other Graphic Assets
The NASA Insignia was created in 1958 and was retired between 1976-1992. In 1992, it was reinstated and is presently NASA's official identifier.
Although the NASA Logotype was retired in 1992, it has been approved to be used on souvenir merchandise in a retro historical manner. It is permitted to be shown on merchandise and guidance will be provided during product review. Multiple insignias and worms are not permitted on the same item. Any imagery shown with the NASA Logotype must stay within the context of the era in which it existed (between 1975-1992). For example, imagery from the Mercury program cannot appear with the NASA worm as Mercury predated the existence of the worm.
Guidelines for the use of NASA Brand can be found on the NASA Brand Guidelines page.
Crew Patches
NASA astronaut crew patches are permitted on merchandise, but in some instances NASA may recommend that the names of astronauts be removed from the patches to avoid issues relating to endorsement, or rights of publicity. Further guidance will be provided during product review.
NFTs
NASA is not approving any merchandising applications involving Non-Fungible Tokens (NFTs), as they are not consistent with the categories of products the Agency is approved to merchandise. Further, as stated in the NASA Media Usage Guidelines, NASA does not wish for its images to be used in connection with NFTs.
Appropriate Products
NASA does not permit logos on certain products because they are not deemed appropriate or are not permissible given NASA's role as a government agency. These include merchandise/products in areas like alcohol, food, cosmetics, tobacco, underwear, technology, etc.
Image Use
For use of NASA images including images that include NASA employees (current or former), astronauts, or any identifiable NASA logos or emblems on merchandise please refer to the Commercial Use section of NASA's Image Guidelines
When all legal and policy regulations have been met and approval by the Office of Communications is obtained, the merchandiser can access downloadable NASA imagery online or may contact the Photo Department at 202-358-1900 for access to imagery.
Brand Approval
Please be aware that NASA-approved merchandise requires the adherence to certain basic standards on use of NASA identifiers, emblems, imagery, etc. Any requested exceptions to these standards must be sought and approved in writing and in advance by the designee in the Headquarters Office of Communications in accordance with law and regulation. Further guidance will be provided during product review.
Additional Guidance
Guidelines for logo usage, merchandising requests, media usage, and advertising requests