Joby Aviation
A new air taxi from the manufacturer Joby Aviation will allow NASA to evaluate how this kind of vehicle could be integrated into our skies for everyday use, while the Air Force researches its potential military use.  
On Sept. 25, Joby announced the delivery of one of their air taxis – an electric vertical takeoff and landing (eVTOL) aircraft – through a funded contract with their customer, the U.S. Air Force AFWERX Agility Prime program. NASA has an interagency agreement with AFWERX to use the aircraft for testing concentrated on how such vehicles could fit into the national airspace. 
"NASA and AFWERX have an important, active collaboration on Advanced Air Mobility," said Parimal Kopardekar, integration manager for NASA's Advanced Air Mobility (AAM) mission. "This collaboration puts the best talent with the latest resources in the same place to accelerate the future of this industry."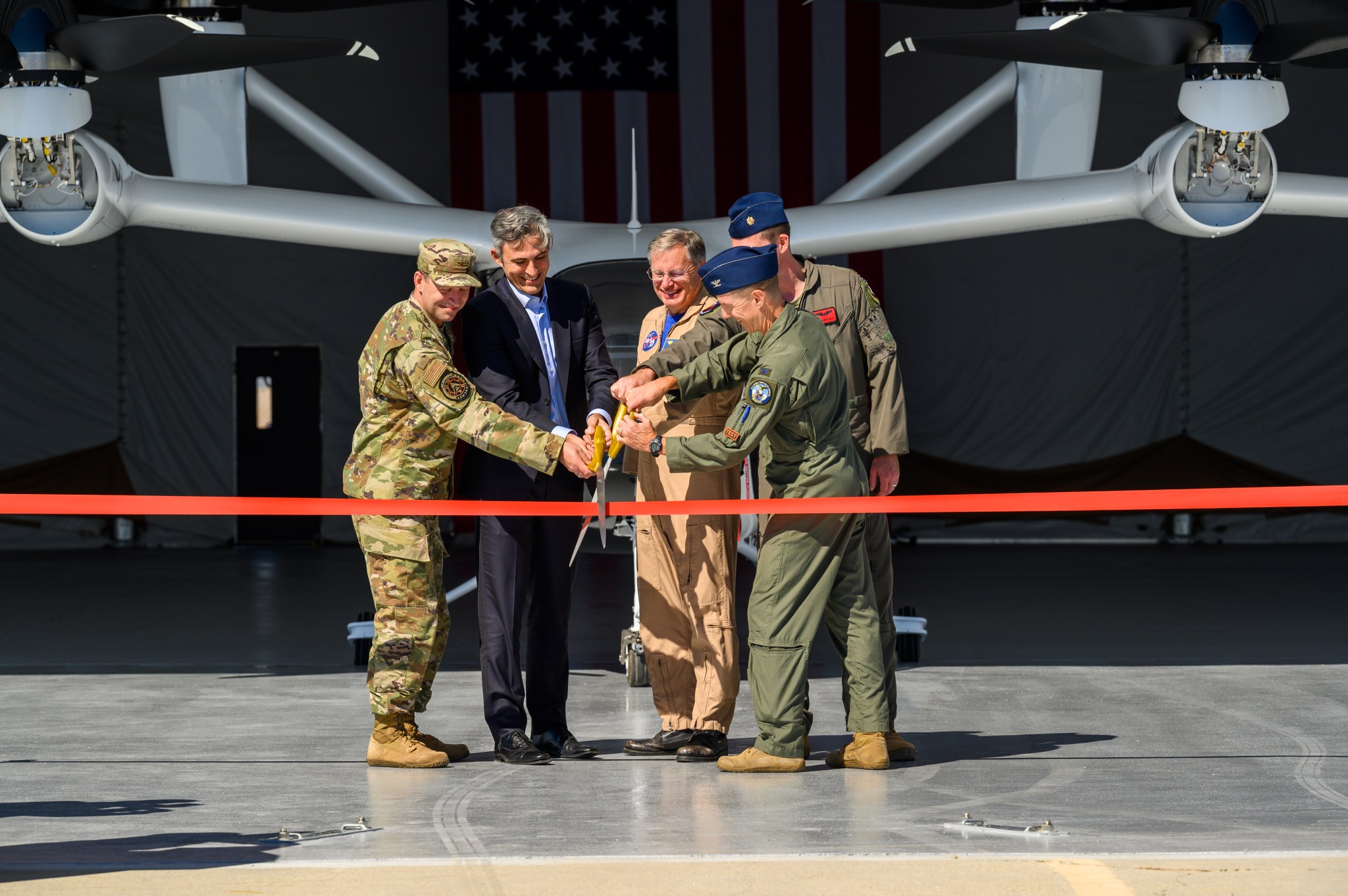 U.S. Air Force/Richard Gonzales
Starting in 2024, NASA pilots and researchers will work to test the Joby aircraft, focusing on air traffic management, flight procedures, and ground-based infrastructure. The research will use NASA pilots and hardware, such as the NASA Mobile Operating Facility, a research lab on wheels.
NASA's History with AAM  
NASA's Advanced Air Mobility (AAM) research has contributed to this moment. Through this AAM research, NASA is developing a blueprint for how the air transportation systems of the future will fit together.
Air taxis and drones can be used for emergency response, fighting wildfires, and delivering medical supplies – and they will make our communities more connected and accessible than ever. NASA's goal is to help mature technologies that will push the entire air taxi and drone industry forward, sharing its findings with the Federal Aviation Administration (FAA) to inform new policies. The work with the Joby aircraft will contribute to the wealth of knowledge NASA's Aeronautics Research Mission Directorate has already provided for industry and the FAA.
This work builds upon progress NASA made with Joby under a now-completed non-reimbursable Space Act Agreement. The research focused on studying aircraft noise and involved a series of flight test simulations in Joby's simulator, as well as flight testing.
Joby was one of NASA's Small Business Innovation Research (SBIR) recipients during the early stages of the company's technology development. NASA's SBIR program provides support that small businesses jumpstart innovative technologies, benefitting the U.S. economy.  
Agility Prime is AFWERX's program focusing on researching and testing the military use of these aircraft. The aircraft was delivered to Edwards Air Force Base in Edwards, California. The base's Emerging Technologies Integrated Test Force in the 412th Test Wing will be leading the flight test campaign for Joby and Agility Prime. NASA's Armstrong Flight Research Center is also located on Edwards, a prime location for flight research. This is the first of several Joby aircraft that the Air Force is using for testing at various U.S. military bases.