Credits: NASA
The International Space Station is inspiring the next generation of scientists
People born after November 2000 have always known life with humans in space: they grew up in a world with an International Space Station orbiting overhead. Call them Generation Station, those for whom space has always seemed accessible, a place where scientists from around the globe conduct research. Perhaps it is no wonder that many members of this generation have already sent their own research and hardware to the microgravity laboratory.
To help them continue to do so, many space agencies offer challenges and programs for students in their countries to send experiments into orbit.
"The space station really provides a unique environment for students to be able to have tangible access to space," said Alana Bartolini, ISS and international education operations coordinator at Telespazio Belgium SRL for ESA (European Space Agency). "They are not just doing a simulation. They are designing a real experiment and sending it to space."
Credits: ESA/Raspberry Pi Foundation
For the European Astro Pi Challenge, students send code directly to station. Two levels of challenge enable younger students to measure humidity and display a personalized message to the astronauts while older students conduct full experiments that can yield meaningful scientific benefits. Over 15,000 students ran code via the Astro Pi Challenges on the space station from 2020-2021.
"The kids are really creative and imaginative. They do not just stop at 'here is the sensor reading, this means that the temperature is this.' They take it further, using critical thinking to explore what that value could mean in larger context," says Bartolini.
Credits: NASA/ESA
One of the Astro Pi Challenge experiments tested whether astronauts can be detected in a station module without using visual indicators.
"The students found out how to detect the crew without us telling them," said Aurora Technology B.V. for ESA STEM Didactics Expert Elsa Sanchez. "The first way was by measuring humidity inside the Columbus module. When someone was close to the Astro Pi, they emitted water vapor and humidity levels would rise, indicating that an astronaut could be nearby."
Other space agencies also run code challenges for students in space. JAXA has hosted a robot coding project in space called the Kibo Robot Programming Challenge (Kibo-RPC) since 2020, open for any age in the Asia-Pacific region.
Credits: Assumption College Thonburi
"By having students compete as a team, it makes it more inviting and cultivates students' leadership, teamwork, perseverance, and creativity," said Yayoi Miyagawa, associate senior administrator of JAXA. "The students do not need any equipment except computer and Wi-Fi. They can participate in their home country wherever they are."
This challenge invites Asian students to first run their code in a simulation. Those who succeed move on to the next round, and their code is used in space to control NASA's Astrobee, a free-flying robotic system aboard the orbiting lab.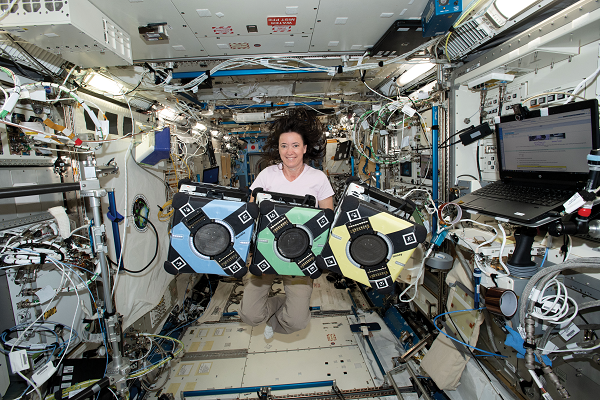 Credits: NASA
"Some of the students have never used the coding language Java before, and their first time was during this challenge. The leaders of the winning teams in 2021 and 2020 told me they had never learned Java before. Yet, they study hard to build the code and run the simulators to see how it works over and over. Through their continuous efforts, they were able to win the game," said Miyagawa.
That team leader in 2021 was Thailand-based student Tarit Witworrasakul. He led a team, Indentation Error, to victory as a high school student, even beating out university teams for the win.
"Participating in this program made me even more confident that I made the right decision to study STEM. Besides being very challenging, I think this field is also fun, stimulating, eye-opening, and very rewarding when you see the results in the end," said Witworrasakul.
NASA's High school students United with NASA to Create Hardware (HUNCH) program gives students the opportunity to participate in the design and fabrication of real-world products for NASA.
HUNCH started in 2003 with two schools in Alabama and one in Texas. Now, over 250 schools in more than 40 states participate in six focus areas: design and prototyping, software, hardware, sewn flight articles, video, and media and culinary arts. The program has produced more than 1,500 items for flight or training for the space station program, representing approximately 20,000 individual flight parts. That includes the creation of four storage lockers flown on NASA's Demo-2 mission and a new tape dispenser for use in space.
Additionally, a contest sponsored by the ISS National Lab, Genes in Space, challenges students in grades 7 through 12 to design DNA analysis experiments using tools aboard the station. Winning proposals are developed into research projects launched to the space station.
The 2018 winning proposal came from a group of students from Minnesota: Aarthi Vijayakumar, Michelle Sung, Rebecca Li, and David Li. Their project created double-strand breaks in yeast DNA, allowed cells to repair the breaks, and examined the repairs for mutations. The experiment marked some historic milestones: the entire process took place on the space station and it used CRISPR-Cas9 technology in space for the first time.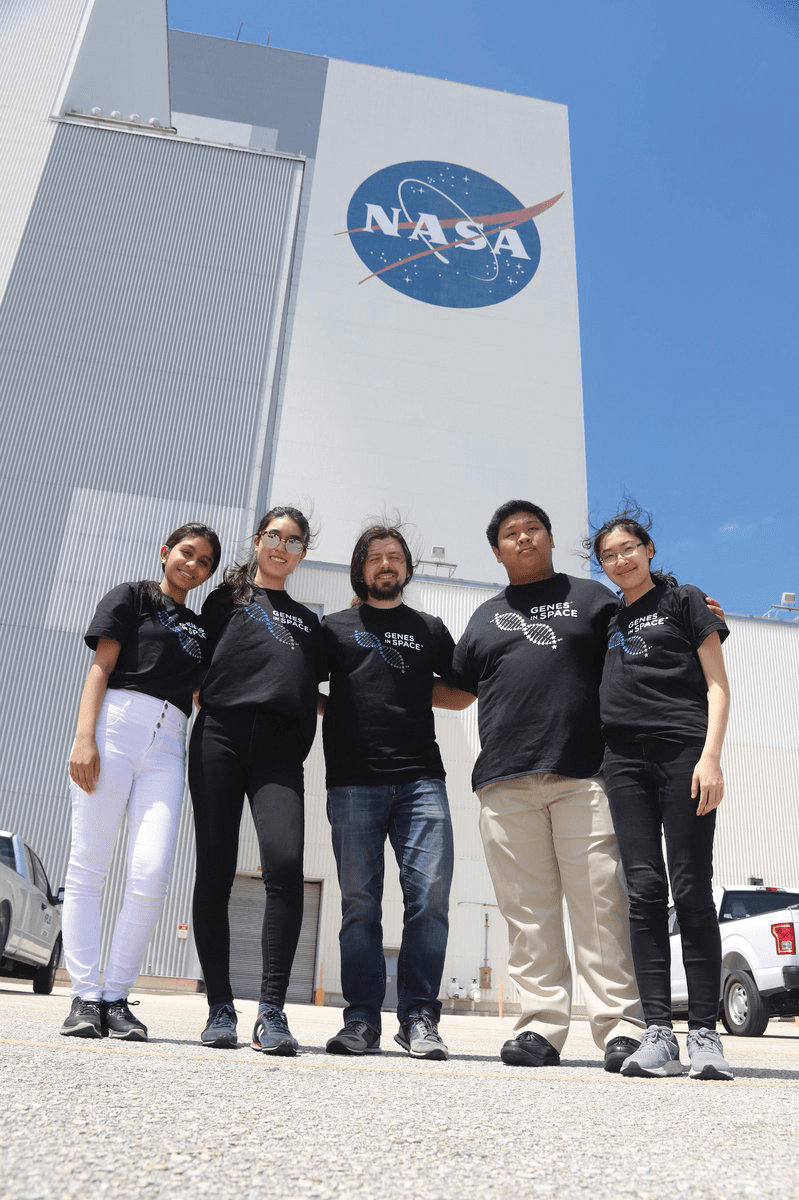 Credits: Genes in Space
The four students had conducted lab-based research during summers in high school and were looking for science competitions to enter. "We knew astronauts have increased risk of cancer and wanted to figure out why," said Vijayakumar. They examined previous studies and saw that many focused on DNA break repair, which had not been studied in space.
"We decided to do the complete workflow in space to isolate the process and get a more thorough picture without bringing samples back down where gravity could have affected the DNA repair," she said. The students worked with scientists at NASA, aerospace company Boeing, and biotech company miniPCR to prepare the experiment for space.
Vijayakumar is now a student at Yale studying molecular biochemistry and biophysics, a path inspired in part by her Genes in Space experience.
"It was really out there compared to anything we'd done before," she says. "Space biology is different from a lab on Earth; there are things you have to consider that never show up here. Learning how to create an experiment for the space station and watching the professionals was just as informative to us as the actual science itself."