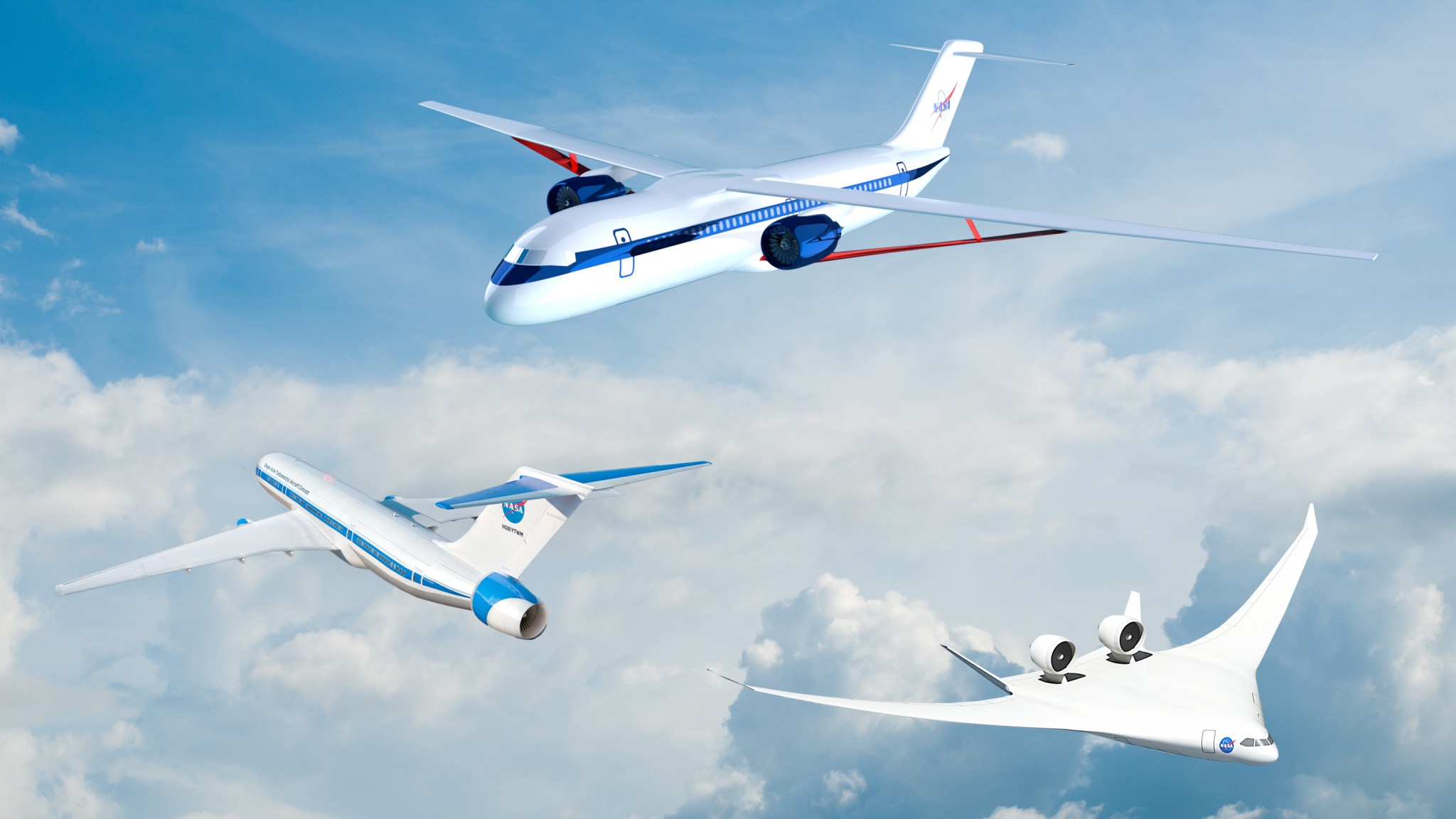 NASA Aeronautics is engaging with industry, academia, and other agencies through our Sustainable Flight National Partnership (SFNP) to accomplish the aviation community's goal of net-zero carbon emissions by 2050.
Through our collective work in three areas — advanced vehicle technologies, efficient airline operations, and sustainable aviation fuels — we are committed to contributing viable solutions for achieving the extreme challenge of aviation decarbonization.
This includes enabling 25-30 percent energy efficiency improvements in next-generation transports with the capability to utilize 100 percent sustainable aviation fuel and also fly optimal trajectories.
The iconic centerpiece of the partnership will be a full-scale technology demonstrator X-plane built to test an ultra-efficient aerodynamic design and possibly other new technologies, to solve the challenges of integrating those technologies and proving their predicted benefits in flight.
NASA plans to solicit industry in early 2022 for preliminary designs of aircraft configurations that could be tested, with the potential for first flight of the demonstrator no earlier than late 2026. This achievement will be key to ensuring that we are able to slow the growth of CO2 emissions in the future and achieve net zero by 2050.
SFNP Activities
We are focused on multiple synergistic commercial transport vehicle technologies, which include airframe configurations, manufacturing, propulsion and electrification, airspace operations, and sustainable aviation fuels. These include:
The Transonic Truss-Braced Wing is a unique design of the aircraft's wings which reduces drag during flight and so reduces fuel consumption by up to 10 percent. NASA is testing this innovative configuration as an option for future airliners.
The Sustainable Flight Demonstrator will be a full-scale technology demonstrator aircraft built to test an ultra-efficient aerodynamic design and possibly other new technologies, to prove their predicted benefits in flight to inform industry decisions associated with next generation single-aisle seat class product.
Hybrid Thermally Efficient Core is accelerating the development and demonstration of advanced turbine engine technologies in a high-power-density core to enable next-generation commercial transport aircraft.
Electrified Aircraft Propulsion offers new possibilities for reducing fuel and energy usage in aviation from small passenger aircraft to single-aisle transports. Innovative technologies, aircraft concepts, test aircraft, and ground test facilities will turn this vision of efficient flight from science fiction to reality.
The Electrified Powertrain Flight Demonstration project will enable megawatt-class power systems to propel short-range and regional aircraft. The project will integrate and demonstrate components and systems in flight to accelerate the transition of these technologies into practical use to benefit the flying public.
The Hi-Rate Composite Aircraft Manufacturing project seeks a dramatic 400-600 percent improvement in manufacturing rates for composite airframe structures, so that lighter, more fuel-efficient airframes can meet market demand and replace heavier aircraft.
NASA researchers will continue sampling and characterizing the makeup of sustainable aviation fuel emissions to verify performance, and to ensure compatibility of sustainable aviation fuels with existing and future aircraft.
Sustainable Flight National Partnership