Careers:
How to Apply &
Working With NASA
At NASA, we explore the secrets of the universe for the benefit of all. And we're looking for people who share our passion for exploration to join our team. Whether you're developing cutting-edge technologies to further human spaceflight or managing the operations of one of our facilities across the country, there is a place for you at NASA. Come explore with us!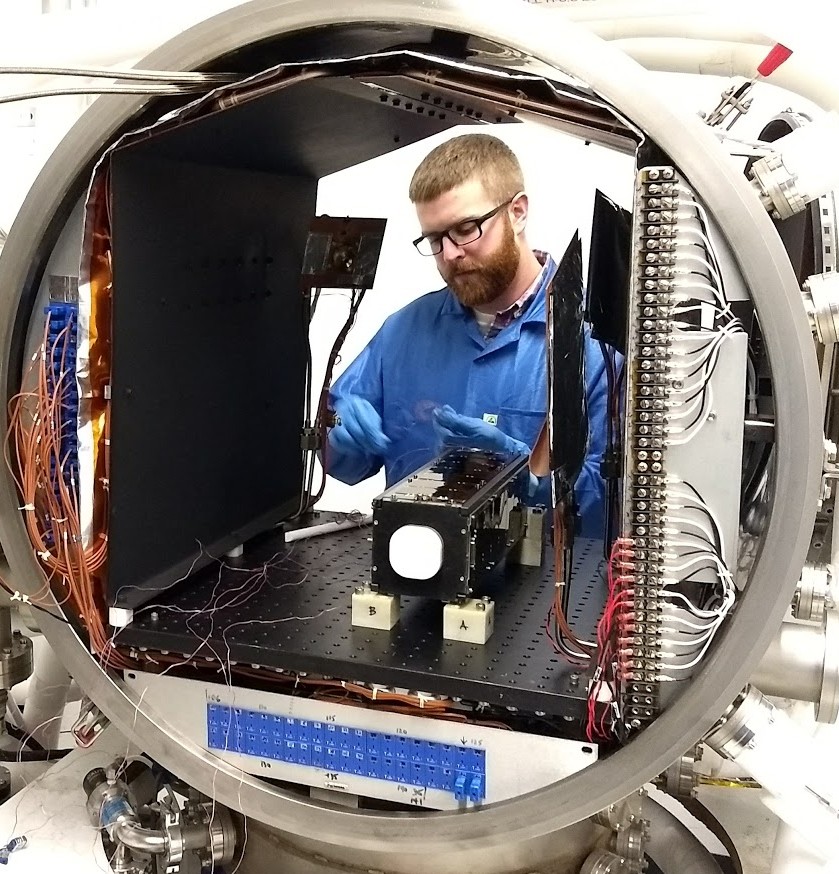 Types of Opportunities
NASA offers a variety of employment and partnership opportunities to match where you are in your life and career. Both permanent and temporary appointments are available. Temporary appointments are expected to last for a specific period and allow you to gain valuable experience on a specific project or mission.
We also employ Pathways Interns. The Pathways Internship Program prepares you for a career at NASA and offers a direct pipeline to full-time employment at NASA upon graduation.
The federal government offers unique hiring paths to help hire individuals that represent our diverse society. Learn more about each hiring path and your eligibility.
Applying
Civil Servant Opportunities
All NASA job opportunities, including Pathways internships, are posted on USAJOBS—the federal government's official employment site. You can browse vacancies without creating a profile and apply later if you are interested. Learn more about the application process below. View this video for more information on applying to federal jobs.
How to Apply
The following steps will walk you through the process:
Create a USAJOBS Account: In order to apply for a civil service job at NASA, you must first create a profile on USAJOBS. 
Build your Resume: After you complete your profile, you will need to build or upload your resume. (Note: We encourage you to use the USAJOBs resume format so you can be sure you have included all of the important information.) You may create up to five resumes in USAJOBS. The resumes you build can be used to apply for jobs at many other federal agencies.
Already have an account? Just sign in to your existing USAJOBS account and review its accuracy before applying for NASA vacancies.
Search for Jobs: After you have completed your USAJOBS profile and built your resume, you will be ready to apply for NASA job opportunities. Click here to view jobs at NASA that are open to the general public. You can then use the Hiring Paths or other filters to refine your search. (Tip: You can even search for jobs when you're not online by using the "Saved search" function in USAJOBS. Saved searches will automatically search for jobs based on your search criteria and email you when there are new jobs available. You can manage your saved search from your account, and you can maintain up to 10 searches at a time.)
Submit application: Once you have found the opportunity that you are interested in, be sure to read the vacancy announcement carefully to make sure you meet the eligibility and qualifications required for the position. Then, click the 'Apply' button and attach your USAJOBS resume. You will then be taken to NASA's application system to complete the application process. 
Note: Due to the variety of vacancy announcements, the eligibility questions asked vary by type of announcement. The NASA Applicant Eligibility Questions Resource Guide and one pager will help applicants for General Schedule (GS) positions be aware of the type of questions asked during the application process. (Executive Services and Pathways announcements use different eligibility questions, which have not been included in this guide.)
Provide additional information: Once you have been transferred to the application systems, please carefully read and follow the provided instructions. Once you have successfully completed the application process, you will be re-directed back to USAJOBS. 
Congratulations! You have now submitted your application. You may return at any time before the announcement closes to update or make changes to your application. You must complete the update and resubmit prior to midnight Eastern Time on the closing date of the announcement.
Now that your profile and resume is saved, you may use it to apply to other positions.
After Applying: What's Next?
Once you've submitted your application, the following will occur:
Application Review: Once the job announcement closes, NASA will review your application to make sure you meet the eligibility and qualifications required for the position.
Interview: ​ If your resume is forwarded to the hiring manager, you may be contacted for an interview. The interview may be a panel, in-person or phone interview. Virtual interviews (e.g. Teams) may be conducted. There may be more than one interview round, such as a phone interview followed by an in-person interview.
Candidate Selection: If you are selected, we will contact you to start the job offer process!
Internship Opportunities
NASA offers a variety of internship opportunities. Learn more here. All of our Pathways Internship vacancies are posted on USAJOBS.gov. Each vacancy lists multiple NASA Center locations and has different educational requirements (e.g. specific academic majors). Learn more about the Pathways application process here.
Working with NASA
In addition to federal civil service positions, NASA's contractors and partners have full-time, part-time and intermittent opportunities to work in support of our nation's space program.
Contractor Jobs
A substantial part of the NASA team consists of the numerous contractor companies located both at NASA facilities and throughout the world. Each of our contractor companies handles its own application process and hiring. For contractor job information (including qualifications, vacancies and benefits) you must contact the companies directly.
Information for Non U.S. Citizens
Other than extremely rare exceptions, you must be a U.S. citizen in order to work for NASA as a civil service employee. If you are not a U.S. citizen, you may wish to consider opportunities with one of our International Space Partners:
Research Opportunities
NASA offices and field centers offer a wide variety of opportunities for researchers to join the NASA team. Whether supporting graduate students or funding science investigations for missions to other planets, NASA encourages all interested researchers to take advantage of these opportunities.
Opportunities for Educators
Educators are critical to NASA's success. NASA continues the agency's tradition of investing in the nation's education programs and supporting the country's educators who play a key role in preparing, inspiring, encouraging and nurturing the young minds of today who will be the workforce of tomorrow.  If you are an educator, NASA provides a number of programs designed to prepare and assist you in the classroom. Learn more about NASA's Education Programs.
Opportunities for Members of the Uniformed Services (United States)
If you are interested in working with NASA and you are a member of a uniformed service of the United States, you should contact your branch of service for additional information or application procedures. Limited opportunities exist for detailee positions, primarily in engineering or the sciences. Astronaut applicants must first apply through their branch of service.
National Institute of Aerospace
The National Institute of Aerospace (NIA) is a non-profit research and graduate education institute created to conduct leading-edge aerospace and atmospheric research, develop new technologies for the nation and help inspire the next generation of scientists and engineers. NIA serves as a strategic partner with NASA Langley Research Center and the aerospace community to enable research creativity and expand technology development opportunities. The Institute integrates research and graduate education while creating new government, academia and industry partnerships to solve tomorrow's problems today. Visit the NIA website to learn more about employment and fellowship opportunities.
Post Employment Opportunities
NASA has numerous options available for utilizing the skills and experience of retirees and former employees. Employees considering retirement may prefer to stay engaged through the phased retirement program. Former employees have unique talents and knowledge highly valued by the NASA workforce. Opportunities to continue contributing to NASA's development and operations include roles such as advising, training, and mentoring
NASA Alumni and Retiree Organizations
Former employees of NASA, or its predecessor, National Advisory Committee for Aeronautics (NACA), can stay connected and support the broad values of the nation's civil aeronautics and space programs by getting involved with the following non-profit organizations. Activities often include sharing technical expertise, educational outreach, and facilitating financial contributions to STEM organizations.
Some individuals may qualify for membership based on NASA affiliation or a federal government detail with NASA. Alumni organizations are maintained by former NASA employees. Visit NASA Langley's Retiree Orgs webpage for more information and a list of center organizations. You can also contact the closest, or your former, NASA center to inquire about opportunities and participation. ​​​​​​​
Volunteer Service
Volunteer.gov is a federal website that connects volunteers to causes they care about, empowering them to make a difference. This volunteer management portal is for those passionate about supporting causes managed by federal agencies. Use Volunteer.gov to find opportunities and apply to volunteer. This is a great resource that helps individuals give back in ways that align with their values and interests.
Contact your local NASA center to learn about NASA STEM volunteer opportunities and outreach activities.
Consultants and Experts
When certain knowledge and experience is needed that is not present within NASA, another federal agency, or a support contractor, NASA occasionally hires consultants and experts to complement our workforce. Agencies may appoint experts and consultants on a temporary or intermittent basis outside standard provisions related to appointments in the competitive service. Due to their decades of experience, NASA retirees are often uniquely qualified to support these needs and can share knowledge with current employees through mentoring and other engagements.
Appointment of consultants and experts is covered under 5 U.S.C. § 3109, Employment of experts and consultants; temporary or intermittent, and 5 C.F.R. § 304.101, Expert and consultant appointments, coverage. At the discretion of the sponsoring NASA organization, some of these roles may be filled from within the U.S. as virtual roles (international access to NASA email and systems is prohibited).
A consultant provides valuable and pertinent advice generally drawn from a high degree of broad administrative, professional, or technical knowledge or experience. When an agency requires public advisory participation, a consultant also may be a person who is affected by a particular program and can provide useful views from personal experience.
An expert is a person who is specially qualified by education and experience to perform difficult and challenging tasks in a particular field beyond the usual range of achievement of competent persons in that field. An expert is regarded by other persons in the field as an authority or practitioner of unusual competence and skill in a professional, scientific, technical, or other activity.
Compensation: Consultants and experts may be appointed in a compensated or uncompensated status. Employment without compensation means unpaid service that is provided at the agency's request and is to perform duties that are unclassified. It is not volunteer service.
Type of appointment: Consultants and experts are temporary employees. Each appointment may not exceed one year and can be extended at the discretion of the sponsoring organization. An expert or consultant serving under a temporary appointment may have a full-time, part-time, seasonal, or intermittent work schedule (intermittent employment means employment without a regularly scheduled tour of duty).
Length of appointment: An agency may reappoint a consultant or expert, with no limit on the number of reappointments as long as the individual is paid for no more than six months (130 days) of work or works without compensation for no more than 1,040 hours in a service year.
These opportunities are at the discretion of the NASA program or project sponsoring the opportunity. A supervisor must submit a Request for Services of Consultant or Expert, form NF452, to the center's human resources office then seek or identify an appropriate consultant or expert. Instructions for required documentation will be provided to the supervisor requesting the services.
Donation of Services
Former NASA employees may donate their services to the agency to perform duties that are not inherently governmental and would not otherwise be fulfilled by a civil servant. Gratuitous service (donation of services) regulations allow former NASA employees to fill general advisory, non-technical outreach or education roles for the purpose of transferring knowledge.
Another method of donating services is to serve in an "emeritus" role when a NASA program or project needs a former NASA employee who possesses a high degree of technical or professional knowledge and NASA expertise for advice or opinion or for training and mentoring their successors or other members of the current workforce. Not all NASA centers offer an emeritus program.
Individuals interested in this option should discuss opportunities with a NASA program or project manager. Acceptance of donated services is at the discretion of NASA program or project manager and requires a memorandum of understanding (MOU), which can be obtained from the servicing human resources office.
Frequently Asked Questions
Not finding what you're looking for about the application process, qualifications, programs, or something else? Find the answers to some of our most frequently asked questions!