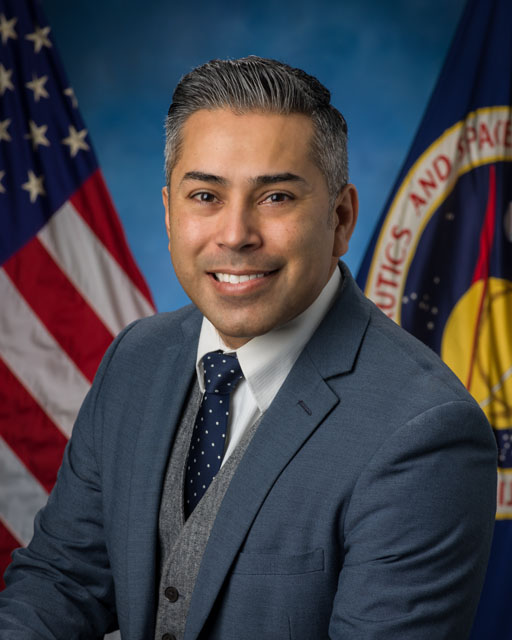 Luis G. Ramirez
Technical Assistant to Deputy Center Director
Mr. Luis G. Ramirez was born and raised in El Paso, TX where his family migrated to from Mexico with the intent to provide him and his siblings more opportunities. Luis attended the University of Texas at El Paso (UTEP) and received his bachelor's degree of Science in Electrical Engineering in 2004 with honors such as Summa Cum Laude, Outstanding Electrical Engineer Department Student Award, Engineering Banner Bearer, and 2004 UTEP's Top Ten Senior.
Luis became part of the NASA family through the JSC Cooperative Student Education program where he did four tours across JSC from Information Systems Directorate (ISD, now IRD), Robotics, Test Engineering at the Energy Systems Test Area (ESTA) and Mission Operations. Upon graduating college, he hired into the Mission Operations Directorate (MOD, now FOD) as a Shuttle Flight Controller where he fully certified as a Data Processing Systems (DPS) Flight Controller Officer supporting a total of 19 Shuttle missions 4 of which he was lead for. Nearing Shuttle retirement Luis had the opportunity to be part of a pilot program to try to supplement the Astronaut Crew corps for flight controller training simulations, specifically Ascent and Entry flight phases. Luis certified as Mission Specialist 2 (MS2) with one of the three crew teams and got to support several training simulations as MS2 with his fellow certified crew team members.
After the conclusion of the Space Shuttle Program, Luis had the honor to be selected as one of 3 Flight Operations Directorate (FOD) employees to participate in an employee exchange program with Lockheed Martin (LM) Company to train, certify and work as a Test Engineer on the Exploration Flight Test (EFT-1) program under the LM Assembly, Test and Launch Operations (ATLO) team authoring functional test procedures for the Command and Data Handling (C&DH) subsystem and off-nominal mission test runs. Luis supported the Launch and Return of EFT-1 managing a small team of LM test lab experts as part of a flight following effort to assist in anomaly resolution during prelaunch and during the flight where the team could run several mission scenarios across a suite of test labs.
Upon returning to FOD after EFT-1, Luis became part of the FOD C&DH Flight control team and certified as a C&DH Artemis I Flight Controller. He was also named lead for the C&DH team for the Artemis II flight as well as supporting other roles like FOD Artemis II Flight Software Integration lead, Artemis I Launch Commit Criteria C&DH Integration lead, and Artemis I Countdown Sequence Test (CST) and Wet Dress Rehearsal (WDR) Test Lead matrixed through the Orion Program Vehicle Integration Office (VIO).
In April of 2020, Luis accepted a position within the Orion Program Office as a Systems Engineer & Integration (SE&I) lead with the Orion Avionics, Power and Software (APS) group to work cross program integration with the Exploration Ground Systems (EGS) team and the Orion APS team. He helped the EGS/APS team integrate solutions for several unexpected issues during vehicle processing leading up to the Artemis I launch that spanned across the APS systems and other Orion systems. He was recognized for his efforts with a JSC Center Director's Commendation Award. Luis also certified as C&DH Mission Evaluation Room (MER) Officer and supported the Artemis I mission on console to help supplement limited engineering resources where applicable.
Luis is also currently participating in the 2023 NASA NEXT Leadership Program.