The Moon became a key focus point for NASA in 2017, whether it was blocking out the Sun during one of the most-viewed events in U.S. history, or reinvigorating the agency's human space exploration plans.
One of the numerous NASA-related activities and actions the Trump Administration did in 2017 was to reconstitute the National Space Council. During its first meeting on Oct. 5, Vice President Mike Pence directed NASA to develop a plan to help extend human exploration across our solar system, and return astronauts to the Moon in preparation for human missions to Mars and other destinations.
The White House's support of NASA in 2017 extended across the breadth of the agency's activities, including:
"When you see highlights of NASA's achievements over the year listed in one place, it's pretty amazing what we've been able to achieve," said acting NASA Administrator Robert Lightfoot. "Seeing so many challenging efforts become completed accomplishments is a testament to the determination of our entire extended NASA team. While I'm proud of what we did in 2017, another full plate of missions awaits us in 2018 that will surely inspire with their discoveries and technological advances.
"And for the sixth year in a row, NASA has retained its standing as the number one large agency in the 'Best Places to Work in Government' rankings published by the Partnership for Public Service. I want to congratulate and commend our amazing workforce for their teamwork and dedication, which has enabled so many achievements in all our missions on behalf of the American people and the world."
Solar System and Beyond
2017's top story in terms of public interest for NASA was, by far, the Aug. 21 total solar eclipse. It was one of the biggest internet events in recent history and the biggest online event NASA has ever measured. There were more than 50 million views of the live broadcast on NASA.gov and multiple social media platforms, and almost 31 million unique views on Facebook before and after the eclipse. These numbers mean the agency was able to share the scientific study of this celestial phenomenon with millions of people around the world, capturing a wealth of images before, during, and after the eclipse by spacecraft, aircraft, high-altitude balloons, and astronauts aboard the International Space Station — seen in the image on the right as it orbited between the Earth and the Sun during the eclipse.
Here are some of this year's other highlights in the solar system and beyond:
Mars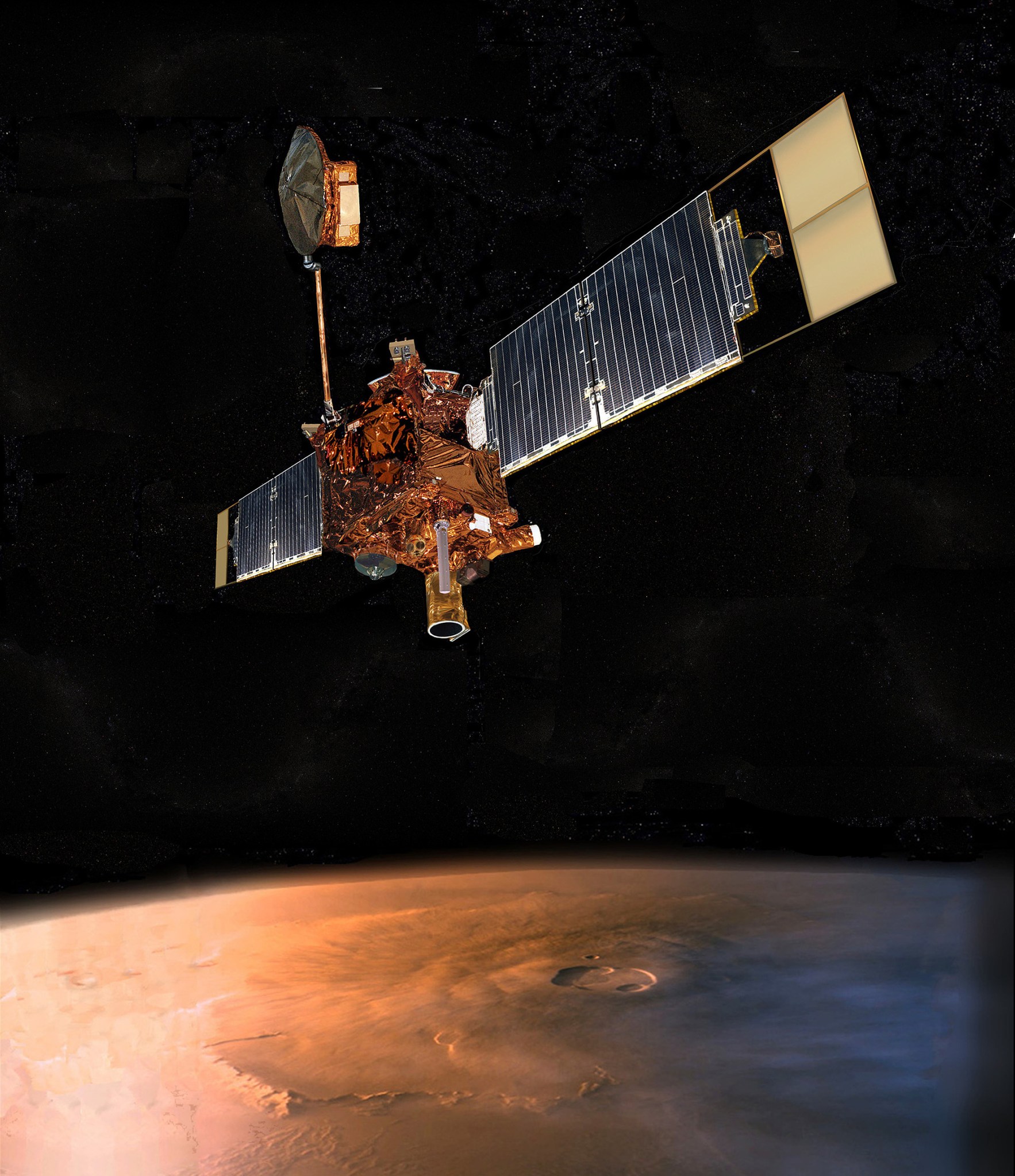 In 2017, NASA made progress in the preparations to send astronauts to Mars, as well as reaching the milestone of 20 years of continuous robotic scientific exploration of the Red Planet. And a record 2.4 million space fans signed up this year to send their names to Mars on NASA's InSight mission, a robotic lander designed to study the interior and subsurface of the planet in 2018.
On Nov. 16, NASA selected a science instrument for an upcoming sample return mission to the moons of Mars: a Japan-led mission known as MMX to the moons of Mars. The instrument will help scientists resolve questions about when and how the small moons formed around the Red Planet.
After receiving a record-breaking number of applications to join an exciting future of space exploration, NASA selected on June 12 women and men as the agency's new astronaut candidates. They may fly on future deep space missions using the world's most powerful rocket, the Space Launch System (SLS), and the Orion spacecraft. This year, NASA has been building and testing hardware for both the first and second missions for SLS and Orion.
Here are some of this year's highlights about progress toward human deep space missions to the Moon and Mars:
International Space Station
In 2017, six NASA astronauts have lived aboard the International Space Station, supporting more than 120 new U.S. research investigations conducted in the unique microgravity laboratory to prepare for future deep space exploration and improve life on Earth. Investigations included research leading to new knowledge about combustion processes, tests of a drug to help fight cancer, and technology demonstrations like the Bigelow Expandable Activity Module (BEAM). In addition, the space station hosts many external experiments that observe Earth and our environment from space and study space physics, such as neutron stars, black holes, and the search for dark matter. More than 170 total U.S. investigations this year are advancing our understanding in biology and biotechnology, physical sciences, human research, technology development and education.
Here are some additional space station highlights from 2017:
The arrival of the Expedition 53 crew marked the first long-term increase in crew size on the U.S. segment from three to four, allowing NASA to maximize time dedicated to research.
Peggy Whitson broke multiple records during an extended mission to the station, becoming the U.S. astronaut who has spent the most total time in space, tallying 665 days during three missions.
During nine spacewalks, NASA astronauts' work prepared for the arrival of future commercial crew spacecraft and upgraded the station's capabilities.
During five missions in 2017, NASA's commercial cargo partners Orbital ATK and SpaceX launched more than 32,900 pounds of critical supplies to the International Space Station, including crew supplies and equipment to support the hundreds of crucial science experiments and technology demonstrations aboard the space station. With its splashdown in the Pacific Ocean following three resupply missions, the SpaceX Dragon capsule also returned more than 13,000 pounds of research and equipment.
NASA advanced its goal to once again launch astronauts from Florida's Space Coast to the International Space station as Commercial Crew Program providers Boeing and SpaceX made progress on the Starliner and Crew Dragon spacecraft and systems, respectively. Boeing revealed its spacesuit design early in the year and conducted important parachute and qualification tests. SpaceX also unveiled its spacesuit, and worked with NASA and the Air Force to refine its procedures to retrieve astronauts from the water following a mission to the space station.
Sierra Nevada Corporation successfully completed a free-flight test of its Dream Chaser spacecraft, meeting the final milestone of a space act agreement for the Commercial Crew Program. The test also supported a milestone in preparation to carry cargo and science investigations to the space station under the agency's next generation commercial resupply services contracts.
The space station continues to be used to inspire future generations with a special focus for a Year of Education on Station with astronauts and former classroom teachers Joe Acaba and Ricky Arnold, and their crewmates.
NASA's space communications and navigation capabilities were upgraded with the August launch of the Space Network's Tracking and Data Relay Satellite-M (TDRS-M), the third and final in the Space Network's space system that provides near-constant communication links to Earth from the International Space Station, the Hubble Space Telescope, and many other missions.
The station also helped advance technology needed to enable human exploration of deep space: the in-orbit characterization of Phase Change Heat Material Heat Exchangers was completed to provide better temperature regulation for Orion and future deep space vehicles.
Aeronautics
Safely moving increasing numbers of people and cargo more efficiently between airports aboard airplanes of all sizes, which burn less fuel, release fewer emissions, and fly both quieter and faster, remained the focus of NASA's aeronautical innovators as they achieved several technical milestones in 2017. Some of those milestones are laying the foundation for the return of the X-plane to NASA's research toolbox.
Here are some research highlights realized in 2017 that herald NASA's great aviation transformation:
Earth
In 2017, NASA further used the vantage point of space to increase our understanding of our home planet, improve lives, and safeguard our future. The 60th anniversary of space-based research of Earth, and the beginning of the United States' exploration of space, comes in January 2018, followed by NASA's 60th birthday on Oct. 1.
Here are some highlights from this year in NASA's Earth sciences research:
Technology
This year, NASA's investments in space technology paid off with the launch of several technology payloads delivered to the International Space Station and beyond, the completion of two big-prize competitions, and the ground-based demonstration of technologies that may one day build and repair large structures in space.
Here are some of NASA's technology highlights for 2017:
Public Engagement
By engaging in public events, including South by Southwest; Philadelphia Science Festival; Space Day; Artscape; EAA AirVenture; Albuquerque Balloon Festival; Consumer Electronics Show; Super Bowl LI, Bay Area Science Festival; OshKosh; Essence Festival; Boy Scout Jamboree; Intrepid; and the Chicago Air & Water Show, more than five million people had the chance to interact with representatives of America's space agency.
NASA's social media presence continued to grow in 2017 with more than 130 million total followers across all accounts and platforms. The agency has the most followers of any agency/department in the federal government on Facebook, Instagram, Twitter, Snapchat and Google+. The agency also hosted 13 NASA Socials this year, bringing together more than 650 followers who engage with NASA via social media for unique in-person experiences of exploration and discovery.
NASA's digital communications team was honored with four Webby Awards in 2017. For the first time, NASA's social media presence was recognized by the Webby Awards, winning in corporate communications and being honored with the People's Voice Award. NASA's Cassini project was recognized with its second Webby for science websites. NASA.gov, the agency's primary website, received its ninth People's Voice Award in the Government & Civil Innovation category. The total solar eclipse drove unprecedented traffic to NASA.gov, with a record 25.8 million visits on Aug. 21. Overall this year, traffic rose 24 percent over 2016 to just more than 410,000 visits daily.
For more about NASA's missions, research and discoveries, visit:
-end-
Jen Rae Wang / Allard Beutel
Headquarters, Washington
202-358-1600
jenrae.wang@nasa.gov / allard.beutel@nasa.gov