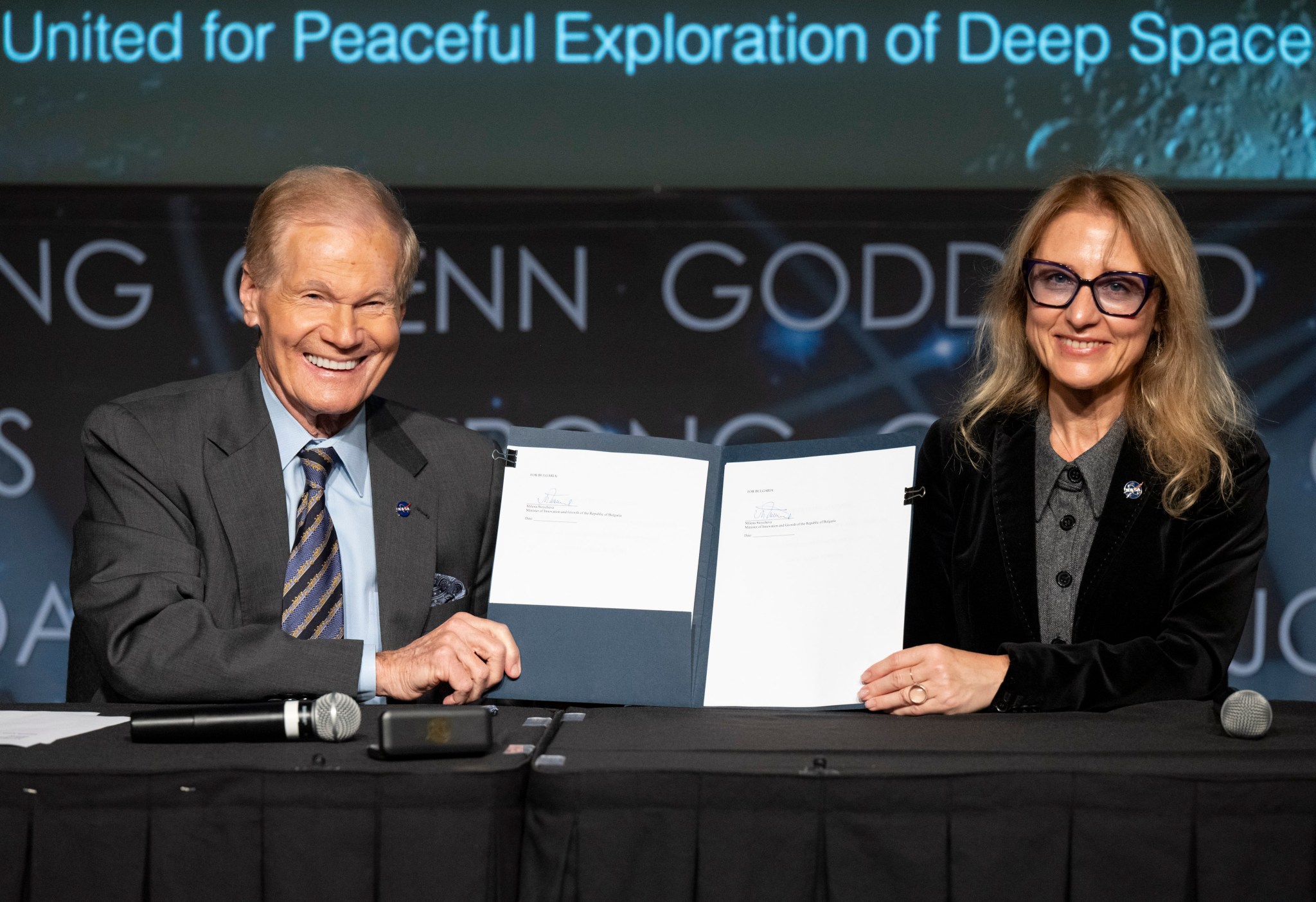 Credit: NASA/Keegan Barber
NASA Administrator Bill Nelson participated in a signing ceremony Thursday with Bulgaria's Milena Stoycheva, minister of innovation and growth, as her country became the 32nd nation to sign the Artemis Accords.
The Artemis Accords establish a practical set of principles to guide space exploration cooperation among nations, including those participating in NASA's Artemis program.
Also participating in the event at NASA Headquarters in Washington were NASA Deputy Administrator Pam Melroy, Georgi Panayotov, ambassador of Bulgaria to the United States and Sonata Coulter, deputy assistant secretary, U.S. Department of State.
"NASA is honored to welcome Bulgaria as the 32nd nation to sign the Artemis Accords," said Nelson. "The global partnerships made in the Artemis era will create possibilities that benefit members of the Artemis Generation in both our countries – and around the world. Bulgaria's leadership will help ensure humanity's journey to the Moon and beyond is done peacefully, safely, and transparently."
NASA, in coordination with the U.S. Department of State, established the Artemis Accords in 2020 together with seven other original signatories. Since then, the Accords signatories have held focused discussions on how best to implement the Artemis Accords principles.
"It is a historical moment for Bulgaria to join the Artemis Accords. We believe that pushing the boundaries of human quest in space with the support of AI and deep technologies will ensure peaceful and sustainable coexistence on Earth. For years, NASA has been a symbol of aspiration for development through technology and spirit. It is an honor for us to join with our human and artificial intelligence for a peaceful journey into new territories," said Stoycheva.
The Artemis Accords reinforce and implement key obligations in the 1967 Outer Space Treaty. They also strengthen the commitment by the United States and signatory nations to the Registration Convention, the Rescue and Return Agreement, as well as best practices and norms of responsible behavior NASA and its partners have supported, including the public release of scientific data.
More countries are expected to sign the Artemis Accords in the months and years ahead, as NASA continues to work with its international partners to establish a safe, peaceful, and prosperous future in space. Working with both new and existing partners adds new energy and capabilities to ensure the entire world can benefit from our journey of exploration and discovery.
Learn more about the Artemis Accords at:
https://www.nasa.gov/artemis-accords
-end-
Jackie McGuinness / Roxana Bardan
Headquarters, Washington
202-358-1600
jackie.mcguinness@nasa.gov / roxana.bardan@nasa.gov