Crew members aboard the International Space Station conducted a variety of scientific investigations during the week of July 10, 2023, including setting up and initiating a round of operations for Plant Habitat-03.
This investigation assesses whether epigenetic adaptations in a generation of Arabadopsis thaliana plants grown in space can transfer to the next generation. Adding extra information to genetic material (DNA) rather than changing existing information is an example of an epigenetic adaptation. Determining whether plants pass these changes on to subsequent generations could identify genetic elements that increase the adaptability of plants to spaceflight.
Credits: NASA
Plant Habitat-03 is one of many ongoing studies working toward the goal of growing plants to provide fresh food for crew members and to contribute to life support systems on future space missions. The space station's facilities for this research include the Advanced Plant Habitat (APH) and the Vegetable Production System (Veggie). So far, researchers have used these facilities to grow lettuces, Chinese cabbage, mustard greens, kale, tomatoes, radishes, and chile peppers. NASA astronauts Mark Kelly and Kjell Lindgren, JAXA (Japan Aerospace Exploration Agency) astronaut Kimiya Yui, and Roscosmos cosmonauts Oleg Kononenko, Gennady Padalka, and Mikhail Kornienko were the first to eat space-grown vegetables, enjoying a strain of lettuce in August 2015.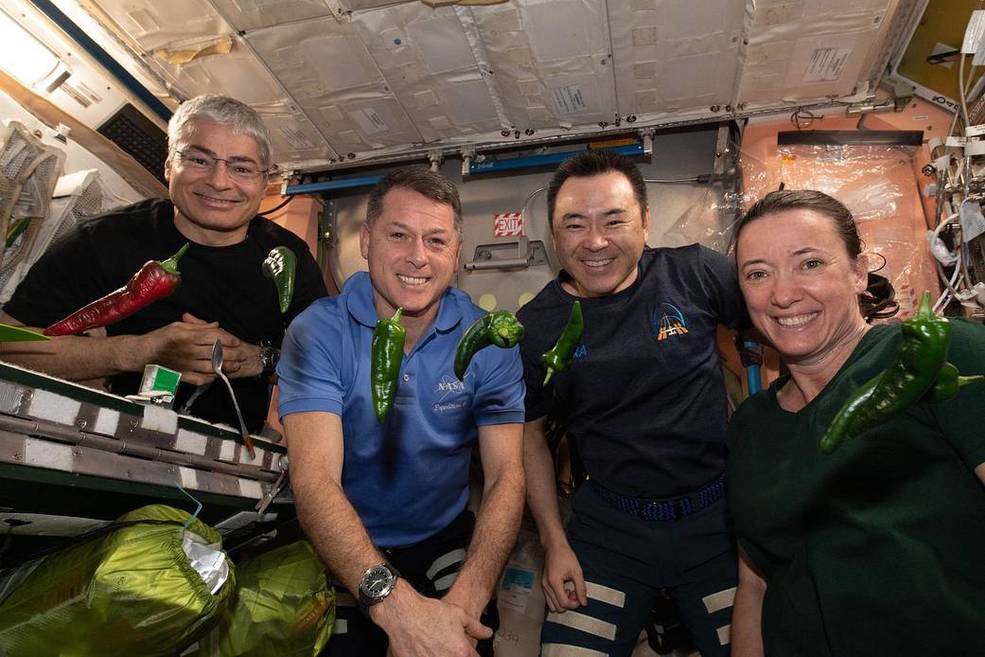 Credits: NASA
The chile pepper study, Plant Habitat-04, analyzed plant-microbe interactions and assessed the flavor and texture of the peppers. The first crop, harvested on Oct. 29, 2021, was eaten by the crew and 12 peppers from the second harvest were returned to Earth for analysis. This experiment demonstrated that research about space crop production is on the right path and researchers plan to apply lessons learned as they continue to test a larger variety of plants.
Plant research on the space station has led to multiple papers in scientific journals, including results from the Seedling Growth investigations, published in the journal Nature. Researchers reported that seedlings can acclimate to microgravity by modulating expression of some genes related to the stressors of space, a discovery that adds to knowledge about the effects of different levels of gravity on plant physiology.
Another plant study, the Advanced Astroculture (ADVASC) experiment, tested a system to protect plants by removing viruses, bacteria, and mold from the plant growth chamber. That system has been used in the grocery industry to prolong the shelf-life of fruits and vegetables and in wine storage cellars. The Plant Water Management investigations demonstrated that plants grow better in space when water and air are delivered to roots via a hydroponic method. Other studies on the space station have helped scientists understand how plants sense gravity.
Credits: NASA
To achieve the ultimate goal – growing plants for food in space and for habitats on the Moon and Mars – researchers must develop larger growth systems. The Veg-05 investigation is taking steps toward that goal by examining the effect of light quality and fertilizer on fruit production and analyzing the safety, nutritional value, and taste of the fruit.
Research on the space station is advancing the technology and scientific knowledge needed to successfully grow plants in space and help humans push the boundaries of space travel. This work also helps efforts to improve plants grown for food and other important uses here on Earth.
John Love, ISS Research Planning Integration Scientist
Expedition 69