Mae C. Jemison
Dr. Mae C. Jemison worked as a General Practitioner in Los Angeles, California, before becoming a Peace Corps Medical Officer for Sierra Leone and Liberia in West Africa. After returning to the United States, Dr. Jemison applied and was selected by NASA as an astronaut candidate in 1987 and became the first African American woman in space.
Quick Facts
Assigned to STS-47, Jemison carried out experiments on the effects of space motion sickness, frog fertilization in space, and bone loss during spaceflight.
Jemison has a background in both engineering and medical research. As a science mission specialist on STS-47, she was a co-investigator on the bone cell research experiment flown on the mission.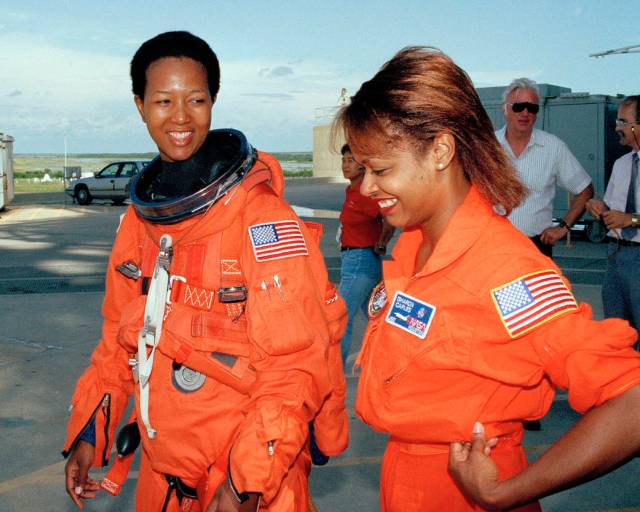 Dr. Jemison received her BA in chemical engineering and African American studies from Stanford University, and her doctorate degree in medicine from Cornell University.
Biography
Mae C. Jemison
Jemison graduated high school at the age of 16 with a four-year National Achievement Scholarship.  At Stanford University, she earned a BS in chemical engineering and a BA in African and Afro-American studies.  After graduation, Jemison moved to New York to attend Cornell University Medical College and completed her doctorate degree in medicine in 1981.
Learn More

about Mae C. Jemison
NASA
STS-47
Spacelab-J — a joint NASA and National Space Development Agency of Japan (NASDA) mission utilizing a manned Spacelab module — conducted microgravity investigations in materials and life sciences. 
Learn More
Sep 20, 1992 10:23 UTC
Former Astronaut Mae C. Jemison
Honoring African Americans in Space
In honor of Black History Month, we recognize the contributions of African Americans to our nation's space programs. Prior to…
Read the Story