Eileen Collins
Eileen Collins was the first female commander of a space shuttle mission.
Quick Facts
Eileen Collins was selected as a NASA astronaut in 1990. Collins has the distinction of being the first female pilot and the first female commander in shuttle history.
Collins flew on four shuttle missions: STS-63, STS-84, STS-93, and STS-114.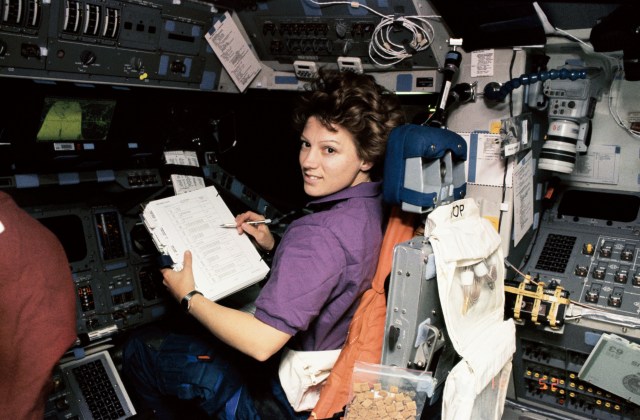 STS-114, the last mission Collins flew, was dubbed "Return to Flight" as the first shuttle mission to fly after the Columbia tragedy.
Biography
Eileen Collins
Selected by NASA in January 1990, Collins became an astronaut in July 1991. Initially assigned to Orbiter engineering support, Collins has also served on the astronaut support team responsible for Orbiter prelaunch checkout, final launch configuration, crew ingress/egress, landing/recovery, worked in Mission Control as a spacecraft communicator (CAPCOM), served as the Astronaut Office Spacecraft Systems Branch Chief, Chief Information Officer, Shuttle Branch Chief, and Astronaut Safety Branch Chief. Collins served as pilot on STS-63 (February 3-11, 1995) and STS-84 (May 15-24, 1997), and was the commander on STS-93 (July 22-27, 1999) and STS-114 (July 26 to August 9, 2005). A veteran of four space flights, Collins has logged over 872 hours in space. Collins retired from NASA in May 2006.
Learn More

about Eileen Collins
Eileen Collins – NASA's First Female Shuttle Commander
On her last mission, Eileen Collins became the first (and currently only) female Shuttle commander. On her next, she will…
Read the Story
Former Astronaut Eileen Collins
Women Astronauts and the International Space Station
As of March 2021, 65 women have flown in space. Of these, 38 have visited the International Space Station as long-duration expedition crewmembers, as visitors on space shuttle assembly flights or as space flight participants. It is fitting to recognize the significant accomplishments of these women as well as the pioneering women who preceded them into space and made their spaceflights possible.
Learn More

about Women Astronauts and the International Space Station