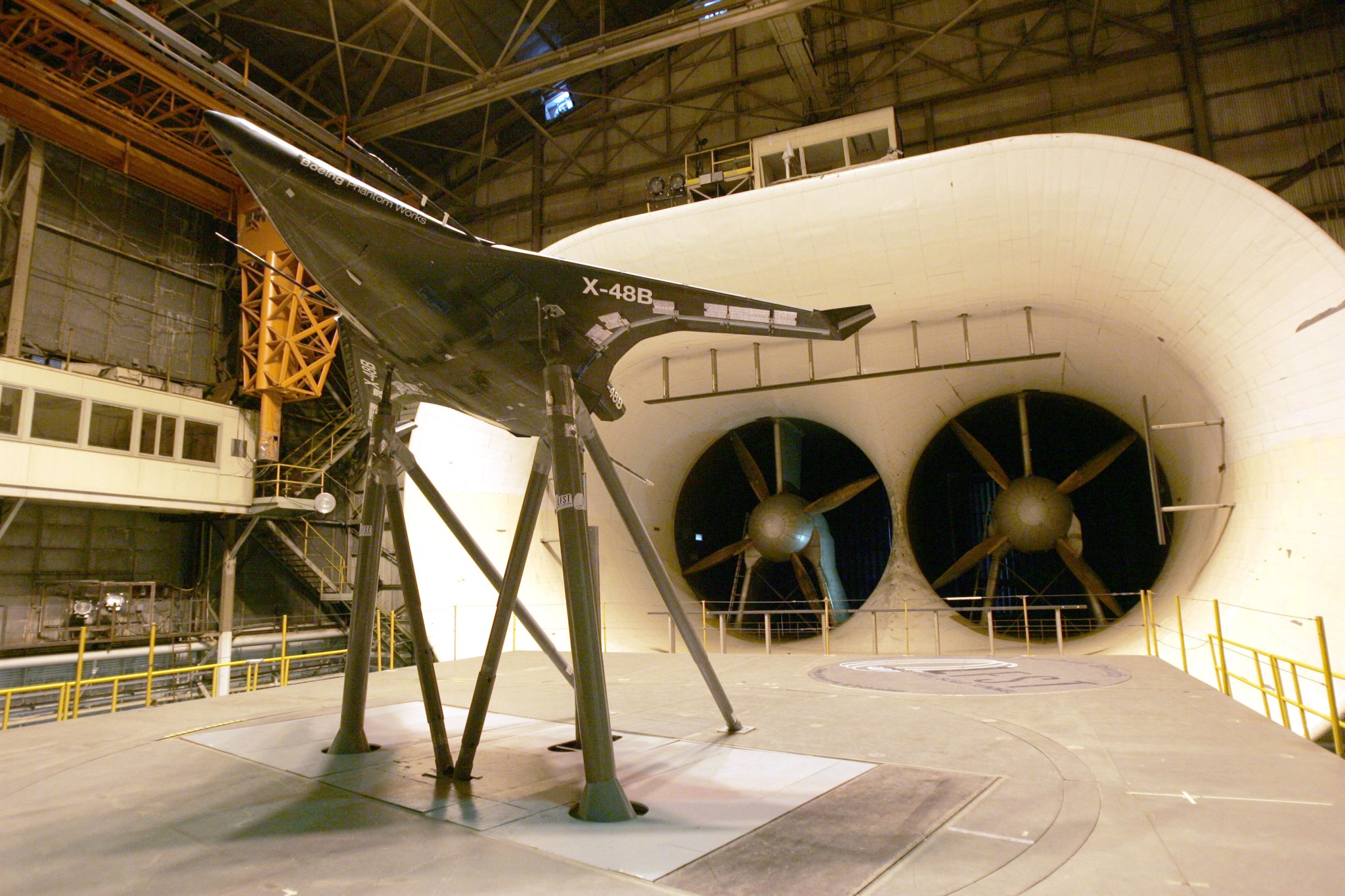 Credits: NASA
It was called the "cave of the winds" – and no wonder.
For eight decades the Full-Scale Tunnel stood as a fixture of NASA's Langley Research Center in Virginia, its 30- by 60-foot test section used to try out every imaginable aircraft design, the Mercury spacecraft and even a submarine.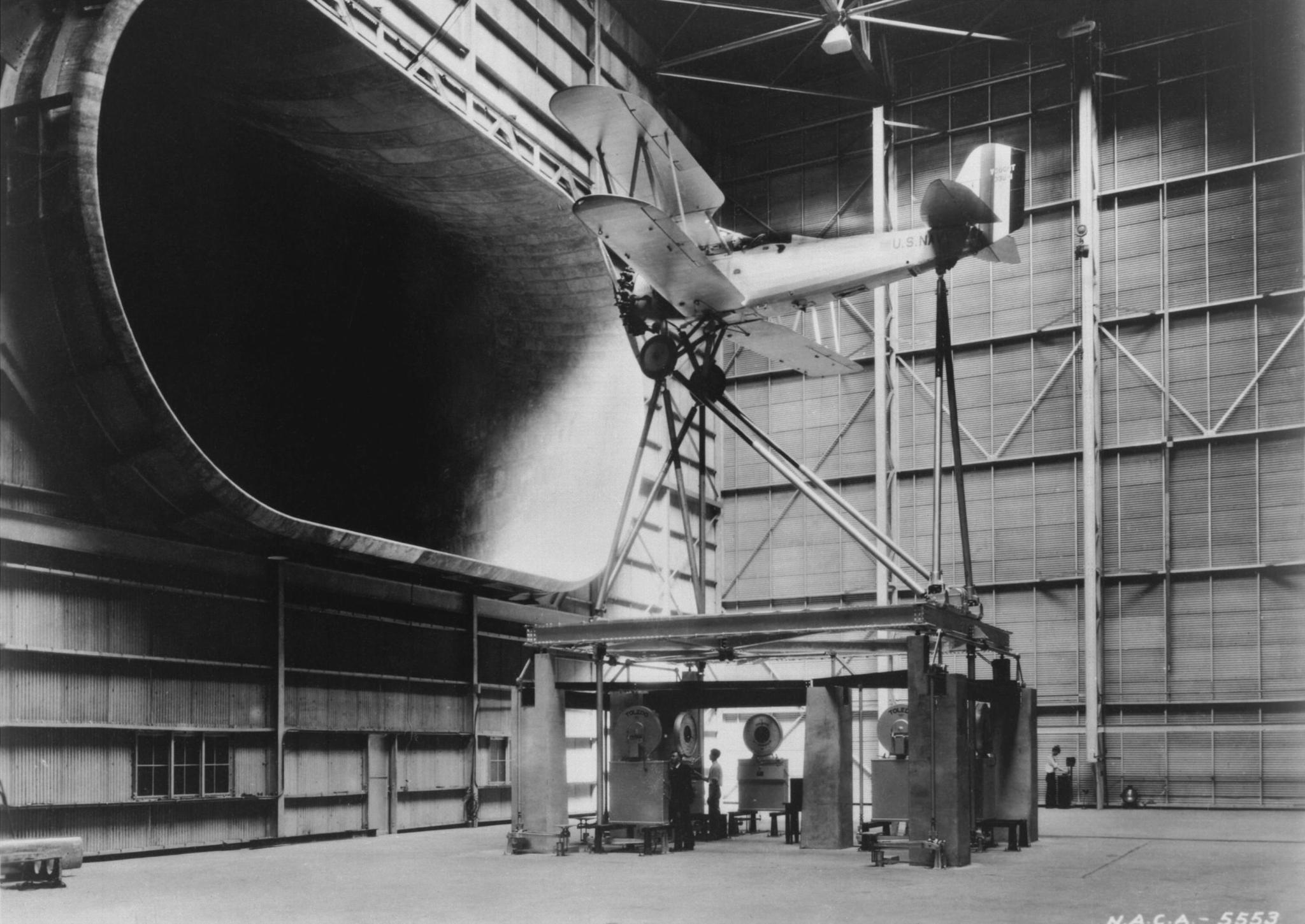 Credits: NASA
Constructed in 1930 by the National Advisory Committee for Aeronautics (NACA) – NASA's predecessor –– the wind tunnel was 434 feet long, 222 feet wide and 97 feet tall at its highest. Twin four-bladed wood propellers could move air through the entire volume at speeds up to 125 mph with the help of a 4,000 horsepower electric motor.
And now the history of its important contributions to the nation's aviation and space programs has been chronicled in a new book called "Cave of the Winds: The Remarkable History of the Langley Full-Scale Tunnel."
Available online at no cost as an e-book – printed versions may be purchased from NASA's Information Center – the book was written by Joseph R. Chambers, a remarkable figure himself, who spent most of his NASA career toiling within this massive facility that is no more.
Credits: NASA
Chambers' first day on the job was in July 1962. Upon entering the Full-Scale Tunnel he nearly collided with Mercury astronaut Scott Carpenter, who was fully decked out in his flight suit and had just completed some training in the facility.
By the end of that first day Chambers had toured the entire building, participated in a test of the M2-F2 lifting body, helped with tests of a model of the F-111 fighter bomber, and grabbed a stack of NACA reports to read that detailed some of the Full-Scale Tunnel's more historic activities.
"And I was being paid to work there!" he said, noting his starting annual salary was $6,345. "My kids still can't believe I was paid so little."
By 1974 Chambers had progressed through the ranks to become the facility's director, serving as head of the Full-Scale Tunnel through 1981. Altogether he spent more than 36 years working for the NACA and NASA, retiring in 1998.
Chambers has since continued making contributions to the aerospace community as a consultant and writer, with work on "Cave of the Winds" beginning in the fall of 2010, the year before the Full-Scale Tunnel was finally demolished.
Credits: NASA
Information for the book came from a variety of sources, including a number of technical reports that were originally classified, had limited distribution, but were preserved by Chambers when he managed the facility so they could aid future historians – not knowing he would be helping himself.
Still, many documents went missing or were destroyed through the years. Some test activities and results were only shared verbally among people who have since died, while other tests simply were not documented for one reason or another.
Nevertheless, Chambers was able to piece together a remarkably complete picture of the Full-Scale Tunnel's history in a 533-page book that is filled with historic photos, captivating tales of the people involved and enough aeronautical engineering to make it both widely accessible and textbook-worthy.
"It's a book for anyone with an interest in aviation," Chambers said.
As Chambers writes, the Full-Scale Tunnel was built "during an era when biplanes and dirigibles dominated aviation. The huge, cathedral-like facility was the largest wind tunnel in the world when it began operations in 1931."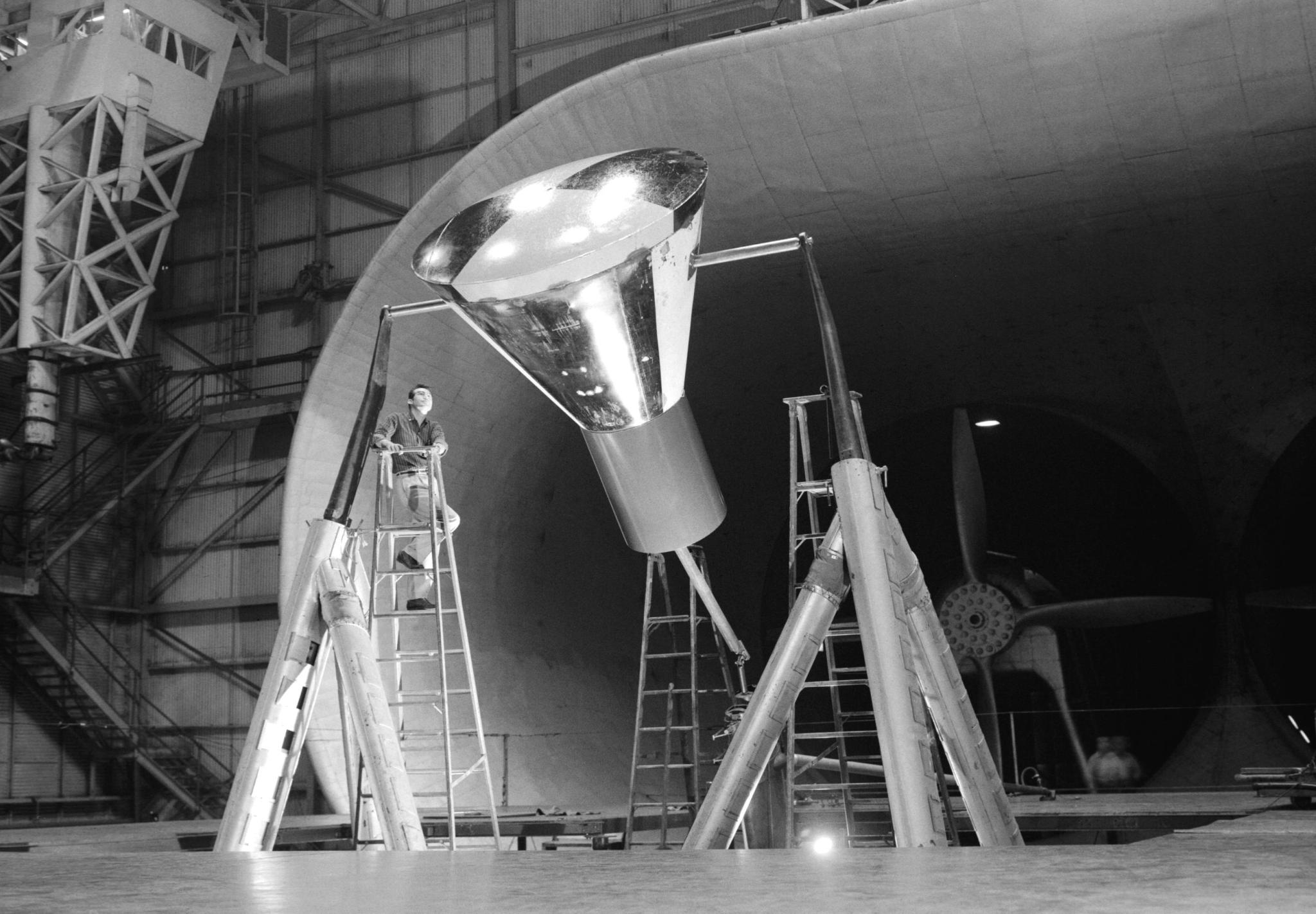 Credits: NASA
In fact, it was the largest wind tunnel in the world until 1945, and in 1985 was named a National Historic Landmark.
Before the tunnel was demolished in May 2011, several key artifacts were saved, including a complete 35.5-foot diameter wooden propeller drive unit, which will soon be displayed in the National Air and Space Museum in Washington, D.C.
"The nation was blessed by having the government maintain investments in a facility that made critical contributions for applications that were completely unforeseen when it was originally designed in 1931," Chambers said.
And despite the availability of increasingly complex computer simulation tools, the good old-fashioned wind tunnel is still useful, he said.
"There are still critical aspects of flight that are not adequately handled by these tools and wind tunnel testing continues to be a valuable risk-reduction procedure. Wind-tunnel research has and will always play a vital role in the aircraft and spacecraft design process."
Publication of "Cave of the Winds" was sponsored and funded by NASA's Aeronautics Research Mission Directorate.