Data Systems Engineer Rita Owens supports NASA's Digital Transformation as part of the NASA Data Strategy Mission. This involves transforming how NASA operates by using digital capabilities to increase the reliability and effectiveness of NASA's Information Technology (IT) operations.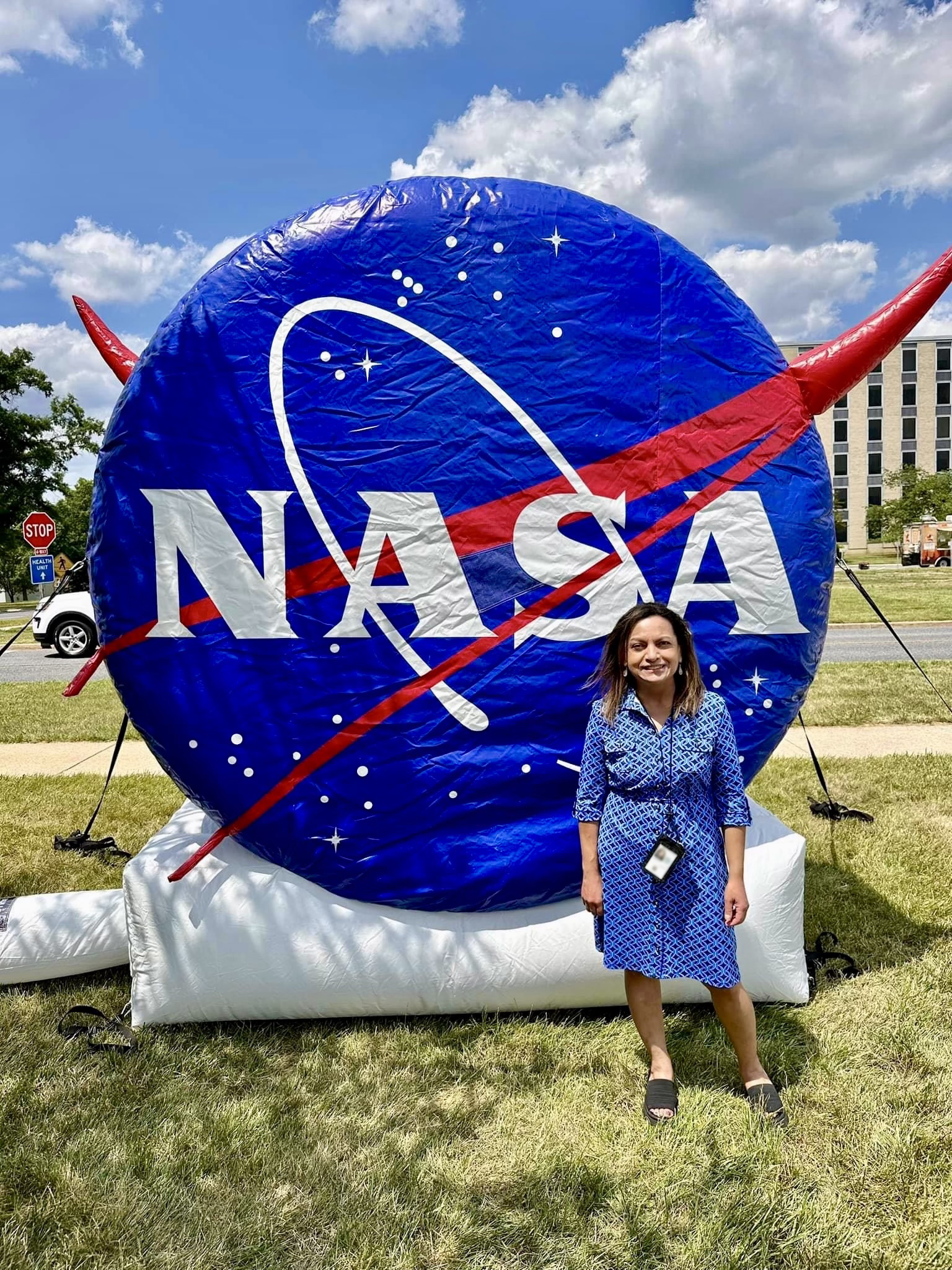 Courtesy of Rita Owens
Name: Rita Owens
Formal Job Classification: Data Systems Engineer
Organization: Data Steward, Data Stewardship and Governance
Information, Data, & Analytics Services (IDAS)
Office of the Chief Information Officer (OCIO)
(Detailed to IDAS/OCIO from GSFC Code 565, Engineering and Technology Directorate)
What do you do and what is most interesting about your role here at Goddard?
As a data systems engineer, I support Data Governance and Stewardship under Data and Analytics Services with evaluation of data cataloging solutions and manage implementation of data governance, stewardship policies and data catalog. I enjoy working and gaining experience with other professionals in various information technology specialties at other NASA centers.
What is your educational background?
My favorite subjects in high school were math, science, and art. While in high school, I went to a summer camp at the Rochester Institute of Technology to learn about STEM careers. I chose engineering because women were in high demand in this male-dominated field for diversity, and it also offered plenty of job opportunities. I majored in undeclared engineering during my freshman year at RIT. I met with an advisor at RIT to discuss my major of study and he suggested electrical engineering because of the technical advances, the increasing importance of electronics, and the amount of math involved. He gave a good example of a mechanical typewriter becoming an electronic typewriter.
I graduated from RIT with a BS degree in electrical engineering in 1993. Also, I got a master's degree in electrical engineering from Johns Hopkins University in 1998 while working for NASA.
Why did you come to Goddard?
In 1991, while a student at RIT, I participated in a summer internship program at Goddard that was sponsored by Gallaudet University. I thought it was an exciting opportunity to work for NASA near my home in Maryland. I developed and implemented several programs for an image compression project at the Flight Data Systems Branch.
The next fall and then the following summer, I participated in a co-op program and assisted with the power supply designs for spacecraft in the Space Power Applications Branch at Goddard. I was offered a permanent position at that branch early before I graduated in 1993. I was excited and accepted that offer immediately.
How does your detail to OCIO help with NASA's digital transformation?
Digital transformation helps NASA's people by improving data quality, accessibility, and security. We are transforming how NASA operates by using our own digital capabilities to be smarter about storing and managing knowledge. NASA has learned a lot and built a valuable collection of information, so curating, securing, and organizing that information is an important and satisfying responsibility.
It makes everyone's job easier and more efficient and aligns with NASA's goals – discovering and expanding knowledge for the benefit of humanity. Since last year, I have been gaining experience and developing skills in IT and software areas such as data systems, visualization tools, and web development.
After working over 30 years at Goddard, what are some of your most memorable moments?
In my earlier career, I designed and developed power supplies for electrical power systems on a variety of spacecraft that have flown in space. Specifically, I worked with the power and switching distribution units for spacecraft instruments such as the Suzaku mission's X-ray Spectrometer, Tracking and Data Relay Satellites (TDRS), and the Wilkinson Microwave Anisotropy Probe.
I also have done digital designs and technical documentation for many spacecraft missions such as space shuttle Hitchhiker payloads, the James Webb Space Telescope, Lunar Reconnaissance Orbiter, ICESat-2, and others.
Building hardware to help scientists reach their goals and seeing successful launches of our spacecraft into orbit and the solar system made me feel very proud.
What is some of the most important advice your mentors have given you?
A former director of the Applied Engineering and Technology Directorate encouraged us to leave our comfort zones and learn new things to broaden our horizons and increase our skill base. He did not want us to get stuck in a rut and encouraged us to work outside our branch. I started in the Power Systems branch and then worked in several other branches doing digital electronics designs and many other projects including research and development. I am now in software development and IT. I worked in a lot of different areas that expanded my skills, showed me how things are done in different areas, and gave me a broader view.
As a mentor, what advice do you give?
I would advise students to get work experience in different areas of their major study to find what they feel is the best fit. A co-op would be a good way to go because they can work while in college which helps them select the right field. RIT required us to do co-ops as part of our undergraduate program in engineering. So, my work experience in several different engineering fields in both the private industry and government as co-ops helped lead me to the right career field. Take advantage of internships and co-ops.
Are you involved with any of Goddard's Employee Resources Groups (ERGs)?
Over 10 years ago, I was the chair of the Equal Accessibility Advisory Committee (EAAC). Advisory committees are now called employee resources groups. When I was a chair of the People with Disabilities Advisory Committee, it was quite small. I proposed to change the name of the committee to equal accessibility for a more positive image as we need to focus on accessibility instead of disabilities. It did help grow our popularity at Goddard. I also proposed expanding our EAAC community for more diversity to include those with non-disability health conditions such as diabetes and bipolar depression. As a result, many more employees joined our committee, including several managers. I also arranged many events to raise disability awareness, such as the employees with disabilities panel and etiquette workshops.
I am currently the co-chair of the Equal Accessibility ERG. I would like to see all employees continue to have equal accessibility in the workplace. So, I encourage Goddard to help break down all the barriers for everyone to become more productive at work, to support NASA's goals more effectively. I also attempt to raise awareness of employees with disabilities and health conditions and their accommodations while helping educate the Goddard community through events such as American Sign Language (ASL) Brown Bag sessions and Disability & Health Awareness presentations and workshops such as Suicide Awareness, Deaf Awareness and Etiquette, Recruiting People with Disabilities Workshop, etc. We hope to educate everyone at Goddard about how to interact effectively with and be inclusive of people with disabilities.
I recently gave a presentation to our center director about some of our accomplishments and our plans for the coming year. I mentioned some of the challenges that employees with disabilities face including barriers at the workplace.
I also serve as part of the Goddard Diversity, Equity, Inclusion, and Accessibility Implementation Team. The team is assisting in the development of the DEIA Implementation Plan that aligns with the NASA DEIA Strategic Plan. Also, I support Workforce Recruitment Program (WRP) as a recruiter for candidates with disabilities and attend job fairs as part of the disability recruitment efforts at NASA Headquarters.
Also, I serve as an area vice president of the Goddard Engineers, Scientists, and Technicians Association (GESTA) under the International Federation of Professional and Technical Engineers (IFPTE) Local 29. In that role, I advocate for STEM professionals and assist in improving our workplace.
Courtesy of Rita Owens
What are some of the personal challenges you have faced?
When I started at Goddard, another deaf engineer and I brought up the need for expanded American Sign Language interpreting services for our heavily technical work. The center director at the time decided to allow me and other deaf engineers to develop our statement of work and choose the best interpreting service, since we knew exactly what we needed. We now have a much more robust interpreting services contract. That made a huge difference to our careers.
What advice would you give to a manager of someone with disabilities?
Managers need to listen, communicate well, and be open-minded with a positive attitude toward those of us with disabilities or health conditions. Also, I encourage managers to take training in reasonable accommodations for employees with disabilities for inclusion as well as provide plenty of work opportunities to everyone equally for their career growth.
Managers should ask employees with disabilities to find out what accommodations they need and give them equal opportunities for growth in their careers. They should give the employees plenty of work opportunities to advance their careers, too.
What do you do for fun?
I used to love making oil paintings of landscapes and florals. I go to paint nights sometimes with friends and family. I also enjoy traveling with my family and learning new things with them in other countries. It is fun exposing my three children to different cultures. Also, I love doing outdoor adventures such as hiking and cycling.
Also, someday I would love to go to a launch and watch it live as I have never been to one!
Is there anyone you would like to thank?
I would like to thank my mom, who was my role model. She balanced a family with a career as a physician. I was so amazed at all her successes, and she was also my best friend. She encouraged me to be independent as a career professional and cherish family values.
What is your "six-word memoir"? A six-word memoir describes something in just six words.
Independent. Determined. Persistent. Creative. Inquisitive. Mom.
Conversations With Goddard is a collection of Q&A profiles highlighting the breadth and depth of NASA's Goddard Space Flight Center's talented and diverse workforce. The Conversations have been published twice a month on average since May 2011. Read past editions on Goddard's "Our People" webpage.
By Elizabeth M. Jarrell
NASA's Goddard Space Flight Center, Greenbelt, Md.