Lynn Bassford levels decades of experience and a desire for self-growth as she helps lead Hubble's Mission Operations team.
Name: Lynn Bassford
Title: Hubble Space Telescope Mission Flight Operations Manager
Formal Job Classification: Multifunctional Engineering and Science Manager
Organization: Astrophysics Project Division, Hubble Space Telescope Operations Project, Code 441
NASA's Goddard Space Flight Center/Tim Childers
What do you do and what is most interesting about your role here at Goddard? How do you help support Goddard's mission?
I help Goddard's Hubble Space Telescope Mission Operations Team to make sure that we're taking care of the health and safety of the spacecraft. This includes commanding and playing back data from Hubble and working with the ground system and subsystems engineering teams to coordinate procedures, train people, schedule everyone, and manage resources.
How did you find your path to Goddard?
I graduated and wasn't quite sure where a physics major would go for a position. So, I picked up a copy of Physics Today, went through every company in there, and sent out my résumé. After sending approximately 200, an application came back from Lockheed. It said to fill it out and send it to the Lockheed closest to you. There were 10 different locations, so I sent it to all 10. One day, there was a message on the answering machine that said, "Hey, Lynn, just wondering if you would like to work on a telescope in space for NASA." The person who called, his name sounded like "Mr. Adventure," and I gave him a call back and found out his name was Mr. Ed Venter. I can't help but think it's pretty cool, actually, because it has indeed been a great adventure!
What is your favorite part of working at Goddard?
Working with the spacecraft! Physically sending a command up and seeing it come back is just utterly amazing.
Over the years, I've had the luck of being able to meet several astronauts that have gone up in our servicing missions. In a couple cases, we had them visit us in the middle of the night on our long shifts. Meeting them is like meeting a rock star.
What first sparked your interest in space?
Space was a combination of sci-fi and reality. The Apollo 11 Moon landing took place a couple of months after I was born, so my dad and I like to say that I was in front of the TV watching and it just got absorbed into my persona. One day, I saw Sally Ride up working in space and the TV said she had a background in physics, so I did physics.
Courtesy of Lynn Bassford
What is your educational background?
I was always very good at science and math and absolutely loved them. In middle school, I wanted to do astrogeology, but everyone I talked to said I kind of made that up. Now it's all around the place! I went to University of Lowell for physics, which became UMass at Lowell. I ended up working for a physics professor who was also the head of the astronomy department.
You've held many roles over your years at Goddard. How do you feel that they've contributed to your current role as a manager?
Everything I've done aligns. I learn from everyone at all levels that I interact with. I did eight-and-a-half years of rotating shift work with flight operations, and I made sure that I moved across the room from console to console learning the different areas. Then I went into science instruments system engineering for over five years, where I became the lead. Then I moved into this role in mission operations, which combines those but also brings in employee performance, career growth, safety, diversity and inclusion, and engagement. Understanding what each area does and how they work together helps you optimize everything. It's just a fact of my life to learn something new every day until the day I die. I'm not happy being stagnant.
How do you manage stressful situations when working with the telescope?
I don't even think about how stressful it is because of the training I had in those early days: working with and learning from the experts about what you look at, who you call, what you do, and how to keep the telescope in a safe condition. Even during issues or service missions, we're actually a very calm team.
What is your proudest accomplishment at Goddard?
When I was a Flight Operations Team shift supervisor in charge of my own crew for Hubble, on Jan. 6, 1996, we got hit with a three-foot snowstorm. Back in those days, we were on rotating shift work. When I left work that day, there was a light layer of snow, so I went home and collected whatever I could in the house for food, knowing there were at least five people on-site that might not go home. I drove back to work with half-a-foot of snow. Seven people stayed for two-and-a-half days straight. We pulled the foam coverings off the walls, piled them up in layers, and made a mattress out of it. We put it in one of the warmer inner offices so we could take turns sleeping eight hours and splitting 16 hours between working real-time operations and moving our vehicles from lot to lot for the Goddard snowplows. NASA gave us a small award afterwards.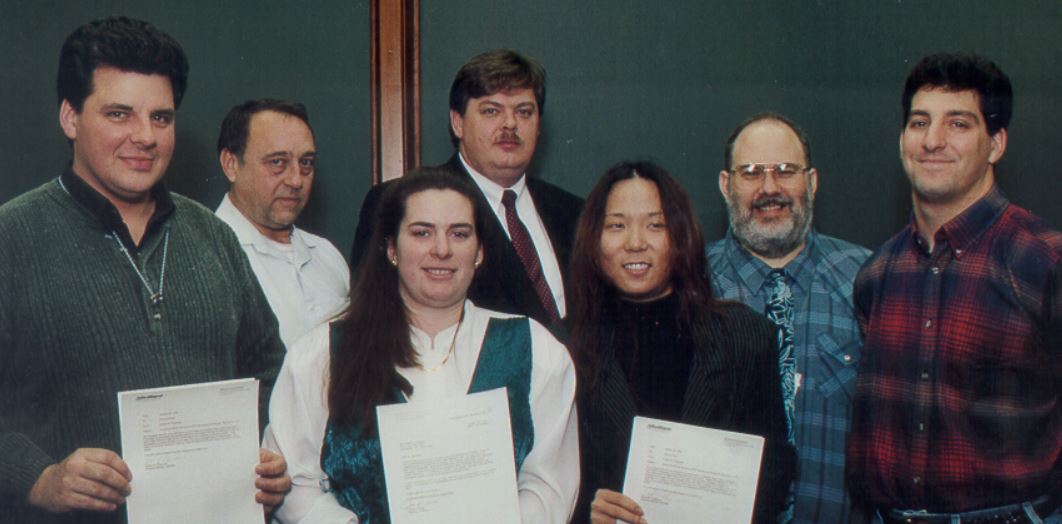 NASA's Goddard Space Flight Center
What is the coolest part of your job?
Hubble's mission is just generally the coolest. It's helping to discover, and to rewrite science books. Helping humanity discover what's out there and move forward into the universe is groundbreaking.
What advice would you give to people looking to have jobs at Goddard?
For students, make sure you work hard even though college can be quite a challenge. That's the intention – to get you thinking in all different ways and broaden your mind. Don't give up, even when it's challenging.
For workers, diversifying your interests and not specializing in one area will make you open to a lot of different opportunities that you might not know about. You need to keep learning in order to be the best asset to an employer.
Do you have a favorite space or Hubble fact?
Hubble is a green telescope! We had solar panels before houses did.
Courtesy of Jim Jeletic
How do you like to spend your time outside of work?
My dedication to work and family takes up most of my time, admittedly. If I can fit it in, I like to walk outside, do artwork that involves Hubble, and do challenging sports like white water rafting and bungee jumping.
In the '90s, I played on the men's softball team at Goddard. I was a pitcher for the Hubble team.
What is your "six-word memoir"? A six-word memoir describes something in just six words. We're all made of stardust, IDIC. IDIC stands for infinite diversity in infinite combinations – it comes from Star Trek's Spock.
Conversations With Goddard is a collection of Q&A profiles highlighting the breadth and depth of NASA's Goddard Space Flight Center's talented and diverse workforce. The Conversations have been published twice a month on average since May 2011. Read past editions on Goddard's "Our People" webpage.
By Hannah Richter
NASA's Goddard Space Flight Center, Greenbelt, Md.