SporeSat (SpaceX-3)
NASA / Dominic Hart
SporeSat is an autonomous, free-flying spacecraft that will be used to conduct a scientific experiment to investigate how germinating plant cells sense and respond to gravity. The plants used in the experiment are single-celled spores of the aquatic fern Ceratopteris richardii. Researchers are studying spores in space to gain a more detailed understanding of molecular and biophysical mechanisms for gravity sensing.
C. richardii spores sense and respond to gravity within hours after germination starts. One of the earliest measurable gravity-directed events is a movement of calcium ions through the germinating spores. On Earth, this calcium ion current flows in the direction opposite Earth's gravity—in through the bottom and out through the top of each spore—biochemically distinguishing up from down. During the SporeSat experiment the gravitational responses of the fern spores to varying levels of gravity will be monitored by measuring the activity of their calcium ion channels.
The SporeSat mission will be flown using a three-unit (3U) nanosatellite weighing approximately 12 pounds and measuring 14 inches long by 4 inches wide by 4 inches tall. The science payload includes three lab-on-a-chip devices—BioCDs—that researchers at Purdue University developed for variable gravity electrophysiology studies of single cells. Each disc-shaped BioCD holds up to 32 spores. Two of the BioCDs spin to exert a range of artificial gravitational forces on the spores during the experiment; the third BioCD remains stationary as a microgravity control.
SporeSat launched aboard SpaceX-3 and was subsequently deployed into orbit on April 18, 2014.
SporeSat was developed through a partnership between NASA's Ames Research Center and the Department of Agricultural and Biological Engineering at Purdue University. SporeSat was competitively selected for NASA's CubeSat Launch Initiative. The mission was funded as part of the Space Biology Project at NASA Ames Research Center. Funding for Space Biology comes from the Space Life and Physical Sciences Research and Applications Division within the Human Exploration and Operations Mission Directorate at NASA Headquarters.
Project Team
Project Manager: Andres Martinez, NASA Ames Research Center
Project Scientist/Technologist: Antonio Ricco, Ph.D., NASA Ames Research Center
Principal Investigator: Jenna Rickus, Ph.D., Purdue University
Principal Investigator: Amani Salim, Ph.D, Purdue University
Co-Investigator: Stan Roux Ph.D., University of Texas at Austin
Co-Investigator: Mari L. Salmi Ph.D., University of Texas at Austin
Hardware development: NASA Ames Research Center
Science payload development: Purdue University
Mission Operations: Santa Clara University with NASA Ames Research Center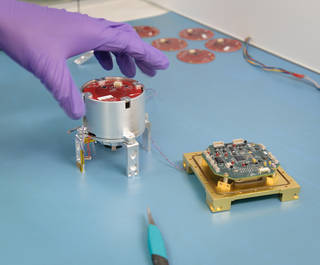 NASA / Dominic Hart
NASA / Dominic Hart
To learn more about SporeSat:
Read the story "Purdue study to measure gravity's effects on plant cells in space" (Purdue Agriculture News: April 10, 2014)
Read the SporeSat NASA Facts sheet on this page.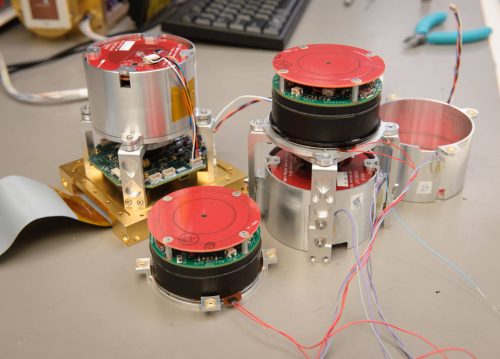 NASA /Dominic Hart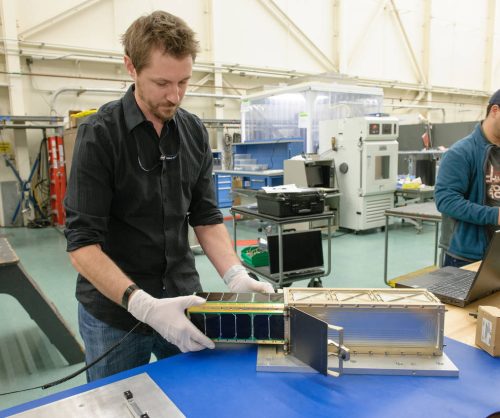 NASA / Dominic Hart