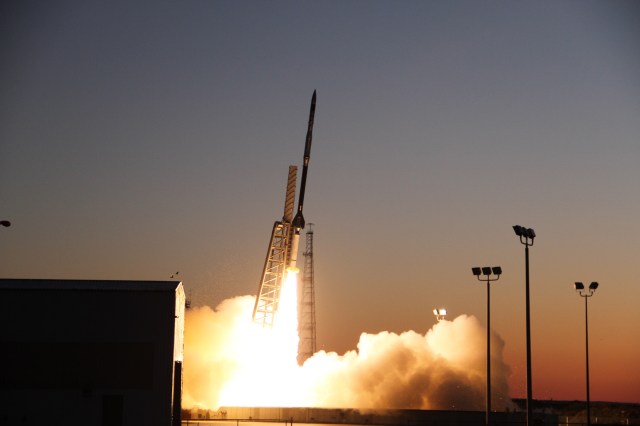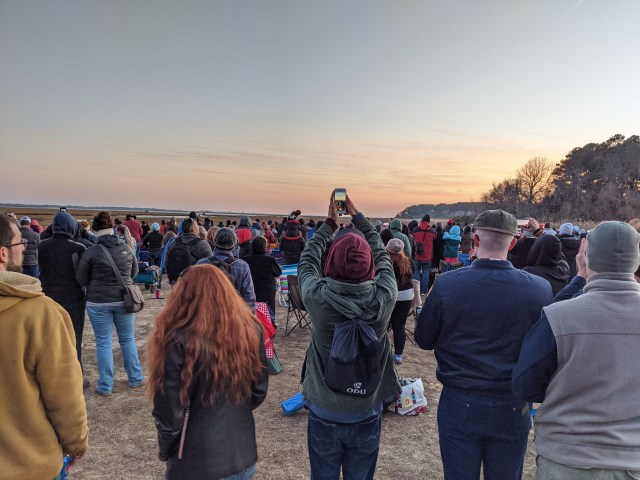 View a Launch from Wallops
Watch a rocket launch from the coast of Virginia at the NASA Wallops Visitor Center's Launch Viewing Area! The Launch Viewing Area at the Visitor Center is located 7 miles from the launch range and is one of the only public sites with a clear view of the launch pads!

Rocket launches are scheduled based on mission needs, environmental conditions, other launch schedules, and more. Because of the many variables impacting launch schedules, launch dates are typically not released more than 2 months in advance.
Launch Schedule

about View a Launch from Wallops
Next Launch
Mission: TBA
Vehicle: TBA
Visitor Center Launch Viewing Area: TBA
What To Expect at a Rocket Launch
Launch viewing events are some of the most popular events at the Visitor Center, but they do vary depending on the type of rocket. For all rocket launches the Visitor Center has five bleachers available for seating along the edge of the marsh, but many people choose to bring blankets or chairs to set up in the lawn. Live audio from Range Control at Wallops is broadcast inside the Visitor Center and outside at the Launch Viewing Area. Visitor Center staff will provide informative resources about Wallops and the current mission. A launch is a very exciting event, but it's also complicated, and all launch dates, times, and viewing opportunities are subject to change at any time- in advance or seconds before a scheduled liftoff.
Large Scale Launches, Including Antares: Larger rocket launches are incredibly popular, and the Visitor Center typically hosts thousands of people at a single launch event. These launches are spectacular to view regardless of the time of launch, and the launch can be seen, heard, and felt from many local viewing locations! The Visitor Center parking lot has often filled within an hour after opening for these large launches, and visitors are strongly encouraged to read all launch viewing tips prior to attempting to see a launch. Visitors will be greeted at the gate by security staff and directed where to park. Vehicles will be parked on the asphalt parking lot as well as a grassy overflow parking area. Visitors entering the Visitor Center or the Launch Viewing Area will be subject to a security checkpoint and bag check. Information about the rocket and mission will be available at an information table. Portable toilets will be available outside the Visitor Center and food and beverages may be available for purchase. Gift shop items may be available through the gift shop vendor, WEMA.
Sounding Rocket Launches: Sounding Rockets are fast! Sounding rocket launches only last a few seconds and can easily be missed if you blink. These solid fueled rockets carry many different types of scientific experiments, and often require very specific conditions for launch. These rockets may have long launch windows and some experiments require such specific conditions that multiple scrubs can happen- some missions have scrubbed as many as 12 times! Sometimes these rockets can be seen from far away (People have spotted them from Nova Scotia and Kentucky!) and other times can only be seen locally, visibility depends on how high the rocket will be launched, the weather, and the time of day. Multi-stage sounding rockets that are launched at night are often seen from farther away.
NASA/ Amy Barra
Launch Viewing Tips
Visitors are encouraged to:
Plan ahead. Select a backup viewing location in case you are not able to access your first choice, other viewing locations can be found on the Chincoteague Chamber of Commerce website. Pack activities, seating, food and beverages. For many launches your group may be waiting a few hours before the launch window opens, pack things to keep yourself occupied and comfortable while you wait. There are no tickets and parking spaces cannot be reserved. For larger launches (Antares) the Visitor Center capacity is generally reached within 60 minutes after opening, sounding rocket launches rarely fill to capacity.
Check for updates. look for the weather report usually released a day before the launch as well as any relevant launch updates on the day of launch. Wallops social media pages are updated frequently prior to a launch.
Plan to arrive early. Expect to encounter increased traffic around Wallops and Chincoteague, especially for larger rocket launches and during weekend or holiday dates. There are limited roadways to get to the area and they can become congested before and immediately after a launch. Traffic backups can occur for miles. The Visitor Center parking lot typically fills within one hour after opening for a launch and can take up to 1-2 hours to empty after launch. Be sure your vehicle is fueled/ charged enough to wait for traffic to clear.
Bring or wear your favorite insect repellent! Biting insects abound in the natural areas around Wallops, be prepared with insect repellent and appropriate clothing to protect yourself from bites. This is especially important for summer launches.
Visitors are prohibited from:
Bringing pets. No pets are permitted at the Visitor Center and Launch Viewing Area (including in vehicles) except for service animals.
Bringing Coolers and large bags. Coolers and oversized bags cannot be used on the Visitor Center grounds during launches and large events.

Visitors may bring coolers and larger bags but those items MUST remain in vehicles parked on the Visitor Center grounds.
A standard school backpack or smaller is permitted to be used inside the Visitor Center and Launch Viewing Area.
All belongings are subject to a security check upon entering the Visitor Center grounds.

Arriving in vehicles that do not fit in a standard parking spot. Oversized vehicles, such as RVs, trailers, popup campers, buses, and oversized vans are not allowed to park at the Visitor Center on launch days due to security protocol.
Placing stakes into the ground or using tents. Tents and stakes may not be used on the Visitor Center grounds at any time.
Parking along Route 175 prior to the gates opening or during launch viewing events. Vehicles and pedestrians are not allowed to park or stand in front of the closed gates prior to opening or during the launch viewing event. Law enforcement officials will ask anyone doing so to leave.
FAQs For Launch Viewing at the Wallops Visitor Center
Do I need to purchase a ticket for a launch?
All launch viewing experiences at Wallops are free of charge and currently do not operate on a ticketed system. Launch viewing space is limited and visitors are allowed entry on a first come first served basis. Visitor Center staff cannot guarantee parking or entry to individual visitors or groups. We recommend carefully timing your arrival to within 30 minutes of the Visitor Center opening for launch viewing. It's also recommended to identify a backup viewing location in case the Visitor Center fills to capacity before your arrival.
Stay Connected
Check the status of a launch window on a regular basis because launch dates and times are subject to change or cancelation in advance or at the last minute.
Launch Information: Wallops Website and the Wallops Launch Schedule
Social Media: NASA Wallops Facebook Page and the NASA Wallops X Page
Live Coverage on NASA TV and YouTube
Stream a launch live through the Wallops YouTube channel.
NASA TV also covers some launches and mission briefings. View program schedule here: https://www.nasa.gov/nasatv
Watching a Launch from Chincoteague Island
Chincoteague Island viewing locations include Chincoteague Downtown Robert Reed Waterfront Park located on Main Street, south Main Street to Curtis Merritt Harbor, and the bike trail near the Museum of Chincoteague Island adjacent to the bridge to the Chincoteague National Wildlife Refuge. For more information about viewing locations on Chincoteague please contact the Chamber of Commerce at 757-336-6161 or visit their website for a list of potential viewing locations.
**The Chincoteague National Wildlife Refuge and Assateague Island National Seashore (Virginia District) is subject to closure during Antares launches. Please check the Chincoteague National Wildlife Refuge website for closure information. **
Can't make it to these locations?
Check out six places to watch a launch from Wallops.
NASA/Jamie Adkins
The Eastern Shore of Virginia Tourism Commission, in collaboration with Wallops, recently launched a new landing page on their website for visitors seeking to travel to the area for a launch. The webpage includes additional launch viewing sites, restaurants, accommodations, and other information for traveling the Eastern Shore of Virginia.
**Some locations listed on the ESVA Tourism website are subject to closure during Antares launches. Please check with the Virginia State Police (VSP) and Virginia Department of Transportation (VDOT) for closure information.**