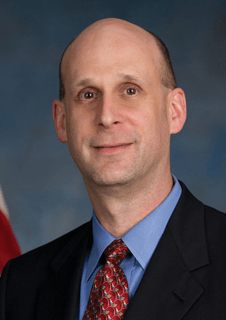 Steven L. Rickman
NASA Technical Fellow for Thermal Control & Protection
Mr. Steve Rickman joined the NASA Engineering and Safety Center in January 2009 as the NASA Technical Fellow for Thermal Control & Protection. In this capacity, he leads a cross-agency Technical Discipline Team, leveraging expertise from within and outside of the Agency to solve high risk technical problems and foster a community of practice for the thermal control and protection disciplines.
He began his career as a cooperative education student at the NASA Goddard Space Flight Center focusing on thermal-vacuum and structural dynamic testing. He transferred to the Johnson Space Center gaining cooperative education experience in mission operations, aircraft operations and thermal analysis. Upon graduation, he joined the JSC Thermal Branch. Mr. Rickman was named Deputy Chief of the Thermal Branch in 1998 and Chief of the Thermal Design Branch in 2002. He and his branch provided thermal protection, hot structures and passive thermal expertise to the Columbia accident investigation. He served as the NASA lead for the Flight-Day-Two Object Radar Team and worked with the U.S. Air Force on this facet of the investigation. In 2006, he led the Tile Overlay Repair Development Team, focused on developing a repair for Space Shuttle tile damage.
Mr. Rickman's primary interest has been in the area of passive thermal control and analysis of orbiting spacecraft. He served on numerous design teams including the TransHab inflatable module project as lead environments engineer and lead thermal analyst. As the NASA technical manager, he led the development of the Thermal Synthesizer System (TSS) analysis tool suite. He was the thermal design engineer for the Inter-Mars Tissue Equivalent Proportional Counter, the ISS Extravehicular Charged Particle Directional Spectrometer, and the Mars Odyssey 2001 Martian Radiation Environment Experiment. He also developed concurrent engineering techniques for representing thermal protection systems in spacecraft thermo-mechanical stress models. He co-developed a general purpose on-orbit thermal environments tool which was used extensively during the STS 35 ASTRO-1 mission.
Mr. Rickman has authored or co-authored numerous technical papers and conference presentations including public testimony given with the U.S. Air Force to the Columbia Accident Investigation Board. He authored a textbook chapter on natural and induced thermal environments. He holds three U.S. patents. He was the lead inventor of a novel technique and system for micrometeoroid/orbital debris impact detection and location on spacecraft. He was a co-inventor of an innovative space station concept. He was the overall project lead and inventor of a calorimeter for measuring energy yield from small format lithium ion cells undergoing thermal runaway. Mr. Rickman has received numerous mentoring, Group Achievement, Tech Brief, and Space Act Awards and has been honored with the Silver Snoopy Award and the NASA Exceptional Achievement Medal. From 2011 to 2016, he was an Adjunct Professor/Lecturer of Mechanical Engineering at Rice University.
He earned a B.S. in Aerospace Engineering from the University of Cincinnati and a M.S. in Physical Science from the University of Houston-Clear Lake.