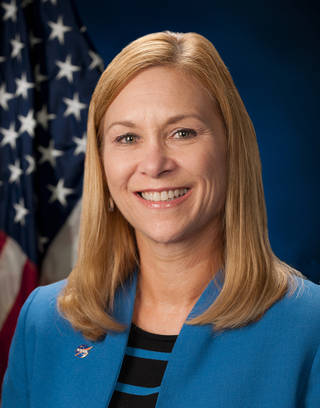 Janet Petro
Director, Kennedy Space Center
Janet Petro was named the 11th director of NASA's John F. Kennedy Space Center in Florida on June 30, 2021. She had been serving as acting director since May 2021 following NASA Administrator Sen. Bill Nelson's announcement that Robert D. Cabana, previous Kennedy director, would assume the role of NASA's associate administrator.
Experience
Prior to being named director, Petro served as Kennedy's deputy director since April 2007, where she shared responsibility with the center director in managing the Kennedy team of civil service and contractor employees, determining and implementing center policy and managing and executing Kennedy missions and agency program responsibilities.
During her tenure as deputy director, Petro helped Kennedy transition into a multi-user spaceport, leading cross-agency initiatives with the Federal Aviation Administration and U.S. Air Force to streamline government processes and support commercial space operations to increase government efficiency and limit redundancy. She served a 12-month appointment at NASA Headquarters in Washington, D.C. as the deputy associate administrator and acting director for the Office of Evaluation.
From 2017 through January 2020, she served as the Program Executive leading the agency-wide initiative for a phased implementation to restructure all mission enabling functions to ensure efficient and effective support of NASA's missions. Her assignment to the Mission Support Future Architecture Program (MAP) concluded in January 2020.
Prior to joining NASA, Petro served in various management positions for Science Applications International Corp. (SAIC) and McDonnell Douglas Aerospace Corp. At SAIC, Petro held a number of management positions within the corporation's operations. She interfaced with NASA, the U.S. Air Force, the U.S. Navy, and commercial entities on numerous aerospace and military programs.
At McDonnell Douglas Aerospace, Petro advanced from mechanical engineer and payload manager to multiple management positions including program manager for executing a classified, multimillion-dollar U.S. Department of Defense program, to senior manager for Communications and Data Systems Division.
Awards
Petro is the recipient of numerous service and performance awards. She received the 2022 Dr. Kurt H. Debus Award by the National Space Club Florida Committee for her contributions to America's aerospace efforts within the state of Florida. She helped lead the senior management team that was awarded the 2019 Samuel J. Heyman Service to America Sammies Management Excellence Medal.
She also is the recipient of a President's Distinguished executive award, and has received the astronaut-selected Silver Snoopy award for outstanding performance for contributing to flight safety and mission success. In 2018, Petro was selected by Florida Governor Rick Scott for induction in the Florida Women's Hall of Fame.
Education
Petro began her professional career as a commissioned officer in the U.S. Army after graduating in 1981 from the U.S. Military Academy at West Point, New York, with a Bachelor of Science degree in engineering. She was in the second class of West Point graduates to include women. Petro also holds a Master of Science degree in business administration from Boston University's Metropolitan College.
Biography last updated June 2021