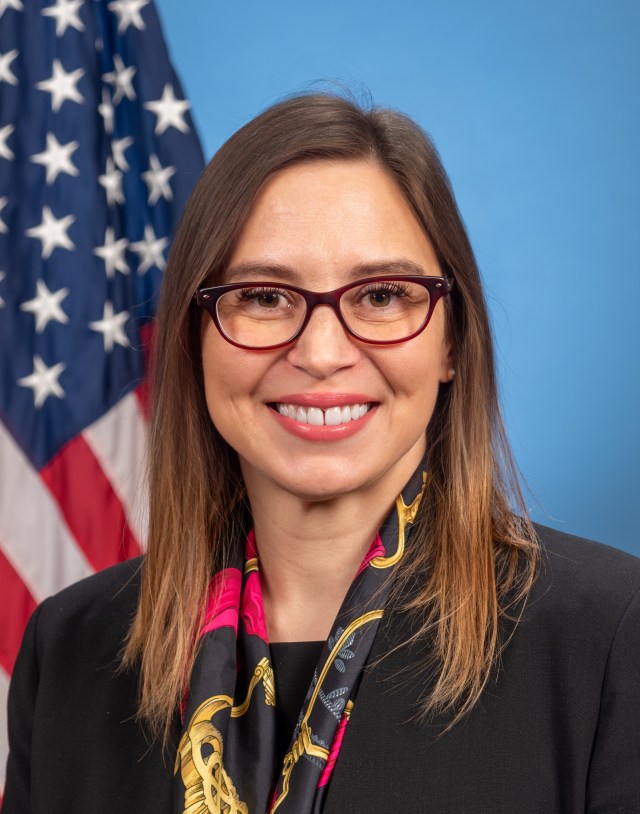 Dr. Makenzie Lystrup
Center Director, Goddard Space Flight Center
Dr. Makenzie B. Lystrup is the director of NASA's Goddard Space Flight Center guiding the direction and management of one of NASA's major field installations. Goddard's sites include the primary campus in Maryland, Wallops Flight Facility in Virginia, the Katherine Johnson Independent Verification & Validation Facility in West Virginia, the Goddard Institute for Space Studies in New York, the White Sands Complex in New Mexico, and the Columbia Scientific Balloon Facility in Texas. Goddard is responsible for the oversight and execution of a $4 billion portfolio and is home to the nation's largest concentration of scientists, engineers and technologists dedicated to Earth and space science. Its workforce consists of more than 10,000 employees, both civil servant and contractor.
Prior to joining NASA, Dr. Lystrup was vice president and general manager of Ball Aerospace's Civil Space Strategic Business Unit, where she was responsible for the company's portfolio of civil space systems spanning across all science fields, operational weather and Earth observation, as well as advanced technologies development objectives. In this role, she led Ball's contributions to several missions, such as NASA's James Webb Space Telescope, Imaging X-ray Polarimetry Explorer (IXPE), Landsat 9, and the Roman Space Telescope.
Dr. Lystrup has also served as senior director for Ball's Civil Space Advanced Systems and Business Development, where she managed new business activities for NASA, NOAA, and other civilian U.S. government agencies as well as for academia and other science organizations. In addition, she served in the company's Strategic Operations organization, based in Washington D.C., where she led Ball's space sciences portfolio. Prior to joining Ball, Dr. Lystrup worked as an American Institute of Physics – Acoustical Society of American (AIP-ASA) Congressional Fellow from 2011 to 2012 in the office of U.S. Representative Edward Markey, where she managed a portfolio including technology, national defense, nuclear energy, and nuclear nonproliferation.
Dr. Lystrup has served on boards and committees for several organizations to include the University Corporation for Atmospheric Research (UCAR), International Society for Optics and Photonics (SPIE), the University of Colorado, and the American Astronomical Society (AAS), where she also served as chair of the Committee on Planetary Science Policy. In 2023, she was named an SPIE fellow for her work in optics along with being named an AAS fellow. She was named an American Association for the Advancement of Science fellow in 2019 for her distinguished record in the fields of planetary science and infrared astronomy, science policy and advocacy, and aerospace leadership. Dr. Lystrup also served as an AmeriCorps volunteer focusing on STEM education.
Dr. Lystrup holds a bachelor's in physics from Portland State University and attended graduate school at University College London earning a Ph.D in astrophysics. She was a National Science Foundation Astronomy & Astrophysics Postdoctoral Research Fellow spending time at the Laboratory for Atmospheric & Space Physics in Boulder, Colorado, and University of Liege in Belgium. As a planetary scientist and astronomer, Dr. Lystrup's scientific work has been in using ground- and space-based astronomical observatories to understand the interactions and dynamics of planetary atmospheres and magnetospheres – the relationships between planets and their surrounding space environments.
Dr. Lystrup has been Goddard's center director since April 2023.