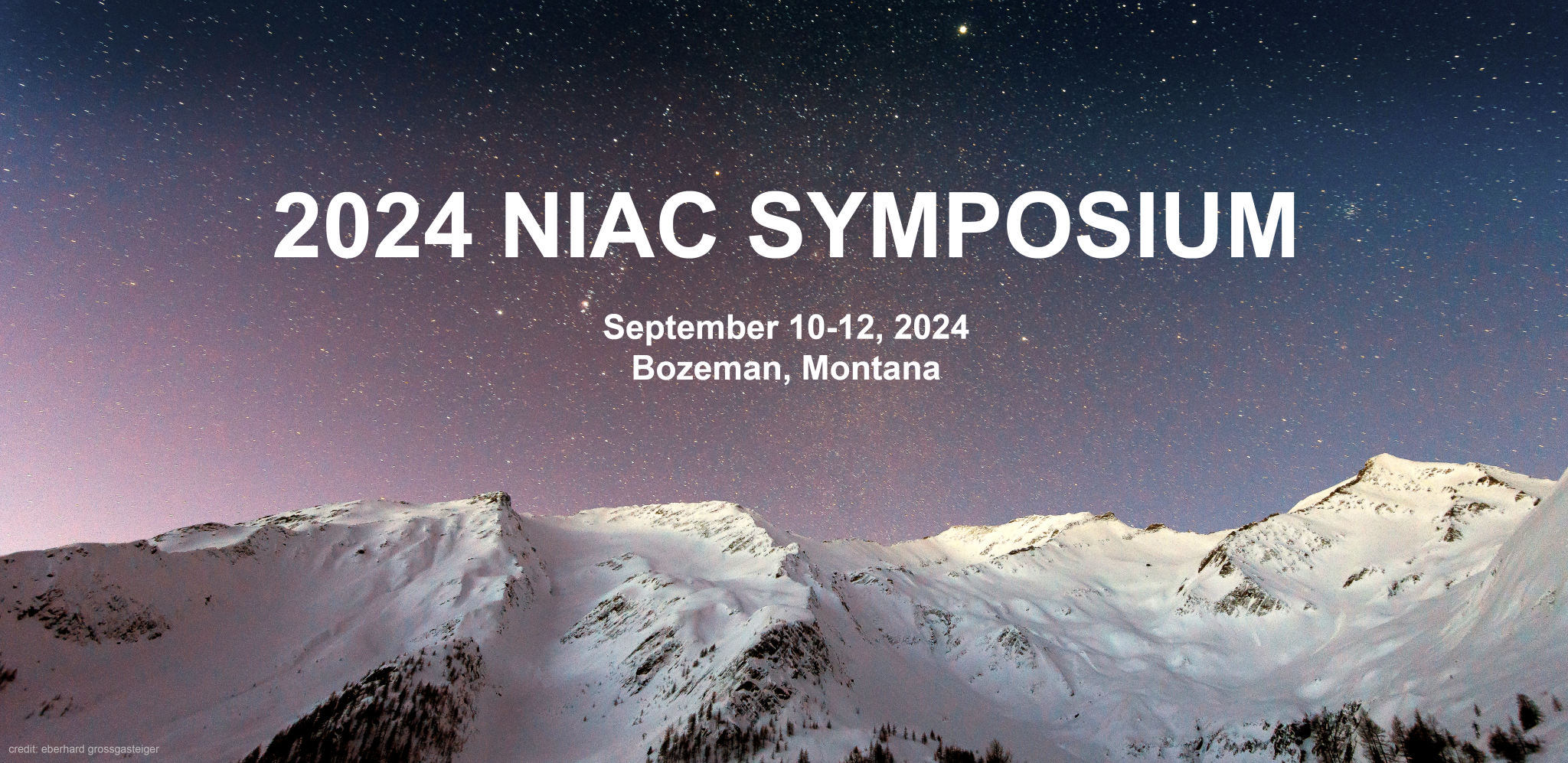 The NASA Innovative Advanced Concepts (NIAC) seeks innovative, technically credible, advanced concepts that could one day change the possible in aeronautics and space. The 2024 NIAC Symposium will be held in Bozeman, Montana and will feature progress presentations from our currently funded Phase I, Phase II, and Phase III Fellows. This portfolio of NIAC studies addresses diverse research areas including: Revolutionary Exploration Systems, Novel Propulsion, Human Systems & Architectures for Extreme Environments, Sensors, and Imaging. This year's Symposium will feature exciting keynote addresses to inspire attendees. Past NIAC speakers have included visionary thinkers, distinguished scientists, senior government officials, authors, astronauts, and entrepreneurs.
2024 NIAC SYMPOSIUM  –  September 10-12, 2024
Bozeman, Montana
REGISTER
The registration website is coming soon!
ATTENDANCE OPTIONS

IN-PERSON
We welcome you to attend the 2023 NIAC Symposium in-person at the Hilton Houston NASA Clear Lake Hotel in Houston, Texas. The event is free and open to the public.
LIVESTREAM
The Symposium can be accessed LIVE beginning September 10, 2024 via Livestream. The event will be archived at this site for future viewing.

POSTERS & PRESENTATIONS
NIAC Fellows' posters and presentations will be available on a Poster Page on the registration website and archived each day on Livestream.
QUESTIONS
More information will be placed on this page in the coming weeks. For questions or more information about the 2024 NIAC Symposium, please contact the NIAC Team at hq-niac@mail.nasa.gov.

NIAC is a component of the Space Technology Mission Directorate at NASA Headquarters in Washington, D.C.
2023 Symposium
2022 Symposium
2021 Symposium
2020 Symposium
2019 Symposium
2018 Symposium
2017 Symposium
2016 Symposium
2015 Fall Symposium