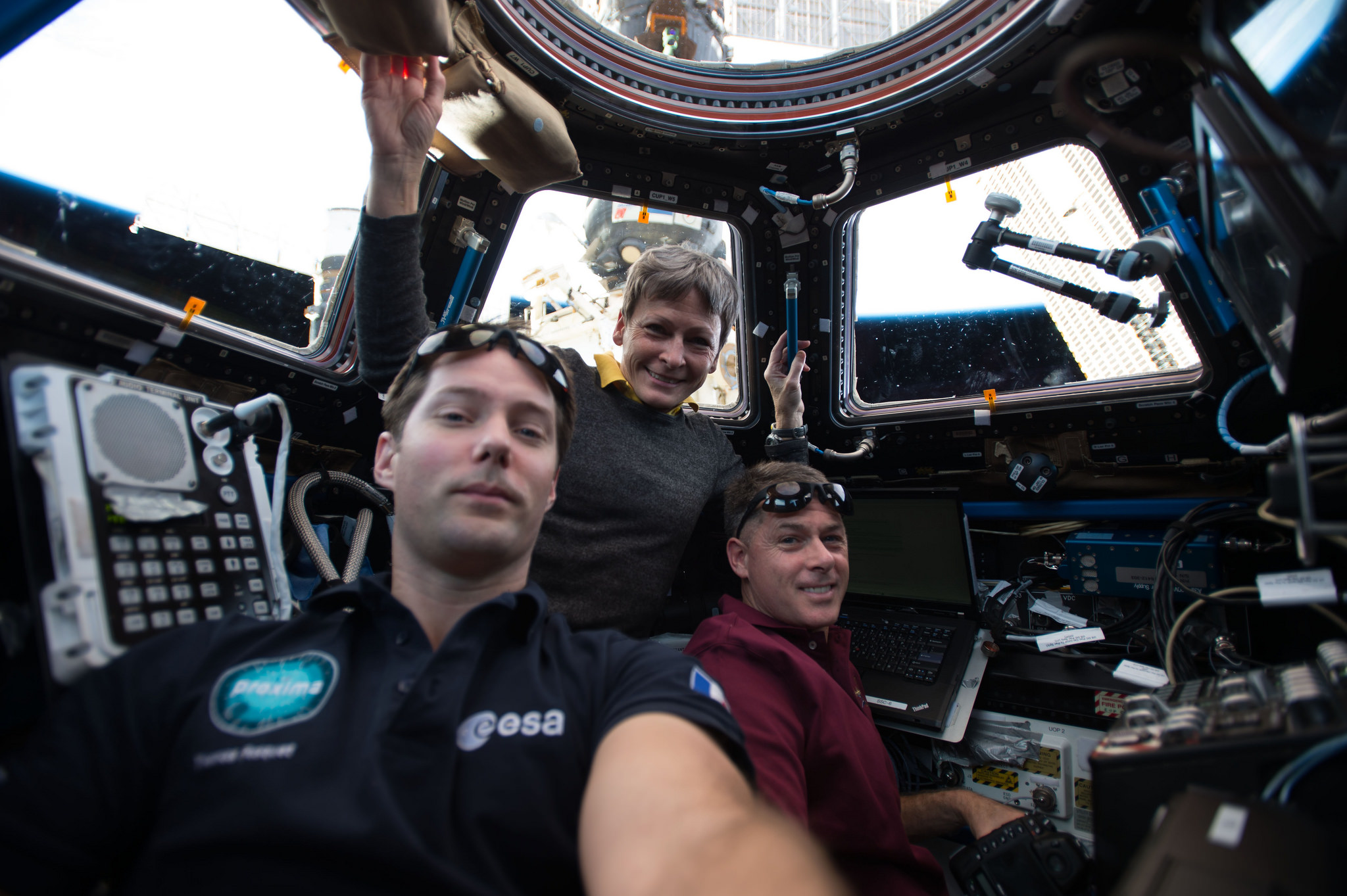 Expedition 50 astronauts will venture outside the International Space Station at 7 a.m. EST Jan. 6 and 13 to perform a complex upgrade to the orbital outpost's power system. Coverage of the spacewalks will begin at 5:30 a.m. on NASA Television and the agency's website.
On Wednesday, Jan. 4, NASA TV will air a briefing at 2 p.m. from the agency's Johnson Space Center in Houston to preview the spacewalk activities. The briefing participants are:
Kenneth Todd, International Space Station Operations Integration Manager
Jud Frieling, flight director for Jan. 6 spacewalk
Gary Horlacher, flight director for Jan. 13 spacewalk
Troy McCracken, lead battery replacement robotics officer
Kieth Johnson, lead spacewalk officer
Media may attend the briefing at Johnson or ask questions by calling the Johnson newsroom at 281-483-5111 no later than 1:45 p.m. Jan. 4.
Working on the right side truss of the space station, the crew members will install adapter plates and hook up electrical connections for six new lithium-ion batteries that were delivered to the station in December.
Expedition 50 Commander Shane Kimbrough and Flight Engineer Peggy Whitson of NASA will perform the first spacewalk Jan. 6. The work will continue Jan. 13 during the second spacewalk, which will be conducted by Kimbrough and Flight Engineer Thomas Pesquet of ESA (European Space Agency).
Prior to each spacewalk, the new batteries will be robotically extracted from a pallet to replace 12 older nickel-hydrogen batteries through a series of robotic operations. Nine of the older batteries will be stowed in a cargo resupply craft for later disposal, while three will remain on the station's truss, disconnected from the power grid. The robotic operations will not air on NASA TV.
This will be the 196th and 197th spacewalks in support of space station assembly and maintenance. Kimbrough will be designated extravehicular crew member 1 (EV 1), wearing the suit bearing red stripes for both spacewalks, the third and fourth of his career.
Whitson will be making the seventh spacewalk of her career and match the record of NASA's Suni Williams, for most spacewalks by a woman. She will be designated extravehicular crew member 2 (EV 2), wearing the suit with no stripes for the first spacewalk.
Pesquet, who will be making the first spacewalk of his career, will be extravehicular crew member 2 for the second spacewalk, also wearing a suit with no stripes.
Get NASA TV streaming video, schedule and downlink information at:
https://www.nasa.gov/nasatv
For the latest on the International Space Station, its crew and their research, visit:
https://www.nasa.gov/station
-end-
Tabatha Thompson
Headquarters, Washington
202-358-1100
tabatha.t.thompson@nasa.gov
Dan Huot
Johnson Space Center, Houston
281-483-5111
daniel.g.huot@nasa.gov