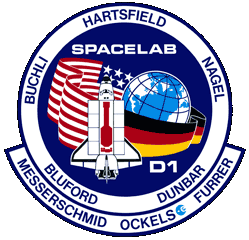 STS-61A
STS-61A was the 22nd mission of NASA's Space Shuttle program.
7 days, 0 hours, 44 minutes, 51 seconds
NASA
Mission Facts
Mission: D-1 Spacelab Mission (First German Dedicated Spacelab)
Space Shuttle: Challenger
Launch Pad: 39A
Launch Weight: 243,762 pounds
Launched: October 30, 1985, 12:00:00 p.m. EST
Landing Site: Edwards Air Force Base, Calif.
Landing: November 6, 1985, 9:44:53 a.m. PST
Landing WeightL 214,171
Runway: 17
Mission Duration: 7 days, 0 hours, 44 minutes, 51 seconds
Crew
Henry W. Hartsfield, Jr., Commander
Steven R. Nagel, Pilot
James F. Buchli, Mission Specialist
Guion S. Bluford, Jr., Mission Specialist
Bonnie J. Dunbar, Mission Specialist
Reinhard Furrer, Payload Specialist
Ernst Messerschmid, Payload Specialist
Wubbo J. Ockels, Payload Specialist
Mission Highlights
The mission was dedicated to the West German Spacelab D-1 laboratory, which included 75 numbered experiments. Experiments centered around basic and applied microgravity research in materials science, life science and technology, communications and navigation.
Certain flight operations related to Spacelab D-1 were controlled directly from the German Space Operations Center at Oberpfaffenhofen, near Munich. Other payloads included the Global Low Orbiting Message Relay (GLOMR) which was a satellite deployed from a GAS canister.
Retired Space Shuttle Locations
Shuttle Atlantis – Kennedy Space Center Visitor Complex Shuttle Discovery – Steven F. Udvar-Hazy Center Shuttle Endeavour – California Science…
Read the Story