STS-51G
STS-51G was the 18th flight of NASA's Space Shuttle program, and the fifth flight of Space Shuttle Discovery.
7 days, 1 hour, 38 minutes, 52 seconds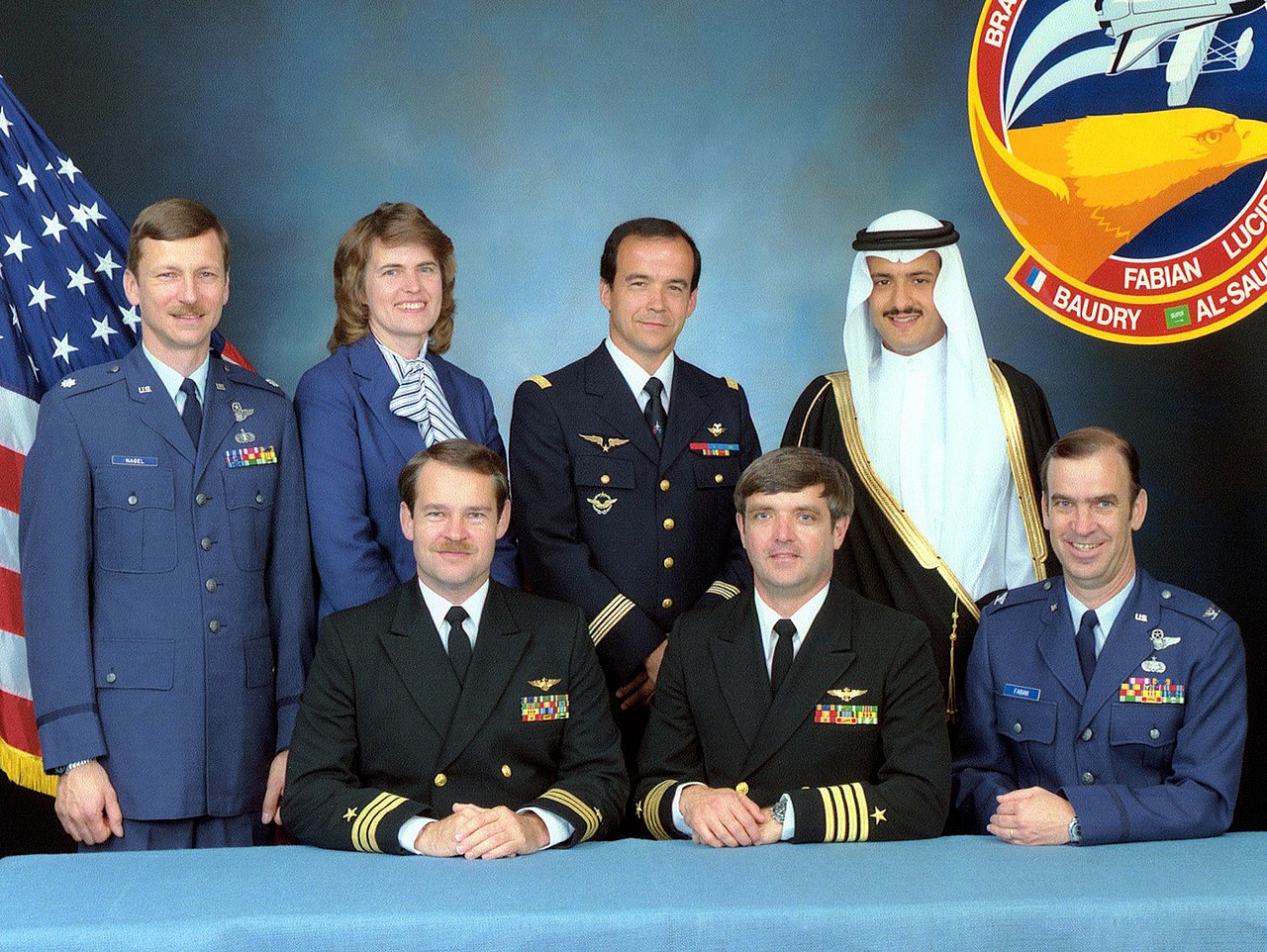 NASA Images
Mission Facts
Mission: MORELOS-A, ARABSAT-A and TELSTAR-3D Communications Satellites
Space Shuttle: Discovery
Launch Pad: 39A
Launch Weight: 256,524 pounds
Launched: June 17, 1985 at 7:33:00 a.m. EDT
Landing Site: Edwards Air Force Base, Calif.
Landing: June 24, 1985 at 6:11:52 a.m. PDT
Landing Weight: 204,169 pounds
Runway: 23
Rollout Distance: 7,433 feet
Rollout Time: 42 seconds
Revolution: 112
Mission Duration: 7 days, 1 hour, 38 minutes, 52 seconds
Orbit Altitude: 209 nautical miles
Orbit Inclination: 28.45 degrees
Miles Traveled: 2.9 million
Crew
Daniel C. Brandenstein, Commander
John O. Creighton, Pilot
Shannon W. Lucid, Mission Specialist
Steven R. Nagel, Mission Specialist
John M. Fabian, Mission Specialist
Patrick Baudry, Payload Specialist
Sultan Salman Al-Saud, Payload Specialist
Mission Highlights
Three communications satellites, all attached to the Payload Assist Module-D (PAM-D) motors, were deployed: MORELOS-A, for Mexico; ARABSAT-A, for Arab Satellite Communications Organization; and TELSTAR-3D, for AT&T. Also flown: deployable/retrievable Shuttle Pointed Autonomous Research Tool for Astronomy (SPARTAN-1); six Get Away Special canisters; Strategic Defense Initiative experiment called the High Precision Tracking Experiment (HPTE); a materials processing furnace called Automated Directional Solidification Furnace (ADSF); and two French biomedical experiments.
Retired Space Shuttle Locations
Shuttle Atlantis – Kennedy Space Center Visitor Complex Shuttle Discovery – Steven F. Udvar-Hazy Center Shuttle Endeavour – California Science…
Read the Story