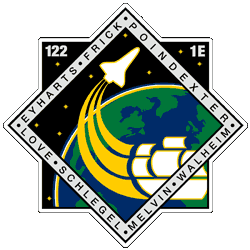 STS-122
STS-122 was a NASA Space Shuttle mission to the International Space Station, flown by the Space Shuttle Atlantis. STS-122 marked the 24th shuttle mission to the ISS, and the 121st Space Shuttle flight overall.
Mission Facts
Launch: Feb. 7, 2008, 2:45 p.m. EST
Landing: Feb. 20, 2008, 9:07 a.m. EST
Orbiter: Atlantis
Mission: STS-122/1E (121st space shuttle flight)
Launch Window: 10 minutes
Launch Pad: 39A
Mission Duration: 13 days
Landing Site: KSC
Inclination/Altitude: 51.6 degrees/122 nautical miles
Primary Payload: 24th station flight (1E), Columbus Laboratory
Miles Traveled: 5.3 million
Crew:
Steve Frick, Commander
Alan Poindexter, Pilot
Rex Walheim, Mission Specialist
Stanley Love, Mission Specialist
Leland Melvin, Mission Specialist
Hans Schlegel, Mission Specialist
Léopold Eyharts, Mission Specialist, Embarking to International Space Station
Daniel Tani, Flight Engineer, Returning from International Space Station
Mission Highlights
A veteran space flier, Navy Cmdr. Stephen N. Frick, commanded the STS-122 shuttle mission to deliver the European Space Agency's Columbus Laboratory to the International Space Station. Navy Cmdr. Alan G. Poindexter served as pilot. Mission specialists included Air Force Col. Rex J. Walheim, Stanley G. Love, Leland D. Melvin and European Space Agency astronaut Hans Schlegel. Poindexter, Love and Melvin made their first spaceflight on this mission.
Expedition 16 Flight Engineer Daniel Tani, who flew to the space station on the STS-120 mission, returned home with the STS-122 crew. STS-122 delivered European Space Agency astronaut Léopold Eyharts to the complex.
STS-122 was the 24th shuttle mission to the International Space Station.
Retired Space Shuttle Locations
Shuttle Atlantis – Kennedy Space Center Visitor Complex Shuttle Discovery – Steven F. Udvar-Hazy Center Shuttle Endeavour – California Science…
Read the Story