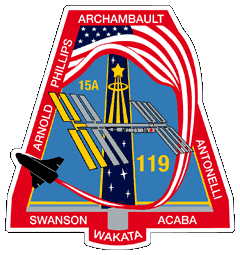 STS-119
STS-119 was a Space Shuttle mission to the International Space Station which was flown by space shuttle Discovery during March 2009. It delivered and assembled the fourth starboard Integrated Truss Segment, and the fourth set of solar arrays and batteries to the station.
12 days, 19 hours, 29 minutes, 33 second
NASA
Mission Facts
Mission: STS-119 (125th space shuttle flight)
Orbiter: Discovery
Primary Payload: 28th station flight (15A), S6 Truss Segment and U.S. Solar Arrays
Launched: March 15, 2009
Launch Time: 7:43 p.m. EDT
Launch Pad: 39A
Mission Duration: 12 days, 19 hours, 29 minutes, 33 seconds
Landing Date: March 28, 2009
Landing Time: 3:14 p.m. EDT
Landing Site: Kennedy Space Center, Florida
Inclination/Altitude: 51.6 degrees/122 nautical miles
Crew:
Lee Archambault, Commander
Tony Antonelli, Pilot
Richard Arnold, Mission Specialist
Joseph Acaba, Mission Specialist
John Phillips, Mission Specialist
Steve Swanson, Mission Specialist
Kiochi Wakata, Mission Specialist, Embarking to International Space Station
Sandra Magnus, Flight Engineer, Returning from International Space Station
Powering Up the International Space Station
In a blaze of clouds and smoke, space shuttle Discovery lifted off into a dusky night sky from NASA's Kennedy Space Center in Florida at 7:43 p.m. EDT March 15. Attaining orbit within minutes, the STS-119 mission to bring full power to the International Space Station was well under way.
Commander Lee Archambault led the crew of seven, which included Pilot Tony Antonelli, Mission Specialists Joseph Acaba, Steve Swanson, Richard Arnold, John Phillips and Japan Aerospace Exploration Agency astronaut Koichi Wakata.
A few earlier launch delays didn't dampen the astronauts' spirits, as they quickly went to work taking precautionary images of the shuttle's thermal protective tiles and preparing to dock with the space station two days later.
The 13-day mission included three spacewalks to install the S6 truss and starboard-side U.S. solar arrays. The shuttle crew also delivered and helped install a replacement distillation assembly centrifuge to the station's water recycling system. With both the solar arrays and the recycling system up and running, enables the orbiting laboratory to double its crew size to six.
A highlight to the mission was a call from U.S. President Barack Obama to the shuttle and station crew members gathered in the Harmony module. The president, members of Congress and students asked questions about the mission and what life is like aboard the station.
With the complex mission behind them, it was time to say farewell to the Expedition 18-19 crew members. After undocking, the astronauts performed one last inspection of Discovery's thermal protection system and began their journey home to Earth.
Wakata remained aboard the station, replacing Flight Engineer Sandra Magnus. Magnus returned to Earth with the STS-119 crew after more than four months of living and working in space.
Although the first landing opportunity at Kennedy was waved off because of high winds, Discovery glided to a perfect touchdown at Kennedy's Shuttle Landing Facility at 3:14 p.m. EDT March 28, successfully completing NASA's STS-119 mission.
Retired Space Shuttle Locations
Shuttle Atlantis – Kennedy Space Center Visitor Complex Shuttle Discovery – Steven F. Udvar-Hazy Center Shuttle Endeavour – California Science…
Read the Story