Zarya Module
Quick Facts
Zarya orbited Earth alone for 16 days before space shuttle Endeavour arrived to install the Unity module.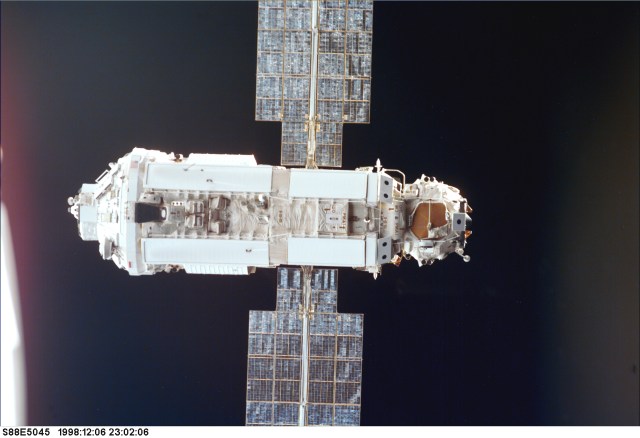 Zarya was installed to the Unity module while it was attached inside of space shuttle Endeavour's payload bay.
Astronaut Nancy Currie commanded space shuttle Endeavour's robotic arm, Canadarm, to reach out and grapple Zarya during the STS-88 mission.
NASA/Roscosmos
The Zarya Module, also known by the technical term Functional Cargo Block and the Russian acronym FGB, was the first component launched for the International Space Station. The U.S.-funded and Russian-built Zarya, which means "Sunrise" when translated into English, is a U.S. component of the station, although it was built and launched by Russia.
The module was built by the Khrunichev State Research and Production Space Center, which is also known as KhSC, in Moscow under a subcontract to The Boeing Company for NASA.
Mass: 42,600 pounds
Length: 41.2 feet
Diameter: 13.5 feet
Habitable volume: 1,650 cubic feet
Mission Overview
Launch: 11/20/98
Assembly Mission: 1A/R
Vehicle: Proton-K