NASA's SpaceX CRS-29 Mission Overview
NASA and SpaceX are targeting 8:28 p.m. EST Thursday, Nov. 9, to launch the company's 29th commercial resupply services mission to the International Space Station from Launch Complex 39A at the agency's Kennedy Space Center in Florida. The SpaceX uncrewed Dragon resupply spacecraft will deliver more than 6,500 pounds of scientific research, crew supplies, and hardware to the orbiting laboratory.

This is the ninth SpaceX launch under the Commercial Resupply Services-2 (CRS) contract, as the first 20 launches were under the original resupply services contract. Launch activities will air on NASA Television, the NASA app, YouTube, and on the agency's website.
Jump To: Arrival & Departure | Research Highlights | Cargo Highlights | Watch & Engage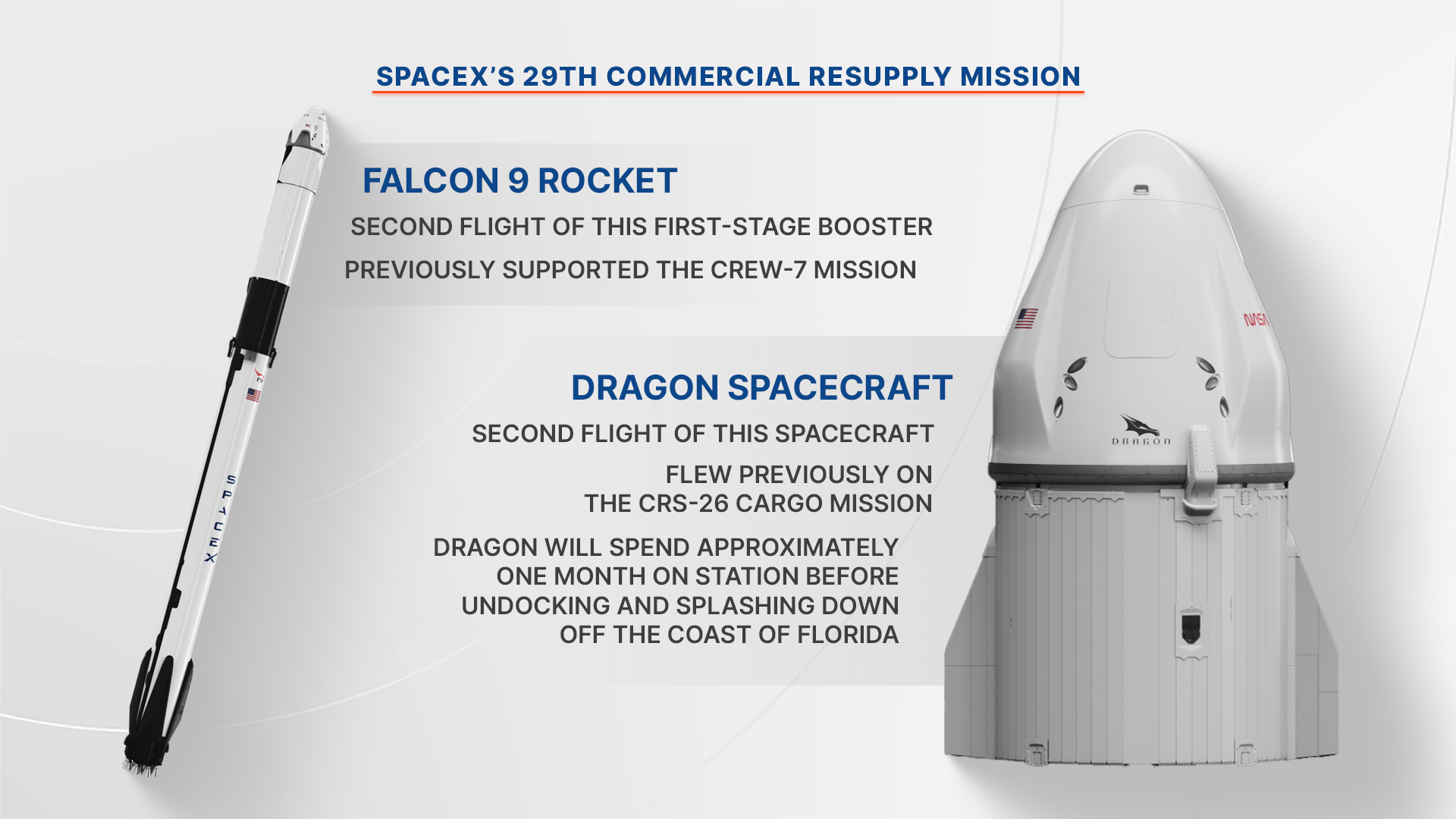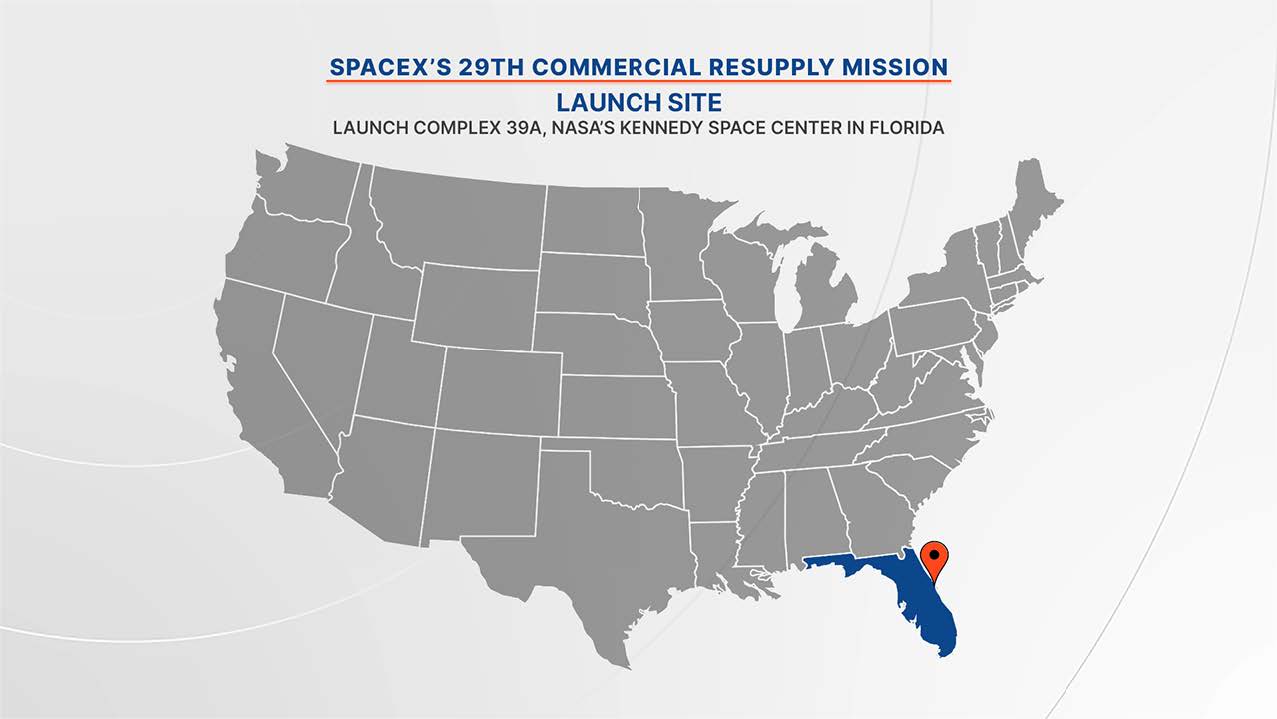 Arrival and Departure
The SpaceX Dragon cargo spacecraft will arrive at the space station and autonomously dock to the forward port of the Harmony module about 5:20 a.m. on Saturday, Nov. 11. Live coverage of the rendezvous and docking will begin at 3:45 a.m. NASA astronauts Jasmin Moghbeli and Loral O'Hara will monitor the arrival of the spacecraft, which will stay docked to the orbiting laboratory for about one month before splashing down and returning critical science and hardware to teams on Earth.
Research Highlights
Laser Communication from Space
NASA's ILLUMA-T (Laser Communication from Space) investigation tests technology to provide enhanced data communication capabilities on the space station. A terminal mounted on the station's exterior uses laser or optical communications to send high-resolution information to the agency's LCRD (Laser Communications Relay Demonstration) system, which is in geosynchronous orbit around Earth. LCRD then beams the data to optical ground stations in Haleakala, Hawaii, and Table Mountain, California. The system uses invisible infrared light and can send and receive information at higher data rates than traditional radio frequency systems, making it possible to send more images and videos to and from the space station in a single transmission. The ILLUMA-T demonstration also paves the way for placing laser communications terminals on spacecraft orbiting the Moon or Mars.
ILLUMA-T and LCRD create NASA's first two-way laser communications relay system. Laser communications can supplement the radio frequency systems that most space-based missions currently use to send data to and from Earth. According to Glenn Jackson, acting ILLUMA-T project manager at NASA's Goddard Space Flight Center in Greenbelt, Maryland, laser systems are smaller, more lightweight, and use less power than radio systems. The smaller size frees up more room for science instruments, the lighter weight reduces launch costs, and lower power use results in less drain on spacecraft batteries.
Managed by NASA Goddard in partnership with NASA's Johnson Space Center in Houston and the Massachusetts Institute of Technology Lincoln Laboratory, ILLUMA-T is funded by NASA's Space Communications and Navigation (SCaN) Program in Washington.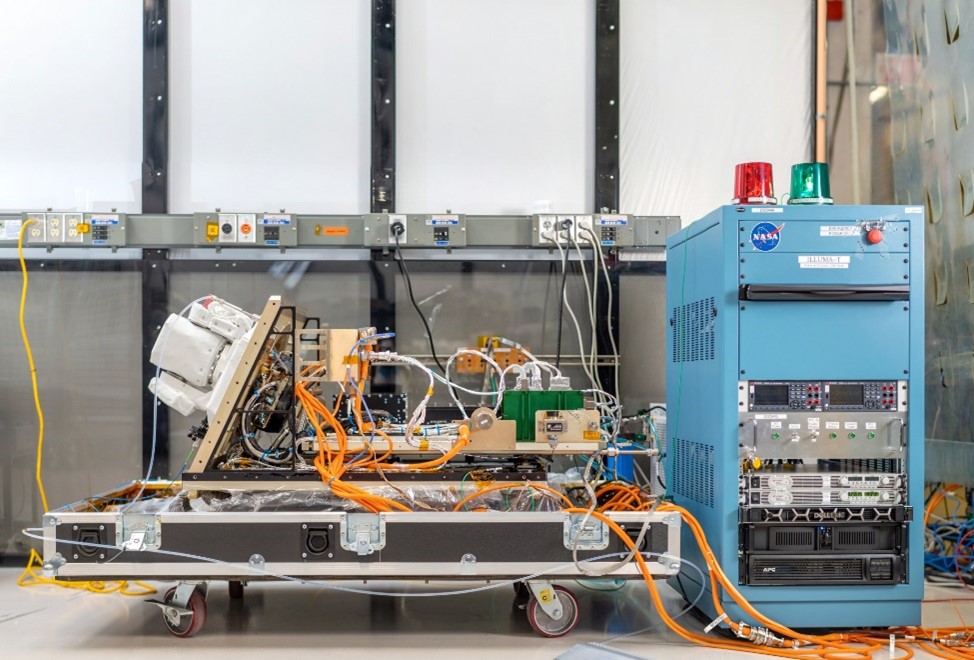 NASA/Goddard Space Flight Center
Watching Waves in the Atmosphere
NASA's AWE (Atmospheric Waves Experiment) uses an infrared imaging instrument to measure the characteristics, distribution, and movement of atmospheric gravity waves. These waves roll through Earth's atmosphere when air is disturbed much like waves created by dropping a stone into water.
"Atmospheric gravity waves are one mechanism for transporting energy and momentum within the climate system and they play a role in defining the climate and its evolution," Jeff Forbes, co-investigator at the University of Colorado Boulder said. He explains that these waves are relatively small at the source but amplified at altitudes, and potentially indicate climate changes not readily observable at lower altitudes. This investigation's long-term observations of physical processes in atmospheric circulation could increase insight into gravity waves and improve understanding of Earth's atmosphere, weather, and climate.
Researchers also are looking at how these gravity waves contribute to space weather, which refers to the varying conditions within the Solar System, including solar wind. Space weather affects space- and ground-based communications, navigation, and tracking systems. Scientists know little about how these waves influence space weather and this investigation could help fill in these knowledge gaps. Results could support development of ways to mitigate the effects of space weather. The space station provides an ideal platform for the investigation given its altitude and geographic and time coverage.
"AWE is pioneering research, making the first global measurements of gravity waves at the edge of space. This is an important step forward in understanding waves in the atmosphere and their contributions to near-Earth space weather," Forbes said.
AWE is managed by Goddard for NASA's Science Mission Directorate at Headquarters.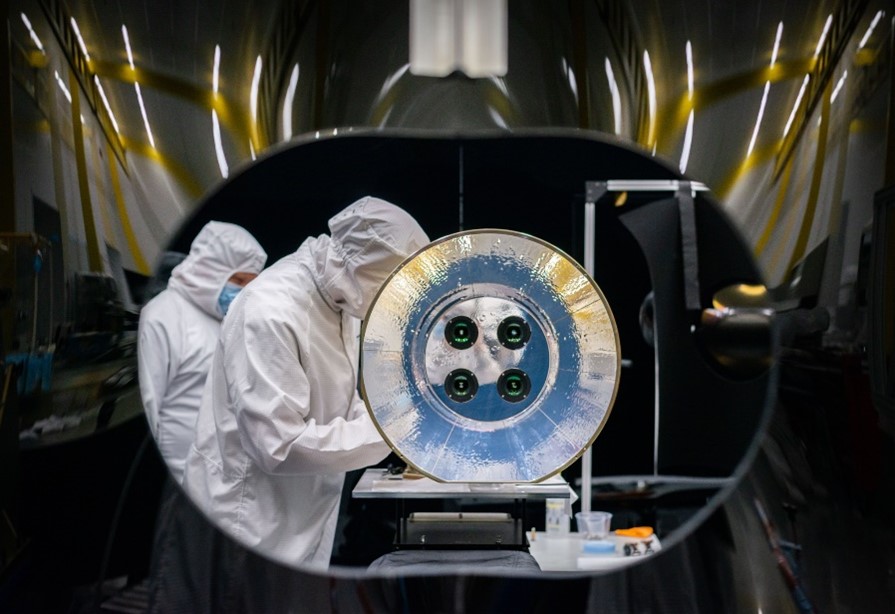 Space Dynamics Laboratory/Allison Bills
Space Flight Induced Ovarian and Estrogen Signaling Dysfunction, Adaptation, and Recovery is a fundamental science investigation sponsored by NASA's Biological and Physical Sciences Division. It advances previous microgravity studies that seek to better understand the combined effects of spaceflight, nutritional, and environmental stresses on control of ovulation and resulting effects on the skeleton. Results of this study could help identify and treat the effects of stress on ovulation and improve bone health on Earth.
University of Kansas Medical Center
Aquamembrane-3, an investigation from ESA (European Space Agency), continues evaluation of replacing the multi-filtration beds used for water recovery on the space station with a type of membrane known as an Aquaporin Inside Membrane. These are membranes that incorporate proteins found in biological cells, known as aquaporins, to filter water faster while using less energy. In 2015, initial testing of this membrane technology showed that water filtration by membranes is possible in microgravity, and this follow-up testing could demonstrate how effectively the membranes eliminate contaminants in space station wastewater. Results could advance development of a complete and full-scale membrane-based water recovery system, improving water reclamation and reducing the amount of material that needs to be launched to the space station. This water filtration technology also could have applications in extreme environments on Earth, such as military and emergency settings, and for decentralized water systems in remote locations.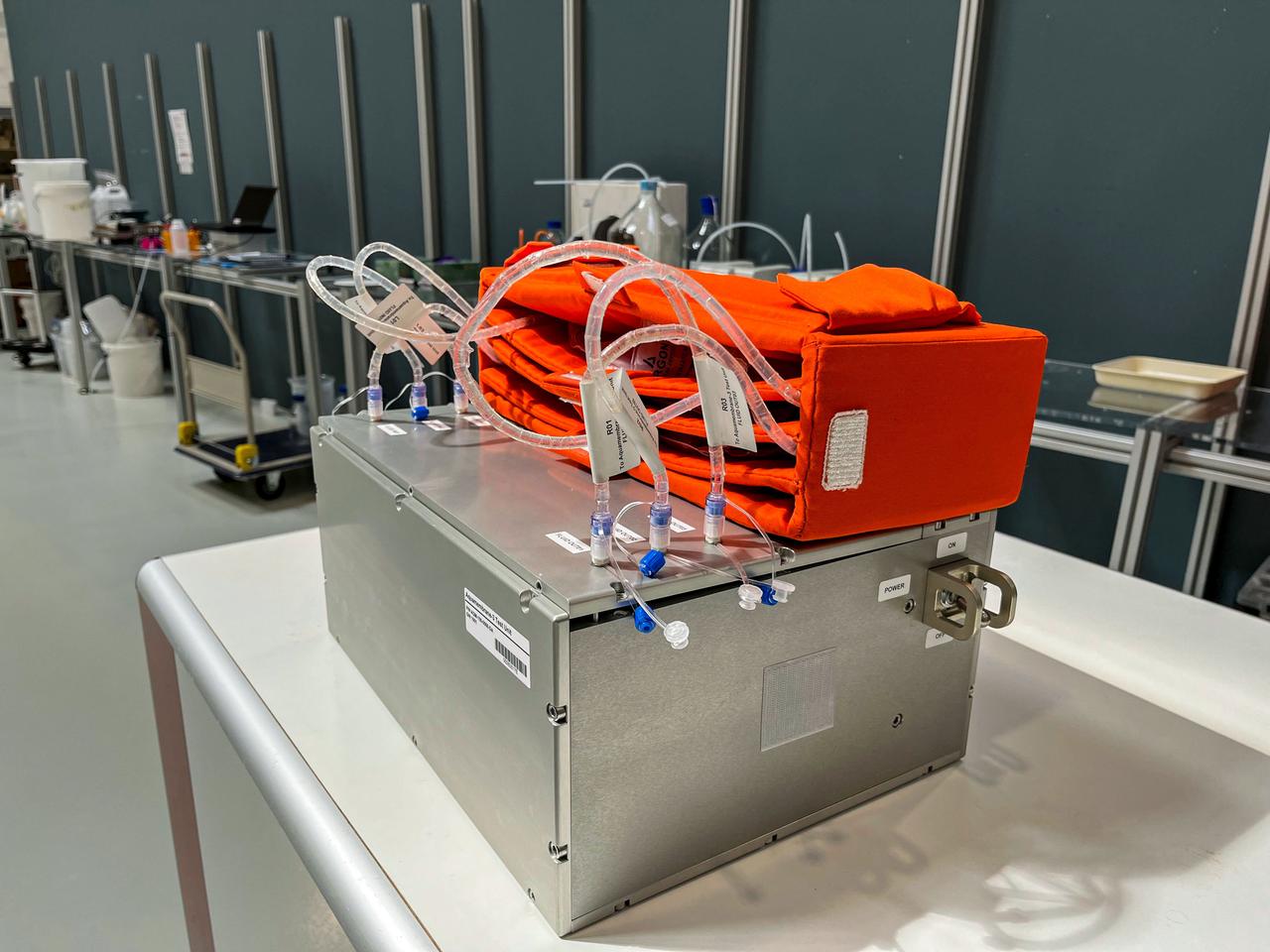 ESA
Gaucho Lung, sponsored by the International Space Station National Laboratory, studies how mucus lining the respiratory system affects delivery of drugs carried in a small amount of injected liquid, known as a liquid plug. Conducting this research in microgravity makes it possible to isolate the factors involved, including capillary or wicking forces, mucus characteristics, and gravity. Understanding the role of these factors could inform the development and optimization of targeted respiratory treatments. In addition, the work could contribute to new strategies to control contamination in tubing for liquids used in the health care and food industries.
BioServe Space Technologies
Cargo Highlights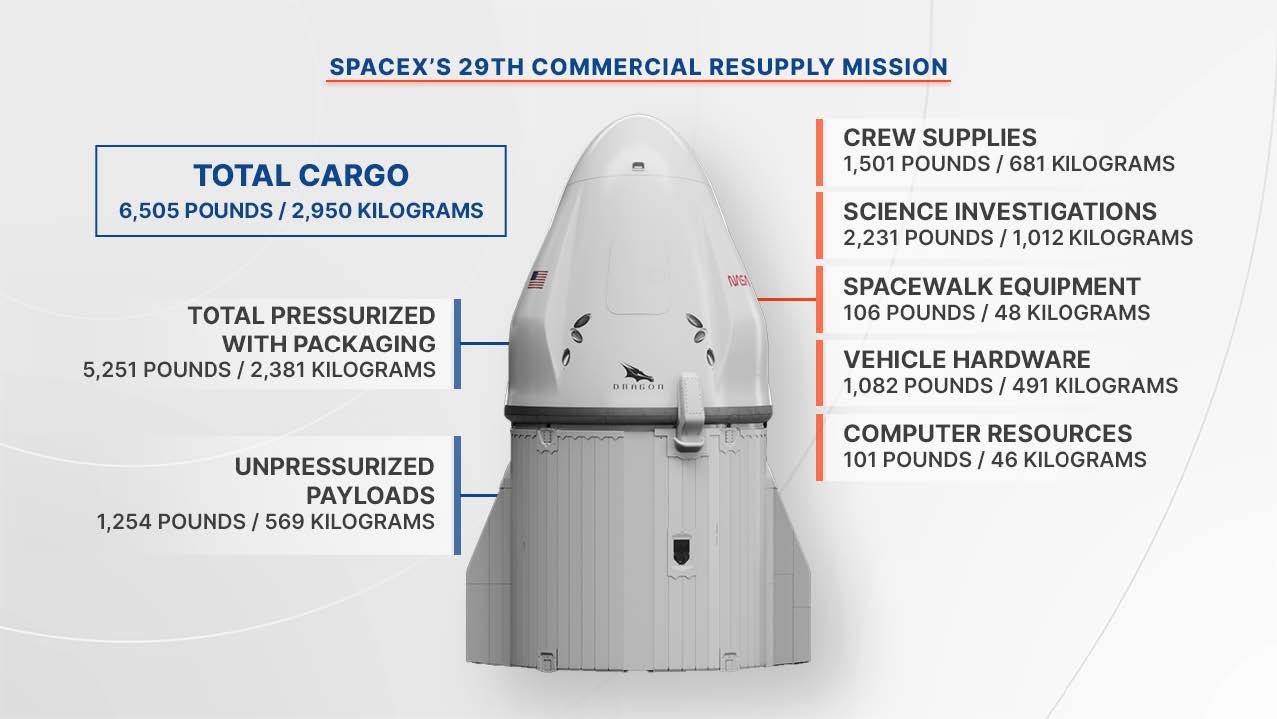 Hardware
Launch:
Tungsten Plates – The metal plates will serve as the counter mass, a weight that balances another weight, for the space station's exercise device technology. The plates are designed to integrate with the E4D (European Enhanced Exploration Exercise Devices). A total of 14 plates will launch in two additional upcoming flights.
Tungsten Tray Lower Counter Mass – Each tray will house two tungsten plates and will be assembled in orbit. The trays will stack together to become the lower counter mass for the station's exercise device technology.
OPA ICMA (O-phthalaldehyde Integrated Thermal Control System Coolant Maintenance Assembly) – Designed to administer o-phthalaldehyde, a biocide, to several integrated thermal control system loops on the International Space Station to prevent the growth of microorganisms in the system's coolant. This will be installed in Columbus, a science laboratory on the space station.
Hydrogen Sensor Orbital Replacement Unit – This unit monitors oxygen for the presence of hydrogen, which if found could indicate a problem with the cell stack, and signal the controller to shut down the oxygen generator system. This unit is specifically designed for the oxygen generator system rack.
Fergo Ergometer, also known as Teal CEVIS (Cycle Ergometer with Vibration Isolation and Stabilization) – A bicycle exercise device developed for space, comprised of a mechanical box and an electronics box to provide the user with leg and arm ergometry exercises. This spare unit will back up the Teal CEVIS from NASA's SpaceX CRS-28.
Detrusor Assembly – As component of the water recovery system's Brine Processor Assembly, the detrusor assembly is a hybrid of soft goods (polyethylene film) and metal assembly (aluminum) that allows the air path flow to conform to the bladder over the course of a dewatering cycle to improve the water recovery rate on space station. The station can recycle up to 98% of all waste water.
Combustion Integrated Rack, Fluid Oxidizer Management Assembly, Calibration Unit – Used to maintain proper calibration and operation of the Combustion Integrated Rack's gas systems and used in the pursuit of combustion and flame science experiments.
Air Quality Monitor – Intended to improve the air analysis aboard the space station by measuring volatile organic compounds.
Spacecraft Air Monitor2 – Atmospheric monitor to check the quality of the cabin air.
Advanced Plant Habitat Environmental Control System – An aluminum box that holds the environmental control system for the plant growth chamber. The environmental control system controls the humidity and other environmental factors within the plant habitat.
Return:
Advanced Resistive Exercise Device Cylinder Flywheel – The Advanced Resistive Exercise Device cylinder flywheel provides exercise loads to simulate Earth-gravity exercise. It is comprised of the cylinder assembly, flywheel assembly, and launch restraint assembly. It is being returned for repair.
Common Cabin Air Assembly Heat Exchanger Orbital Replacement Unit – Consisting of a fan, a condensing heat exchanger, an air/water separator, temperature and liquid sensors, and electrical controlling hardware and software, this orbital replacement unit controls the heat and humidity on board space station. This will return to Earth for repair and be flown on a later mission.
Camera, Light, Pan Tilt Assembly Orbital Replacement Unit – Consisting of a television camera unit, a light assembly, and a pan/tilt module mounted on the wedge interface, the Camera, Light, Pan Tilt Assembly is used to provide external video feedback during on-orbit robotic operations. This will return to Earth for repair.
Advanced Plant Habitat Environmental Control System – An aluminum box that holds the environmental control system for the plant growth chamber. The environmental control system controls the humidity and other environmental factors within the plant habitat. This unit is returning for refurbishment and will return to orbit at a later date.
Watch & Engage
Live coverage of the launch will air on NASA Television, the NASA app, and the agency's website at 8 p.m. with liftoff at 8:28 p.m. EST Thursday, Nov. 9.
Subscribe and get the latest NASA news with a weekly update in your inbox: