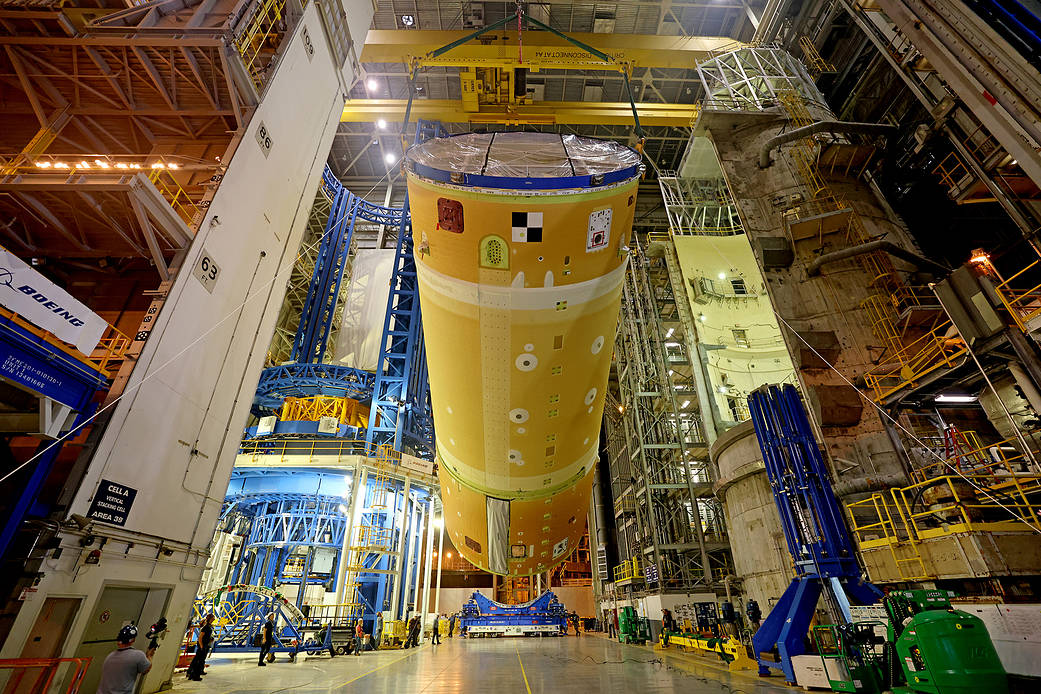 NASA has completed assembly of the upper, or forward, part of the core stage for the Space Launch System (SLS) rocket that will send the Artemis II crew on their lunar mission. Boeing, the lead core stage contractor, completed joining the forward part of the rocket, and then lifted it out of the assembly structure at NASA's Michoud Assembly Facility in New Orleans.
To construct this part of the core stage, the team first stacked three major parts of the stage—the forward skirt, the liquid oxygen tank, and the intertank. The forward skirt sits atop the rocket's core stage, and it and the intertank are outfitted with the rocket's flight computers and avionics systems that control SLS during launch and ascent. The liquid oxygen tank holds 196,000 gallons of liquid oxygen cooled to minus 297 degrees Fahrenheit. The team performed functional testing of the electronic systems in the forward skirt and the intertank prior to stacking. After stacking, they integrated systems between the structures and completed application of thermal protection systems.
The entire upper part of the stage is around 66-feet tall. The fully-assembled, 212-foot-tall rocket stage consists of five hardware elements. Next, the team will move this part to final assembly where the Artemis II liquid hydrogen tank is also undergoing outfitting. Here, teams will connect the liquid hydrogen tank to the upper part of the rocket and complete assembly of four of the five core stage parts. The last piece to be added will be the engine section, which is currently in a separate assembly area being outfitted with propulsion systems that connect to the engines. The engine section will house the four RS-25 engines that power the rocket. Together, the core stage and its four RS-25 engines will provide more than 2 million pounds of thrust to help send the Artemis II astronauts on their lunar mission.
With Artemis missions, NASA will land the first woman and the first person of color on the Moon and establish long-term exploration in preparation for human missions to Mars. SLS and NASA's Orion spacecraft, along with the human landing system and the Gateway that will orbit the Moon, are NASA's backbone for deep space exploration. SLS is the only rocket that can send Orion, astronauts, and supplies to the Moon in a single mission.