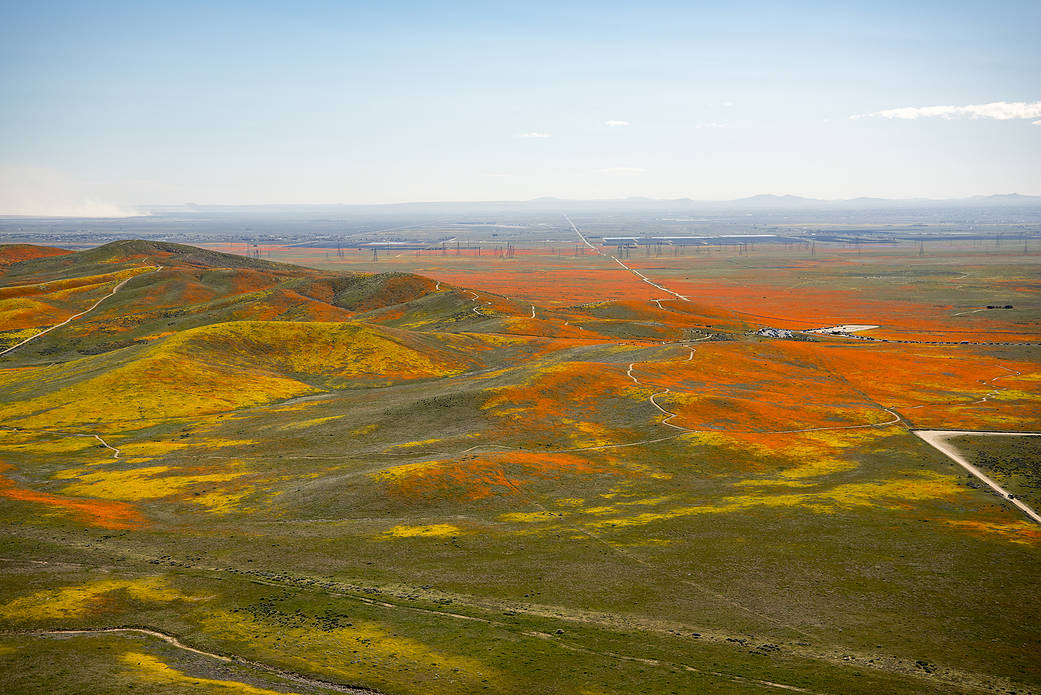 AFRC2019-0052-03
View from a NASA aircraft, T-34, over the Superbloom of wildflowers and poppies from the Antelope Valley in Southern California, Poppy Reserve and solar panels are in the background.
April 2, 2019NASA Photo / JIm Ross
Due to a very rainy winter season for the Antelope Valley in California, the desert is covered with a canopy of yellow wildflowers and orange blooming poppies, the state's flower. NASA Armstrong Flight Research Center employees and families could see the flowers by parking at the Poppy Reserve.
Armstrong's Glenn Graham, director of Safety and Mission Assurance and a pilot, flew above the valley's super bloom in the center's T-34 mission support aircraft on April 2, 2019.
Onboard the aircraft with Graham is Rex Walheim, a NASA astronaut, who spoke at Armstrong's annual safety day. The T-34 is used by the center for pilot proficiency and chase plane for research flights.
Friendly reminder for those who visit the Poppy Reserve: When visiting the Poppy Reserve stay on the designated trails, don't trample or pick the flowers, leave dogs at home, and visit during the week to avoid long wait lines.
View more images of Antelope Valley Superbloom
View more images of NASA's T-34 aircraft
Leslie Williams
News Chief
NASA Armstrong Public Affairs