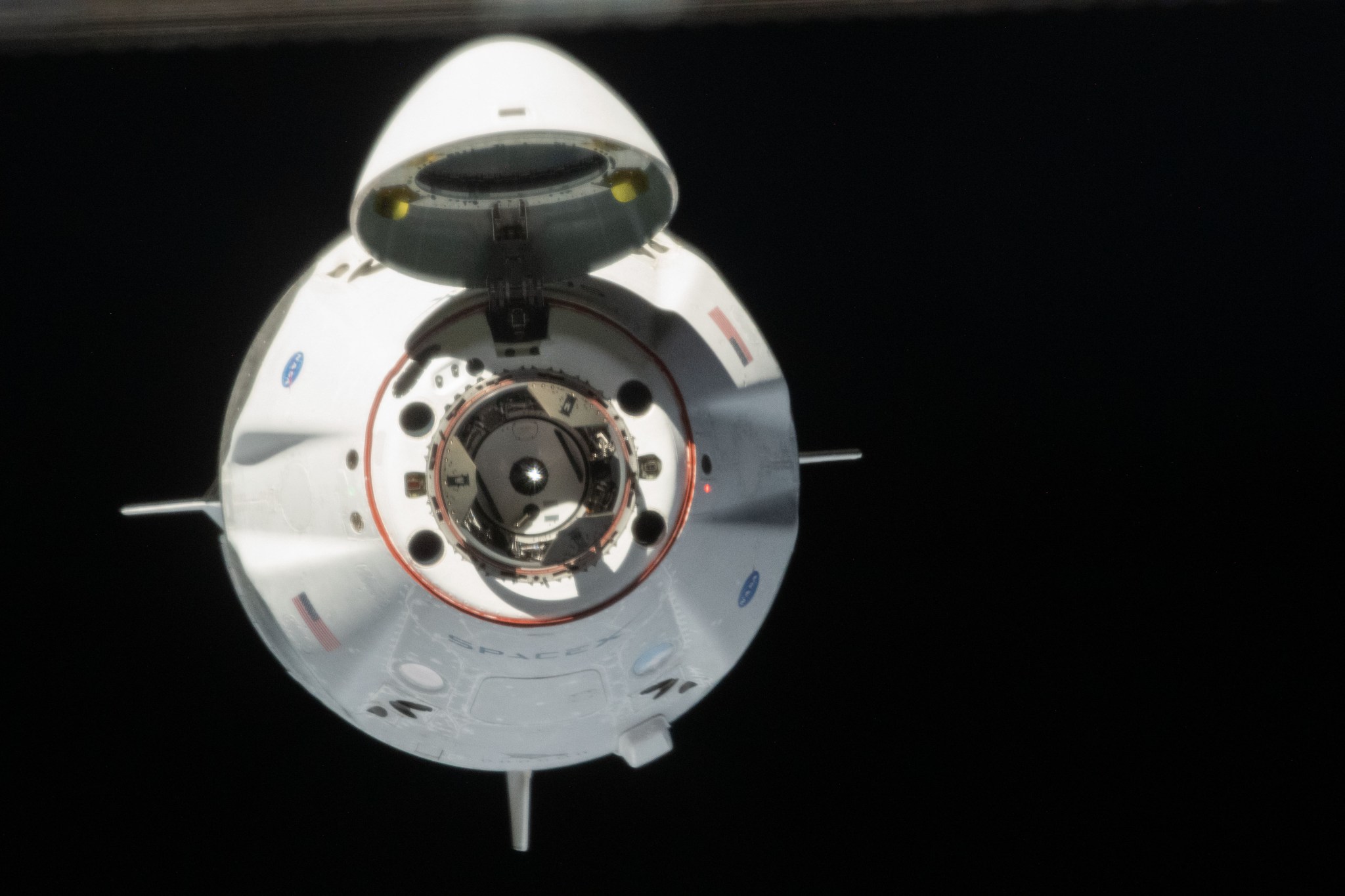 Credits: NASA
When the SpaceX Crew Dragon docked with the International Space Station during the Demo-2 mission, it was a historic day for NASA and our nation as we returned the launch of American astronauts on American rockets from American soil to the orbiting laboratory. As Crew Dragon approached the space station, one thing may have gone unnoticed – a narrow rubber seal that plays a critical role in safely connecting Crew Dragon with our home in space.
We caught up with Pat Dunlap and Bruce Steinetz who led efforts at NASA's Glenn Research Center in Cleveland to develop a new, robust seal for the Commercial Crew Program (CCP) and other future spacecraft.
Can you give us a little history of the seal development leading up to its selection for the Commercial Crew Program?
Bruce: NASA's Johnson Space Center (JSC) approached us a little over 15 years ago, requesting our expertise to help develop a new seal for what would become the NASA Docking System (NDS). This system is compliant with the International Docking System Standard (IDSS) and has become a standard design for future American or international spacecraft (e.g. ESA (European Space Agency) and the Japanese Space Agency) to dock with the space station, supporting the international charter of the laboratory.
We developed several designs of the docking system seal for JSC and developed full-scale test hardware to evaluate the seals under representative operating conditions. Eventually, as we matured our design, we worked as a team with Boeing, the prime contractor for the NDS, to evaluate the final seal.
Why are these docking seals important?
Pat: These seals prevent breathable air from escaping through the connection between the visiting spacecraft and the station. This connection is a heavily loaded somewhat dynamic structural interface and the seals must perform flawlessly during docking approach and while docked to the ISS. Because they're orbiting 250-plus miles up, and the visiting spacecraft can stay docked months at a time, it's critical that the seals have very low leakage to minimize the amount of make-up supply air needed to maintain cabin pressure on the laboratory.
The seal we developed is a little over four feet in diameter, which is large enough to allow the crew and some cargo to transfer from the visiting spacecraft to the station. The seal has two redundant sealing surfaces or interfaces and had to be narrow enough to fit in the limited space available on the docking interface. It also had to be strong and resilient to withstand the extreme environment of space. Through development testing on the ground, we were able to prove that our design leaked less air per day than what would fill a standard pop can (about 12 oz or 330 ml). That is a really low leak rate for a seal of that size that also has to survive the challenging environment of space.
What were some of the seal design challenges that had to be addressed?
Pat: We had to evaluate the seal at every possible condition – both environmental and mechanical – that it would experience during flight. We also had to look at reusability.
We chose to make the seal out of silicone, a rubber-like material that can withstand the extreme temperatures experienced in space. It also had to survive exposure to damaging ultraviolet rays that are more severe on orbit than on the ground, without the leak rate increasing significantly. The seal material also couldn't be overly sticky so it wouldn't adhere to the metal sealing surface on the station side of the connection.
We tested multiple, smaller versions of different designs first to make sure they met all the requirements before testing full-scale versions of the final seal design for the docking system. Prior to the flight with SpaceX, we also tested small prototype seals in space, including some that were on the station for more than 18 months. Those prototypes were exposed to the harsh environment of space and were then brought back for additional testing.
Credits: NASA
How did you work with SpaceX to use this seal?
Bruce: The team at SpaceX developed their own unique docking system for Crew Dragon, but it needed to be compatible with the docking systems on the station. They worked with our counterparts at JSC to make sure the docking system worked with the interface standard and used some of the original NDS hardware, including our seal. The seal was first launched into space in March 2019 on SpaceX's uncrewed Demo-1 mission, during which it worked well.
Who else worked on this with NASA Glenn?
Bruce: We've worked with many outstanding partners on this project for the last 15 years with support from JSC. We worked locally in Cleveland and around Ohio with commercial partner Vantage Partners, LLC., who supported the detail design and test hardware development phases.
We also had great contributions from the University of Akron, the University of Toledo, and the Ohio Aerospace Institute. Those team members were instrumental in the concept formulation and in the development and testing of candidate materials and seals.
We selected Parker Hannifin's Composite Sealing Systems Division in San Diego to fabricate the seals for NASA and our spaceflight partners. It is noteworthy that sufficient funding was provided to Parker which allowed them to procure a large press to mold the seal in one operation. This approach eliminated joints in the seal that had been problematic during development of earlier space station seals.
What does it feel like to see something you've worked on for so long finally being used during a historic mission like SpaceX Demo-2?
Bruce: It is exhilarating to see all of our team's hard work pay off and contribute to such a historic mission! As one of the agency's research centers, NASA Glenn often has the opportunity to work on advanced technologies, but many of them don't get selected for flight. This is one of those very fortunate times where we had a good idea and were able to carry it through the many twists and turns of the development process and see it fly and become standard bill-of-equipment for future flights.
Pat: I've been lucky enough during my career at NASA to work on several projects where the seal we developed actually ended up flying. It's always rewarding to see something that you worked on help contribute to the success of a mission like this.
What's next for your team?
Pat: We plan to continue to work alongside SpaceX and the CCP to make sure the seal works well for upcoming missions, including for Boeing's CST-100 Starliner spacecraft. Future Artemis missions on the Orion spacecraft will be using the NASA Docking System, and the human landing systems for the Artemis program are looking into using it, too, when they land the first woman and next man on the Moon.
With that in mind, we're also starting a new project to evaluate the effects of lunar dust on seal performance and working on ways to make the seals more dust tolerant. We're excited that our seal will help enable all of these future missions!
Compiled by Jimi Russell
NASA's Glenn Research Center