Trailblazing astronaut Sally Ride was celebrated during an event at NASA's Kennedy Space Center to recognize the 40th anniversary of a groundbreaking moment in America's history.
NASA/Ben Smegelsky
By Jim Cawley
NASA's Kennedy Space Center  
A trailblazing astronaut. An elite athlete. An author, an advocate, and a brilliant physicist. Sally Ride was all of these and more, as affirmed by those closest to her – and those inspired by her – during an event at NASA's Kennedy Space Center in Florida to recognize the 40th anniversary of a groundbreaking moment in America's history.
"The Legacy of Sally Ride: The First American Woman in Space" celebrated Ride's amazing accomplishments during her life, which was cut short by pancreatic cancer in 2012. She was 61.
"Sally was an inspiration to countless women," said NASA Deputy Administrator and former astronaut Pam Melroy. "The girls and young women of that era saw a woman breaking the ultimate glass ceiling. She was more than just history. She was one of us, and she was all of us."
Ride shattered the nation's gender barrier in human spaceflight on June 18, 1983, as part of NASA's five-person crew of STS-7, launching aboard the Space Shuttle Challenger from Kennedy's Launch Complex 39A. At age 32, she also was the youngest American to travel in space.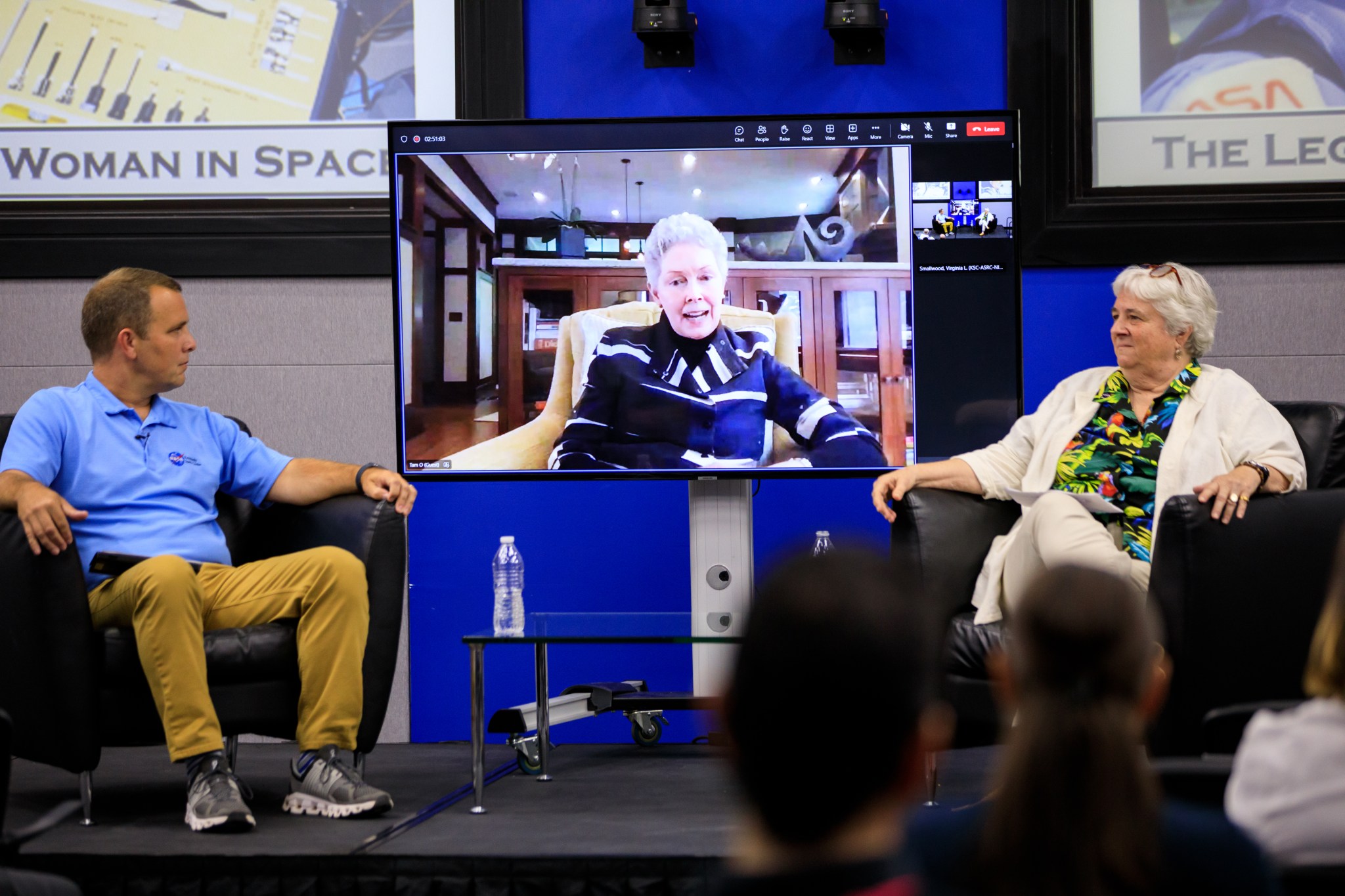 NASA/Ben Smegelsky
"My dad said, 'This is a really great day. History is being made today and things will never be the same for you' – and he was right," recalled opening speaker Jennifer Kunz, Kennedy's associate director, technical.
Ride's historic flight unlocked new opportunities for the nation's aspiring female space travelers. Mae Jemison became the first African American woman in space when she flew aboard Space Shuttle Endeavour as part of NASA's seven-member crew of STS-47 in September 1992. Three years later, Eileen Collins was the first woman to pilot a NASA mission (STS-63) and went on to become the first woman to command a shuttle in July 1999 during STS-93.
Retired NASA astronaut Peggy Whitson was the first woman to command the space station and is the U.S. record-holder for cumulative time in space with 665 days. NASA astronaut Christina Koch, who will orbit the Moon on the Artemis II mission, set a record for the longest single spaceflight by a woman with a total of 328 days in space. She also participated in the first all-woman spacewalk in October 2019.
According to Ride's sister, retired Presbyterian minister Bear Ride, her older sibling always had a spark.
"The fun family story is that Sally's first word she ever said was 'no,'" Bear Ride said with a smile. "She was always really clear about what she wanted and what she believed. And that stuck with her for her entire life."
Sally Ride was an exceptional athlete, playing competitive tennis from age 9 in southern California, where she met Tam O'Shaughnessy, a fellow competitor and close friend. The two later became life partners for 27 years, until Ride's death.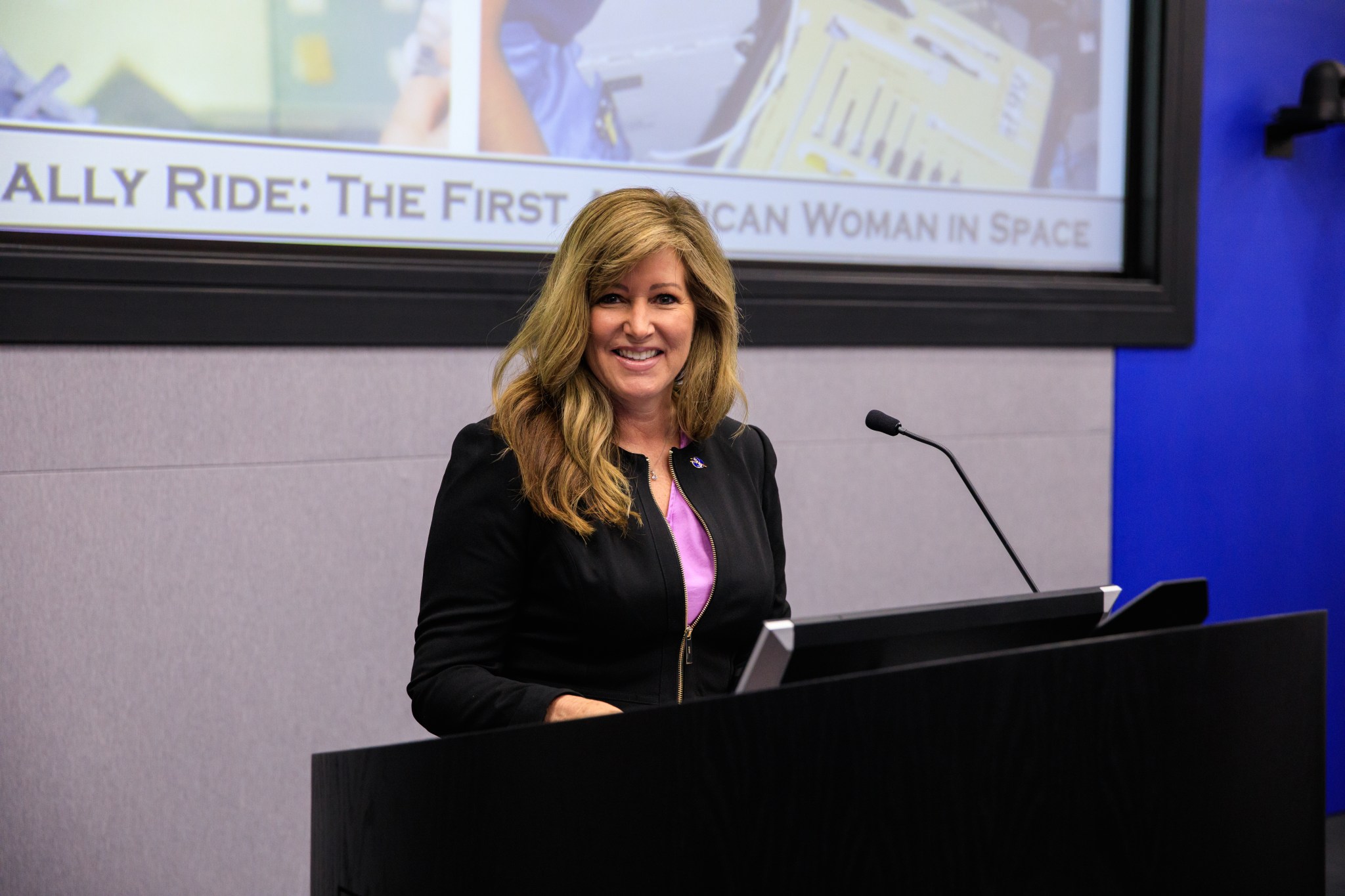 O'Shaughnessy and the Ride sisters grew up in the 1950s and '60s, a time when it wasn't popular for girls to be athletes or pursue careers in science and math. But Sally and Bear's parents fully supported their daughters' interests.
"Sally was smart; she was unflappable," Bear Ride said. "She didn't see barriers as barriers. If she wanted something, she would go for it. She just barreled forward and did it."
While working on her Ph.D. in physics at Stanford University, Sally Ride read in the student newspaper that NASA was accepting applications for astronaut candidates. And for the first time, women could apply.
"She knew immediately that she wanted to fly in space," O'Shaughnessy said.
In addition to her pioneering flight, Sally Ride flew aboard Challenger in 1984 and was training for a third mission in 1986 before the Challenger tragedy that year. She served on the Rogers Presidential Commission that investigated the Challenger accident and the board that looked into the Columbia disaster in 2003.
After her NASA career, Ride continued to be an advocate for inclusion in STEM (science, technology, engineering, mathematics) fields – particularly for girls and young women – and an influential voice in national space policy. She spent 30 years as a professor, teaching physics at the University of California-San Diego. And she adored speaking with kids.
"Sally noticed that when she talked about space to young girls and boys – and their teachers and parents – she would just see the sparkle in their eyes," O'Shaughnessy said. "She realized that she could use her incredible experience as an astronaut and being in space to excite kids about STEM.
"Sally liked to say, 'You can't be what you can't see,'" O'Shaughnessy added.
Sally Ride and O'Shaughnessy wrote six books together about science for young readers. In 2001, the pair, along with three friends, started a company called Sally Ride Science to inspire girls and boys of all backgrounds in STEM. Today, the company is a thriving part of the University of California-San Diego.
In 2013, Sally Ride posthumously received the nation's highest civilian honor – the Presidential Medal of Freedom – which O'Shaughnessy accepted on her behalf.
"Her life was a beacon for us to follow. And we'll carry that torch farther now out into the solar system," Melroy said. "As we go forward in landing the first woman on the Moon through Artemis, let us continue to share Sally's inspiration and help the next generation to even greater achievements."