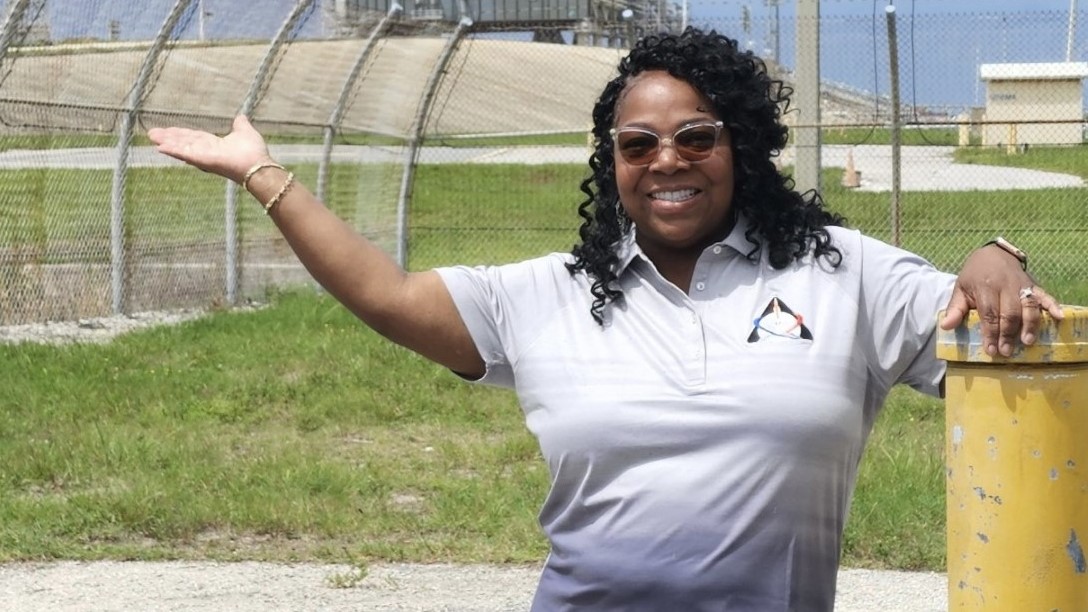 Credit: NASA
Growing up as a woman of color in Alabama, Macresia Alibaruho turned to figures like actress Nichelle Nichols from Star Trek and NASA astronaut Mae Jemison for inspiration. Now, as a manager coordinating research into how humans adapt to deep space flight, she is part of the team working to send the first woman and first person of color to the Moon.
"As a young girl, seeing Nichols on television was a big deal for me," Alibaruho recalled. "And Jemison is from a town near where I grew up. When she became the first African American woman astronaut, it lit a spark in me. Because of her, I saw that the impossible was within reach if I was willing to put in the work."
And work she did, starting in high school as a summer camp counselor at the U.S. Space and Rocket Center in Huntsville, Alabama. There, Alibaruho helped kids mimic tasks in space, such as using a robotic arm to perform simulated repairs on the Hubble Space Telescope. She then earned a bachelor's degree in computer science from Alabama Agricultural and Mechanical University in Huntsville, and a master's degree in business administration from the University of Michigan's Ross School of Business in Ann Arbor. Degrees in hand, she began her NASA career at the Mission Control Center at Johnson Space Center in Houston during the early days of the International Space Station.
"Being part of the grassroots group that defined and solidified space station operations was a powerful experience," Alibaruho noted. "We formed partnerships across the globe to establish a long-term human presence in space, and we did that as one united Earth."
Alibaruho has worked at NASA for more than 25 years in various capacities. She worked her way up to become manager of mission operations, leading teams of engineers and astronaut trainers responsible for data transmission, communications, electrical power, and environmental systems for the space station.
Today, Alibaruho works for NASA's Johnson Space Center as a leader in the program management office for NASA's Human Research Program. The program seeks to better understand and mitigate the hazards that spaceflight poses to the human body. She sets strategic plans, juggles budgets, maps out research cycles, and designs workflows that help NASA implement research findings.
Her team also helps NASA find researchers at colleges, universities, other government agencies, and industry laboratories who are studying how to protect astronauts in space. Through collaboration with these other groups, NASA aims to keep space-faring crews safe and healthy no matter the vehicle or platform, be it the space station, Orion during Artemis missions to the Moon, or spacecraft that take humans beyond.
Alibaruho is the mother of two children, the wife of a former NASA flight director Kwatsi Alibaruho, a gospel choir singer, and a volunteer for local Girl Scout troops, voter registration efforts, and women's shelters. She also provides online mentorship about financial awareness to individuals and groups in underserved communities.
Within NASA, Alibaruho sees her work as a giant moving jigsaw puzzle with her helping to figure out how budgets, schedules, and research objectives best fit together. "This work can be challenging, but it's rewarding to see the pieces constructed in a way that moves NASA forward," she said. "Our goal is to make even more distant human spaceflight missions a reality. Piece by piece, we're making the impossible within reach!"
______
NASA's Human Research Program, or HRP, pursues the best methods and technologies to support safe, productive human space travel. Through science conducted in laboratories, ground-based analogs, and the International Space Station, HRP scrutinizes how spaceflight affects human bodies and behaviors. Such research drives HRP's quest to innovate ways that keep astronauts healthy and mission-ready as space travel expands to the Moon, Mars, and beyond.