James C. Fletcher served as NASA's fourth and seventh administrator. Fletcher was president of the University of Utah, a position he held since 1964, when on March 1, 1971, President Richard M. Nixon nominated him for the top position at the space agency to replace Thomas O. Paine who resigned the previous September. Since Paine's resignation, George M. Low served as acting administrator. The Senate confirmed Fletcher's nomination on March 11, and he was sworn in during a ceremony in the Oval Office on April 27. Fletcher's greatest accomplishment as administrator until he resigned in 1977 was the development of the space shuttle. He served a second term as administrator between 1986 and 1989 to help NASA recover after the Challenger accident.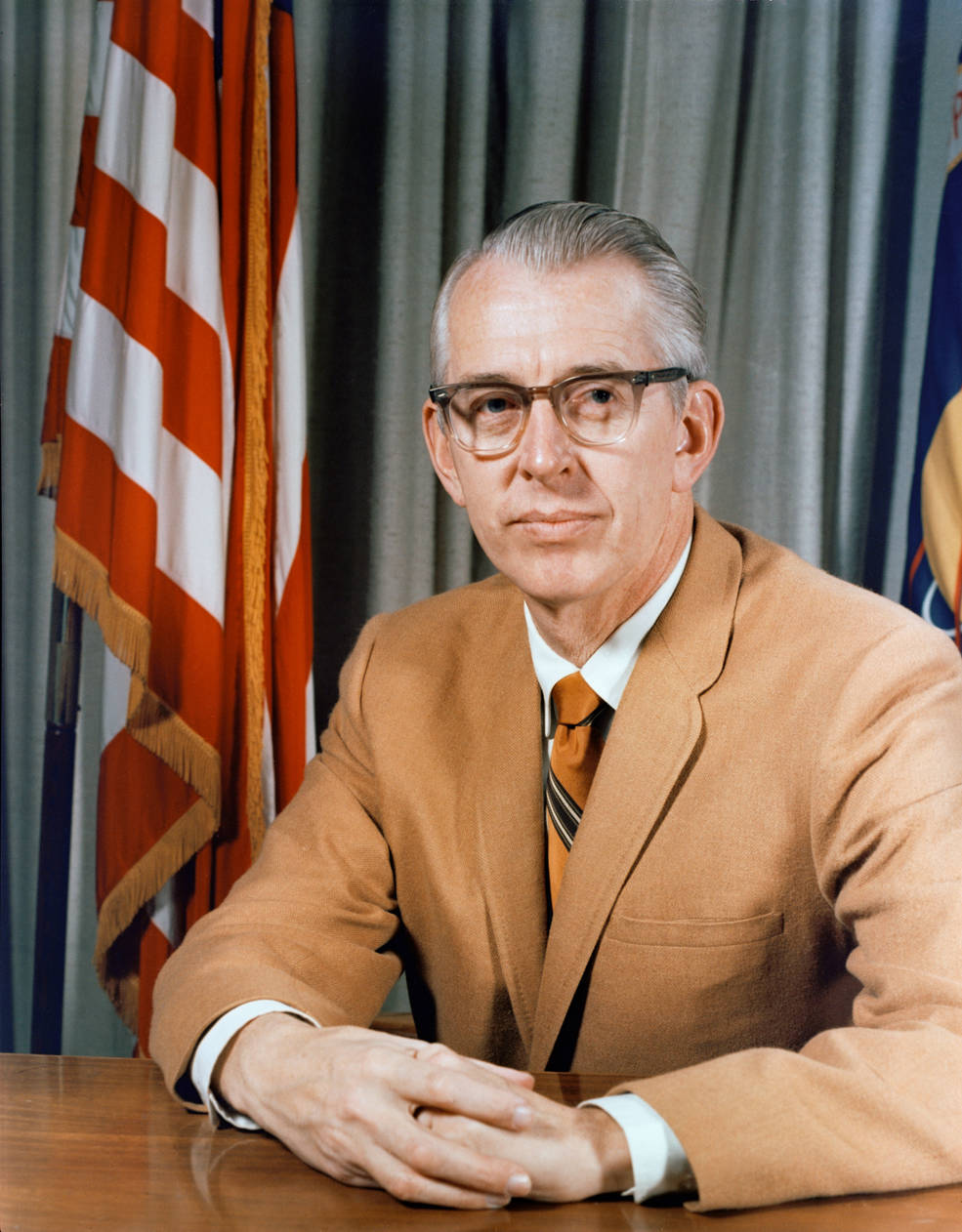 Left: Official portrait of NASA Administrator James C. Fletcher. Right: Fletcher, second from left, sworn in as NASA Administrator at the Oval Office in the White House by Superior Court Judge James A. Belson, right, as President Richard M. Nixon and Fay Fletcher look on.
On Jan. 5, 1972, President Nixon directed NASA to develop a reusable space shuttle to reduce the cost of launching payloads into space, Fletcher led NASA during the development of the program during an era of shrinking budgets. By the time he left office, the atmospheric test vehicle Enterprise had not only finished production but had completed several captive flights atop the Boeing 747 Shuttle Carrier Aircraft at the Dryden Flight Research Center, now NASA's Armstrong Flight Research Center at Edwards Air Force Base in California. Rockwell International had begun construction of the first orbital vehicle, space shuttle Columbia. Fletcher also authorized the twin Voyager spacecraft that not only explored the outer planets but more than 43 years after their launch are now exploring interstellar space. The Apollo-Soyuz Test Project, the first joint American-Russian human spaceflight, took place during his administration, a small step toward future cooperative efforts such as the Shuttle-Mir and International Space Station programs.

Left: President Richard M. Nixon, left, and NASA Administrator James C. Fletcher discuss the space shuttle, a program the President approved on Jan. 5, 1972. Right: Administrator Fletcher, left, with the cast and creator of the television series Star Trek: The Original Series pose in front of space shuttle Enterprise during its rollout ceremonies at the Rockwell plant in Palmdale, California, on Sep. 17, 1976.
Fletcher retired from NASA on May 1, 1977, having served under three presidents. President Ronald W. Reagan called him out of retirement to lead NASA in the wake of the January 1986 Challenger accident. Fletcher served his second term as NASA administrator from May 12, 1986 until April 8, 1989.
To be continued…
John Uri
NASA Johnson Space Center