In This Week's Star
NASA Adjusts Dates for Artemis I Cryogenic Demonstration Test and Launch
NASA has adjusted the targeted dates for a cryogenic demonstration test and to the next launch opportunities for Artemis I, the first integrated flight test of the Space Launch System (SLS) rocket and Orion spacecraft beyond the Moon. The agency will conduct the demonstration test no earlier than Wednesday, Sept. 21, and has updated its request for a launch opportunity Sept. 27, with a potential backup opportunity of Oct. 2 under review.
The updated dates represent careful consideration of multiple logistical topics, including the additional value of having more time to prepare for the cryogenic demonstration test, and subsequently more time to prepare for the launch. The dates also allow managers to ensure teams have enough rest and to replenish supplies of cryogenic propellants.
NASA and SpaceX also continue to target no earlier than 11:45 p.m. CDT Oct. 3 for the launch of the agency's Crew-5 mission to the International Space Station. Teams are working the upcoming commercial crew launch in parallel to the Artemis I planning and both launch schedules will continue to be assessed over the coming weeks. NASA and SpaceX will review the Artemis I and Crew-5 prelaunch processing milestones to understand any potential impacts. The agency's Crew-4 return will continue to be planned following a short handover on the space station with Crew-5.
Over the weekend, Artemis I teams completed repair work to the area of a hydrogen leak, reconnecting the ground- and rocket-side plates on the quick disconnect for the liquid hydrogen fuel feed line where two seals were replaced last week. This week, teams will conduct tests at ambient conditions to ensure there is a tight bond between the two plates before testing again during the cryogenic tanking demonstration, and begin preparations for the test. During the demonstration, launch controllers will load supercold liquid oxygen and liquid hydrogen into the core stage and interim cryogenic propulsion stage of the SLS rocket. The demonstration will allow teams to confirm the hydrogen leak has been repaired, evaluate updated propellant loading procedures designed to reduce thermal and pressure-related stress on the system, conduct a kick-start bleed test, and evaluate pre-pressurization procedures.
NASA is continuing to respect the Eastern Range's process for review of the agency's request for an extension of the current testing requirement for the flight termination system and is providing additional information and data as needed. In parallel, the agency is continuing preparations for the cryogenic demonstration test and potential launch opportunities, should the request be approved.
Specific times for the potential launch opportunities are as follows:
Sept 27: 70-minute launch window opens at 10:37 a.m. CDT; landing on Nov. 5.
Under review – Oct. 2: 109-minute launch window opens at 1:52 p.m. CDT; landing on Nov. 11.
Astronaut Matthew Dominick to Speak at Marshall's Annual Safety Day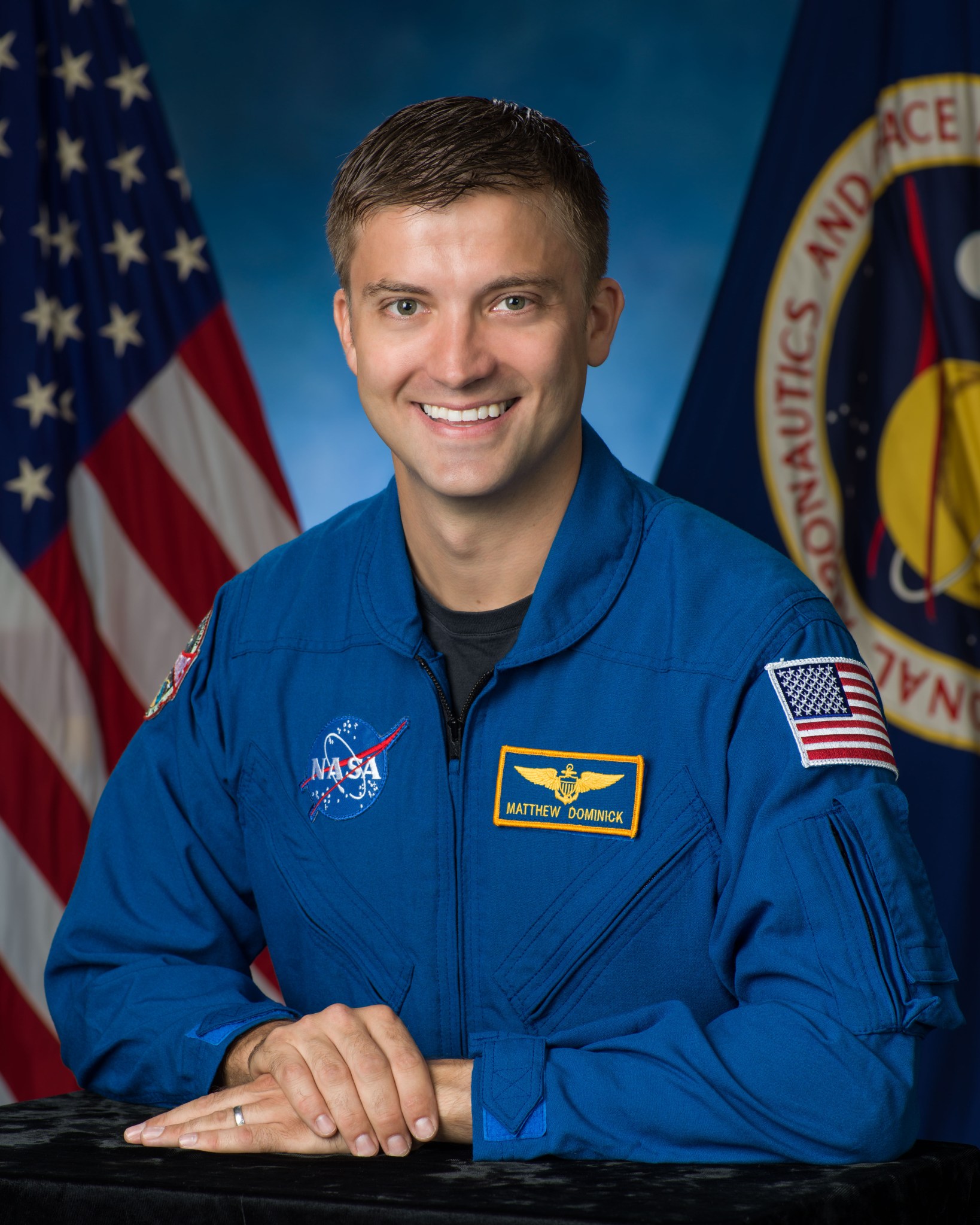 NASA astronaut Matthew Dominick will give an in-person keynote address at 9:40 a.m. Sept. 20 in Building 4203, Room 1201, as part of Marshall Space Flight Center's annual Safety Day. This year's Safety Day will be a hybrid event, and the keynote address will also be available via Webex. There will be overflow space available in conference rooms in building 4203. The Safety Day theme is "Safety at our Core as we Explore." Speakers will address topics like "Exploring New Horizons Safely" and "Mission Success is Safety First." Safety Day will start at 9 a.m. with a welcome, followed by a kickoff message from Rae Ann Meyer, associate director of Marshall. Other Safety Day activities will be available in person and via Webex. Dominick was selected by NASA to join the 2017 astronaut candidate class. He has since completed the initial astronaut candidate training and is now eligible for a mission assignment. The Colorado native earned a Bachelor of Science in Electrical Engineering from the University of San Diego and a Master of Science degree in Systems Engineering from the Naval Postgraduate School. He graduated from the U.S. Naval Test Pilot School. Dominick has more than 1,600 hours of flight time in 28 aircraft, 400 carrier-arrested landings, and 61 combat missions. In conjunction with Safety Day, Marshall and Michoud team members can participate in the Safety Culture Survey, providing feedback concerning the safety culture with the goal of preventing incidents from occurring. The survey is open through Oct. 14. For more information, visit here. (NASA)
Early Career Marshall Earth Scientists are Tech-Savvy, Positive, and Altruistic
A changing of the guard is gradually taking place in the Earth Science Branch at NASA's Marshall Space Flight Center.
Some team members have retired, and we've backfilled some key positions with a new generation of early career scientists. We're aligning the workforce to preserve some core skills, while adding those needed for the future. Our team is now more agile and diversified. The team seems more comfortable with change and new technology, and more willing to take new approaches to old problems.
Of necessity, NASA is now embracing the cloud computing environment and working toward migrating its data there. The agency houses troves of data and imagery in its archives and accumulates more daily. The amount of Earth science data alone is expected to quintuple within three or four years.
Some of our early career scientists are directly involved in migrating NASA Earth Science datasets into the cloud. They're using state of the art data management technologies to manage and systematize these massive data stores. Their work will ensure the data is accessible to and useable by not just other agencies and organizations, but by everyone.
Other Marshall early career Earth scientists are involved in disaster response, gathering data and developing tools for more accurate forecasts of severe weather and much more. Some of our scientists are working to ensure communities receive plenty of advance notice about pending weather dangers and the quickest possible responses from agencies providing emergency relief. The data, imagery, and forecast tools these scientists provide are keys to both.
Interviews with eight of Marshall early career Earth scientists reveal that they strive to contribute meaningfully to humankind in their work. Many have already overcome personal obstacles, maintaining their positive outlook and growing beyond their years in fortitude and wisdom. And all of them are interesting individuals with a wealth of character.
During the next few weeks, the Marshall Star will feature a series of profile articles providing a snapshot of what makes them tick. Beginning with the Sept. 21 issue, the Star will feature one profile every week. The featured scientists include Mason Quick, Sarah Bang, Patrick Duran, Eric Anderson, Kaylin Bugbee, Jordan Bell, Aaron Kaulfus, Lori Schultz, and Brian Freitag.
We hope you will enjoy the profiles of our early career Earth scientists.
Gary Jedlovec
Marshall Earth Science chief
Setting the Clock on a Stellar Explosion
While astronomers have seen the debris from scores of exploded stars in the Milky Way and nearby galaxies, it is often difficult to determine the timeline of the star's demise. By studying the spectacular remains of a supernova in a neighboring galaxy using NASA telescopes, a team of astronomers has found enough clues to help wind back the clock.
The supernova remnant called SNR 0519-69.0 (SNR 0519 for short) is the debris from an explosion of a white dwarf star. After reaching a critical mass, either by pulling matter from a companion star or merging with another white dwarf, the star underwent a thermonuclear explosion and was destroyed. Scientists use this type of supernova, called a Type Ia, for a wide range of scientific studies ranging from studies of thermonuclear explosions to measuring distances to galaxies across billions of light-years.
SNR 0519 is located in the Large Magellanic Cloud, a small galaxy 160,000 light-years from Earth. This composite image shows X-ray data from NASA's Chandra X-ray Observatory and optical data from NASA's Hubble Space Telescope. X-rays from SNR 0519 with low, medium, and high energies are shown in green, blue, and purple respectively, with some of these colors overlapping to appear white. Optical data shows the perimeter of the remnant in red and stars around the remnant in white.
Astronomers combined the data from Chandra and Hubble with data from NASA's retired Spitzer Space telescope to determine how long ago the star in SNR 0519 exploded and learn about the environment the supernova occurred in. This data provides scientists a chance to "rewind" the movie of the stellar evolution that has played out since and figure out when it got started.
The researchers compared Hubble images from 2010, 2011, and 2020 to measure the speeds of material in the blast wave from the explosion, which range from about 3.8 million to 5.5 million miles (9 million kilometers) per hour. If the speed was toward the upper end of those estimated speeds, the astronomers determined that light from the explosion would have reached Earth about 670 years ago, or during the Hundred Years' War between England and France and the height of the Ming dynasty in China.
However, it's likely that the material has slowed down since the initial explosion and that the explosion happened more recently than 670 years ago. The Chandra and Spitzer data provide clues that this is the case. Astronomers found the brightest regions in X-rays of the remnant are where the slowest-moving material is located, and no X-ray emission is associated with the fastest-moving material.
These results imply that some of the blast wave has crashed into dense gas around the remnant, causing it to slow down as it traveled. Astronomers may use additional observations with Hubble to determine more precisely when the time of the star's demise should truly be set.
A paper describing these results was published in the August issue of The Astrophysical Journal, and a preprint is available here.
NASA's Marshall Space Flight Center manages the Chandra program. The Smithsonian Astrophysical Observatory's Chandra X-ray Center controls science operations from Cambridge, Massachusetts, and flight operations from Burlington, Massachusetts.
Read more from NASA's Chandra X-ray Observatory.
Space Station Crew Studies Space Physics, Cognition, and Exercise
The Expedition 67 crew was on duty Sept. 13, focusing its science activities on space physics and human research. Robotics was also a big part of the day as the European robotic arm continued its verification process on the International Space Station.
Fluid physics is an important part of the research program on the station as scientists and engineers learn how to develop advanced products and applications for Earth and space. NASA Flight Engineer Kell Lindgren set up hardware inside the Microgravity Science Glovebox to observe how liquids are held together by surface tension. The experiment is studying the formation of destructive protein clusters that may be responsible for neurodegenerative diseases such as Alzheimer's. Astronaut Samantha Cristoforetti of the European Space Agency peered at foams and emulsions using the KERMIT microscope to understand why they are more stable in weightlessness. Results from both experiments may provide Earth-bound solutions, that are unobtainable in gravity, for the pharmaceutical, chemical, and consumer products industries.
NASA Flight Engineers Bob Hines and Jessica Watkins were back in the Columbus laboratory module exploring how an astronaut's central nervous system is affected by microgravity. The duo took turns wearing virtual reality goggles while seated in a specialized chair and responding to pre-programmed stimuli. The video-taped observations may help researchers understand how astronauts adapt to the microgravity environment of spaceflight.
Exercise is critical during space missions as muscles and bones become weaker without the pressure of Earth's gravity. Astronauts work out for two hours every day using the advanced resistive exercise device, a cycle, and a treadmill, to maintain their cardiovascular and musculoskeletal systems during long-term space missions. The space workouts also ensure crews are in good health and condition to handle the return to Earth's gravity after living and working in microgravity for months at a time.
Commander Oleg Artemyev ran on a treadmill while attached to sensors and breathing gear to learn how to exercise more effectively in space. Roscosmos Flight Engineer Denis Matveev assisted the commander with the exercise study before collecting microbe samples from the inside of the Zarya module for analysis.
The orbiting lab's third and newest robotic arm, the European robotic arm, continues to be checked out while attached to the Russian segment's Nauka multipurpose laboratory module. Flight Engineer Sergey Korsakov powered on the ERA and spent all day Tuesday verifying its performance, monitoring its telemetry, and observing its motion while still attached to Nauka.
The Payload Operations Center at NASA's Marshall Space Flight Center houses the International Space Station Payload Operations Integration Center, the Laboratory Training Complex, and simulation rooms used to prepare for space station expeditions.
NASA Hosts National Space Council Meeting, Vice President Chairs Event
Vice President Kamala Harris highlighted the importance of climate, human spaceflight, and STEM education during the Biden-Harris Administration's second National Space Council meeting Sept. 9 at NASA's Johnson Space Center.
"For generations, with our allies and partners around the globe, America has led our world in the exploration and use of space," said Harris. "Our leadership has been guided by a set of fundamental principles – cooperation, security, ambition, and public trust – which is the recognition, of course, that space can and must be protected for the benefit of all people. There is so much we still don't know and so much we still haven't done – space remains a place of undiscovered and unrealized opportunity. Our test and our responsibility is to work together to guide humanity forward into this new frontier and to make real the incredible potential of space for all people."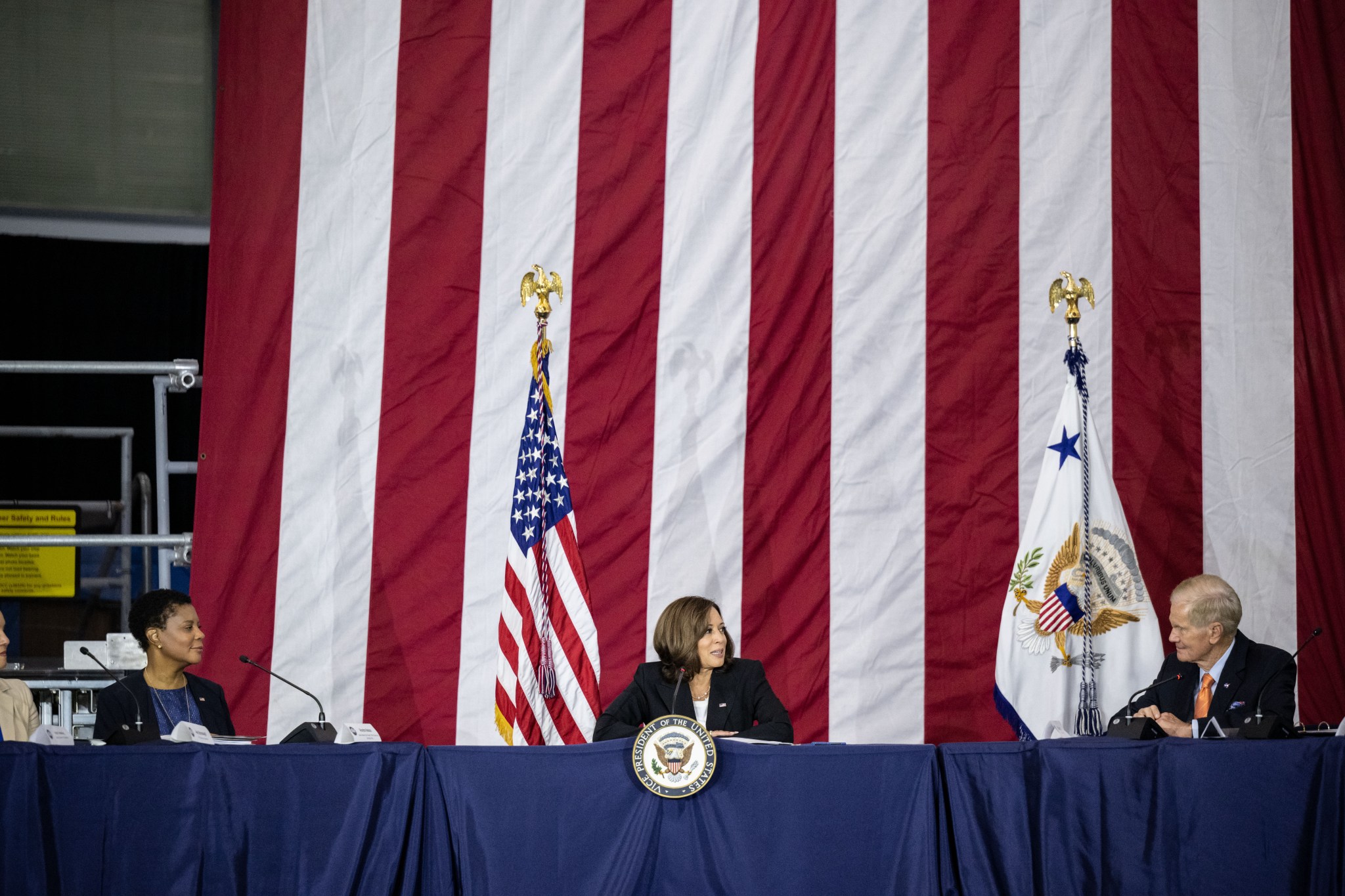 For more than 50 years, NASA satellites have provided open-source and publicly available data on Earth's land, water, temperature, weather, and climate. Improving access to key climate information is a priority for the agency. Building on his previous announcement, NASA Administrator Bill Nelson released the first concept, and shared a new video for the Earth Information Center. The center will allow the public to see how the Earth is changing and guide decision makers to mitigate, adapt, and respond to climate change.
"Just like we use mission control to monitor operations during spaceflight, we're embarking on this effort to monitor conditions here on our home planet, and it will be available to everyone in an easy-to-access format," Nelson said.
Planning for the Earth Information Center is underway with the initial phase providing an interactive visual display of imagery and data from NASA and other government agencies. NASA Headquarters plans to house this initial interactive display with goals to expand in person and virtual access over the next five years.
The vice president also underscored the important research conducted on the International Space Station that will enable long duration stays on the Moon and future human missions to Mars, in addition to benefits to life here on Earth.
"NASA uses the International Space Station to conduct critical research on the risks associated with future Mars missions – space radiation, isolation, and distance from Earth, just to name a few. It's also a testbed to develop the technologies we'll need for long duration stays on the Moon, where we will build an Artemis Base Camp on the surface and Gateway outpost in lunar orbit," Nelson said. "Research on the space station demonstrates that the benefits of microgravity are not just for discovery. We also develop new technologies that improve life on Earth, like treatments for cancer."
In conjunction with the meeting, NASA announced a new Space Grant K-12 Inclusiveness and Diversity in STEM (SG KIDS) opportunity that will award more than $4 million to institutions across the U.S. to help bring the excitement of NASA and STEM to traditionally underserved and underrepresented groups of middle and high school students. The announcement is a part of a broader set of commitments made by public, private, and philanthropic partners announced by the vice president to help in the recruitment and development of the next generation of the space workforce.
SG KIDS also addresses the White House Executive Order on Advancing Racial Equity and Support for Underserved Communities Through the Federal Government, as well as Nelson's focus on providing authentic STEM opportunities to K-12 students.
While at NASA's Johnson Space Center, Vice President Harris toured the agency's mission control with Nelson and Johnson Center Director Vanessa Wyche. The vice president also spoke with NASA astronauts Bob Hines, Kjell Lindgren, and Jessica Watkins, living and working aboard the International Space Station about how their research benefits life on Earth, supports long duration space flight, and protects our planet.
The vice president also received a tour of the Space Vehicle Mockup Facility (SVMF), where space flight crews and their support personnel receive world class training on high-fidelity hardware for real-time mission support. The SVMF consists of space station, Orion, Commercial vehicle mockups, part-task trainers and rack interfaces, a Precision Air Bearing Floor, and a Partial Gravity Simulator.
A recording of the full National Space Council meeting is available here.
DART Sets Sights on Asteroid Target
NASA's Double Asteroid Redirection Test (DART) spacecraft recently got its first look at Didymos, the double-asteroid system that includes its target, Dimorphos. On Sept. 26, DART will intentionally crash into Dimorphos, the asteroid moonlet of Didymos. While the asteroid poses no threat to Earth, this is the world's first test of the kinetic impact technique, using a spacecraft to deflect an asteroid for planetary defense.
This image of the light from asteroid Didymos and its orbiting moonlet Dimorphos is a composite of 243 images taken by the Didymos Reconnaissance and Asteroid Camera for Optical navigation (DRACO) on July 27.
From this distance – about 20 million miles away from DART – the Didymos system is still very faint, and navigation camera experts were uncertain whether DRACO would be able to spot the asteroid yet. But once the 243 images DRACO took during this observation sequence were combined, the team was able to enhance it to reveal Didymos and pinpoint its location.
"This first set of images is being used as a test to prove our imaging techniques," said Elena Adams, the DART mission systems engineer at the Johns Hopkins Applied Physics Laboratory. "The quality of the image is similar to what we could obtain from ground-based telescopes, but it is important to show that DRACO is working properly and can see its target to make any adjustments needed before we begin using the images to guide the spacecraft into the asteroid autonomously."
Although the team has already conducted a number of navigation simulations using non-DRACO images of Didymos, DART will ultimately depend on its ability to see and process images of Didymos and Dimorphos, once it too can be seen, to guide the spacecraft toward the asteroid, especially in the final four hours before impact. At that point, DART will need to self-navigate to impact successfully with Dimorphos without any human intervention.
"Seeing the DRACO images of Didymos for the first time, we can iron out the best settings for DRACO and fine-tune the software," said Julie Bellerose, the DART navigation lead at NASA's Jet Propulsion Laboratory. "In September, we'll refine where DART is aiming by getting a more precise determination of Didymos' location."
Using observations taken every five hours, the DART team will execute three trajectory correction maneuvers over the next three weeks, each of which will further reduce the margin of error for the spacecraft's required trajectory to impact. After the final maneuver on Sept. 25, approximately 24 hours before impact, the navigation team will know the position of the target Dimorphos within 2 kilometers. From there, DART will be on its own to autonomously guide itself to its collision with the asteroid moonlet.
DRACO has subsequently observed Didymos during planned observations on Aug. 12, Aug. 13 and Aug. 22.
Johns Hopkins APL manages the DART mission for NASA's Planetary Defense Coordination Office as a project of the agency's Planetary Missions Program Office, which is at NASA's Marshall Space Flight Center.
DART is the world's first planetary defense test mission, intentionally executing a kinetic impact into Dimorphos to slightly change its motion in space. While the asteroid does not pose any threat to Earth, the DART mission will demonstrate that a spacecraft can autonomously navigate to a kinetic impact on a relatively small asteroid and prove this is a viable technique to deflect an asteroid on a collision course with Earth if one is ever discovered. DART will reach its target on Sept. 26, 2022.
For more information about the DART mission, visit here.
NASA Conducts Burst Pressure Test of Inflatable Habitat
As NASA prepares to send humans back to the Moon and beyond to Mars, inflatable habitats are concepts being considered for Lunar Surface Habitats and Mars Transit Habitats.
Burst pressure tests are necessary to meet human safety certification, and engineers use them to determine the ability of the habitat to withstand internal pressure and the maximum internal pressure required to cause failure of the habitat's woven, structural shell. The test, conducted in collaboration with Sierra Space and ILC Dover, took place at NASA's Johnson Space Center as part of the NextSTEP-2 Habitat Systems contract managed by NASA's Marshall Space Flight Center..
Webb Image of Cosmic Tarantula Highlighted on 'This Week at NASA'
The latest image from NASA's James Webb Space Telescope is featured in "This Week @NASA," a weekly video program broadcast on NASA-TV and posted online.
The telescope captured thousands of never-before-seen young stars in a new image of stellar nursery 30 Doradus, also known as the "Tarantula Nebula." Located about 161,000 light-years away from us in the Large Magellanic Cloud, the nebula is the largest and brightest star-forming region near our own galaxy, and is home to the hottest, most massive stars known. One of the reasons the Tarantula Nebula is interesting to astronomers is the furious rate at which it produces new stars.
The Webb team at NASA's Marshall Space Flight Center spent more than two decades working on Webb, primarily focusing on development and testing of the mirrors in extreme cold temperatures at which Webb operates.
View this and previous episodes at "This Week @NASA" on NASA's YouTube page.