The contiguous United States will see only one total solar eclipse between now and the year 2044, and the citizens of Russellville, Arkansas, are ready.
On Monday, April 8, 2024, the Moon will pass between the Sun and Earth, providing a rare opportunity for those in the path of the Moon's shadow to see a total solar eclipse, including the Sun's outer atmosphere, or corona. With more than 100,000 tourists expected to visit Russellville for this rare experience, elected officials and industry leaders hosted a team of NASA experts from the Marshall Space Flight Center in Huntsville, Alabama, to discuss educational outreach opportunities.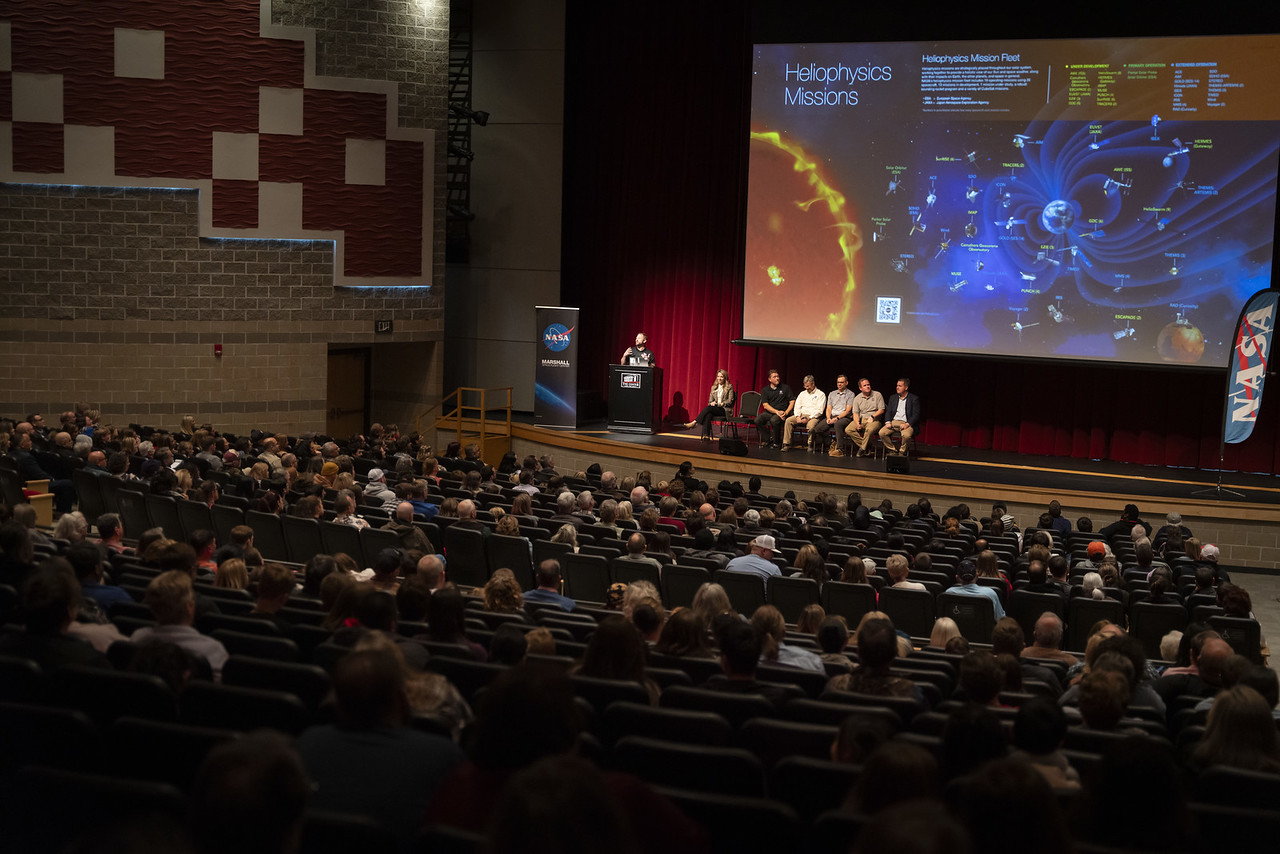 Joshua Mashon
"Having NASA involved elevates the importance of this eclipse and amplifies the excitement for our community," said Russellville Mayor Fred Teague. "We are thankful for the rich discussions and insight provided by NASA, and we look forward to hosting them again during the April eclipse."
Due to the length of the eclipse totality in Russellville, NASA is planning to host part of the agency's live television broadcast from the city, as well as conduct several scientific presentations and public outreach events for visitors. Additional factors for selecting Russellville included access to a large university, and proximity to Little Rock – the state's capital – to engage media outlets and key stakeholders representing industry and academia.
The day-long Oct. 30 visit helped NASA learn how the city is preparing for the massive influx of tourists and news media personnel. Christie Graham, director of Russellville Tourism, explained the city's commitment to the eclipse and how their planning processes started more than a year in advance.
"Months ago, we created our solar eclipse outreach committee, consisting of key stakeholders and thought leaders from across the city," Graham said. "We've developed advanced communication and emergency management plans which will maximize our city's resources and ensure everyone has a safe and memorable viewing experience."
NASA/Christopher Blair
This visit also provided NASA an opportunity to share important heliophysics messaging with the public, including the next generation of scientists, engineers, and explorers. To learn how best to interact with local students, NASA team members met with the Russellville School District Superintendent Ginni McDonald and Arkansas Tech University Acting Interim President Russell Jones.
"Leveraging the eclipse to provide quality learning opportunities will be a valuable and unforgettable experience for all," said McDonald. "Our staff enjoyed discussing best strategies and look forward to sharing NASA educational content with our students."
The team also discussed internship opportunities available for students to work at NASA centers across the nation, as well as how to get involved in NASA's Artemis student challenges, sophisticated engineering design challenges available for middle school, high school, college and university students.
"Our university serves nearly 10,000 students, many pursuing a variety of STEM (science, technology, engineering, and math) degrees, including mechanical and electrical engineering, biological and computer sciences, nursing, and more," Jones said.
It is important our students learn of the many unique opportunities available with NASA and how they can get involved."
Russell Jones
Arkansas Tech University President
"It is important our students learn of the many unique opportunities available with NASA and how they can get involved."
The agency's visit concluded with a free public presentation at The Center for the Arts, where more than 1,000 attendees gained insight on the upcoming eclipse from Dr. Adam Kobelski, a solar astrophysicist at Marshall. Following the presentation, all NASA team members participated in a question-and-answer session with audience members of all ages.
Overall, the visit proved valuable for everyone with NASA team members remarking how enthusiastic and prepared both Russellville and the university are to support the eclipse event.
"It was a refreshing reminder of the public's excitement for the science we conduct at NASA," said Kobelski. "This experience established my overall confidence in their readiness to successfully host a quality viewing experience for everyone."
The April eclipse is part of the Heliophysics Big Year, a global celebration of solar science and the Sun's influence on Earth and the entire solar system. Everyone is encouraged to participate in solar science events such as watching solar eclipses, experiencing an aurora, participating in citizen science projects, and other fun Sun-related activities.
Cities across the nation are planning eclipse watch parties and other celebrations to commemorate the event. Weather permitting, the April 2024 total eclipse will be visible across 13 states, from Texas to New York.
Christopher Blair
Marshall Space Flight Center, Huntsville, Ala
256.544.0034
christopher.e.blair@nasa.gov