NASA / Sean Smith
It looks like a living room you might find almost anywhere – an 11 by 13 foot space with eight-foot ceilings (3.4 x 4.0 x 2.4 meters) that contains a couch, chair, TV, coffee table and more. But this is no living room – it is a noise test chamber called the Interior Effects Room at NASA's Langley Research Center in Hampton, Va.
Acoustics researchers had it constructed so they could assess people's perceptions of noise. Some noises are more annoying to people than others, according to research aerospace engineer Alexandra Loubeau.
That includes loud or startling things that make you have this sort of fear reaction – you think there's danger because there's a really loud sound. Most people are most annoyed by those sounds.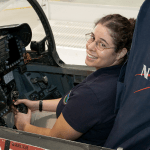 ALEXANDRA LOUBEAU
Research Aerospace Engineer
But why do NASA engineers care about sound? Loubeau and her colleagues are "hoping to change the future air transportation system across the world."
One thing that is affecting the growth of air traffic and the kind of planes being built is noise – noise created by airplane structures and engines, noise in the community and the noise created by sonic booms. For a recent test NASA Langley researchers invited 33 people from the community to sit in the Interior Effects Room and listen to boom and rattle sounds similar to those caused by a plane flying at supersonic speeds. The test is part of NASA's research efforts to determine at what levels a sonic boom would be "acceptable" to members of the public.
"For this test we created synthesized sonic booms based on designs for future supersonic aircraft," said research aerospace engineer Jonathan Rathsam. "The rattle noises, however, were recorded by ourselves and by our colleagues, thumping on doors and pulling back ceiling fan blades to create noises that really would be associated with household items that might be affected by a sonic boom."
Those sounds are transmitted by 52 subwoofers and 52 mid-range speakers embedded in the walls and seven satellite speakers and a subwoofer in the room. Researchers sit in a control room and watch as test subjects use computers to record how annoying they perceive the noise to be.
Each test includes 207 sounds. But researchers take all appropriate precautions to make sure those noises don't hurt the listeners' hearing. A Langley review board evaluates and approves all tests to ensure the safety of subjects. Also before and after each test the subjects undergo a standard hearing measurement assessment to document that their hearing hasn't changed during the hour-long test.
"While we are running the test we also have what we call a limiter system," said Loubeau. "It's monitoring the sounds in the room throughout the whole test. If something were to go wrong and a noise went above 95 decibels (slightly louder than a lawnmower) this limiter system detects that and automatically shuts off all the amplifiers for the subwoofers and all our speakers."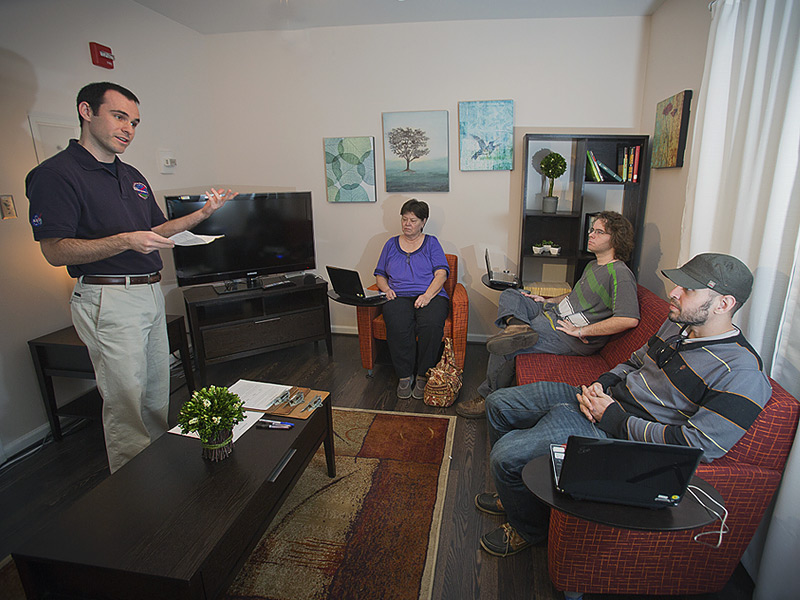 NASA / Sean Smith
The Interior Effects Room Boom and Rattle Study is part of the NASA High Speed Project's ongoing efforts to develop technologies to advance supersonic passenger travel. "The point of the test is for us to develop a capability to predict the annoyance caused by these sounds in the population," said Rathsam. "Right now supersonic flight is forbidden over land because conventional booms are annoying to communities on the ground. This predictive model will be used by aircraft designers to determine how much a particular design is likely to annoy listeners on the ground and aircraft noise regulators to develop a metric to regulate what might be an acceptable level for sonic boom."
The noise tests in the lab complement flight tests done at NASA's Dryden Flight Research Center at Edwards Air Force Base, Calif., to try to give researchers a complete picture of sonic boom noise and the best way to quantify it so that supersonic passenger travel might some day become commonplace.