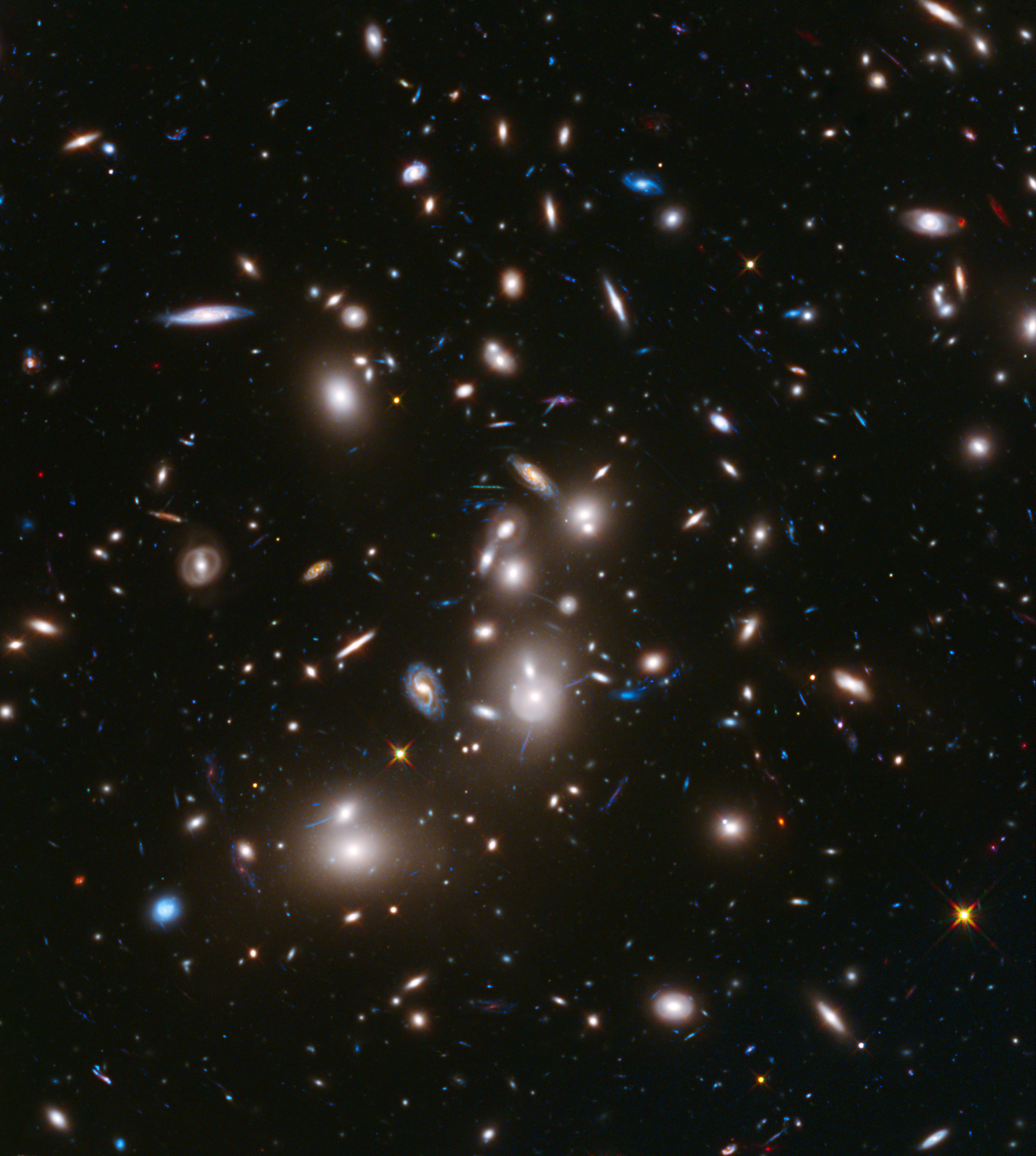 Credits: NASA, ESA, and J. Lotz, M. Mountain, A. Koekemoer, and the HFF Team (STScI)
The first stars in the universe blazed to life about 200 to 400 million years after the big bang. Observing those very first individual stars across such vast distances of space normally would be a feat beyond any space science telescope. However, new theoretical work suggests that under the right circumstances, and with a little luck, NASA's upcoming James Webb Space Telescope will be able to capture light from single stars within that first generation of stars.
"Looking for the first stars and black holes has long been a goal of astronomy. They will tell us about the actual properties of the very early universe, things we've only modeled on our computers until now," said Rogier Windhorst of Arizona State University, Tempe. Windhorst is lead author of the paper that appeared in the Astrophysical Journal Supplement.
"We want to answer questions about the early universe such as, were binary stars common or were most stars single? How many heavy chemical elements were produced, cooked up by the very first stars, and how did those first stars effect star formation?" added co-author Frank Timmes of Arizona State University.
The key will be to look for a star that has been gravitationally lensed, its light bent and magnified by the gravity of an intervening galaxy cluster. But not just any gravitational lensing will do. Typical gravitational lensing can magnify light by a factor of 10 to 20 times, not enough to make a first-generation star visible to Webb.
But if the distant star and closer galaxy cluster line up just right, the star's light can be amplified 10,000 times or more, bringing it within the realm of detectability. This could be done via so-called cluster caustic transits, where the light from a first star candidate could be enormously magnified for a few months due to the motion of the galaxy cluster across the sky.
The chances of such a precise alignment are small, but not zero. Astronomers recently announced that Hubble spotted a super-magnified star known as "Icarus." Although it was the farthest single star ever seen, it was much closer than the stars Webb might locate. With Webb, the team hopes to find a lensed example of a star that formed from the primordial mix of hydrogen and helium that suffused the early universe, which astronomers call Population III stars.
In addition to the first stars, Windhorst and his colleagues investigated the possibility of seeing accretion disks surrounding the first black holes. Such a black hole, formed by the cataclysmic death of a massive star, could shine brightly if it pulled gas from a companion star.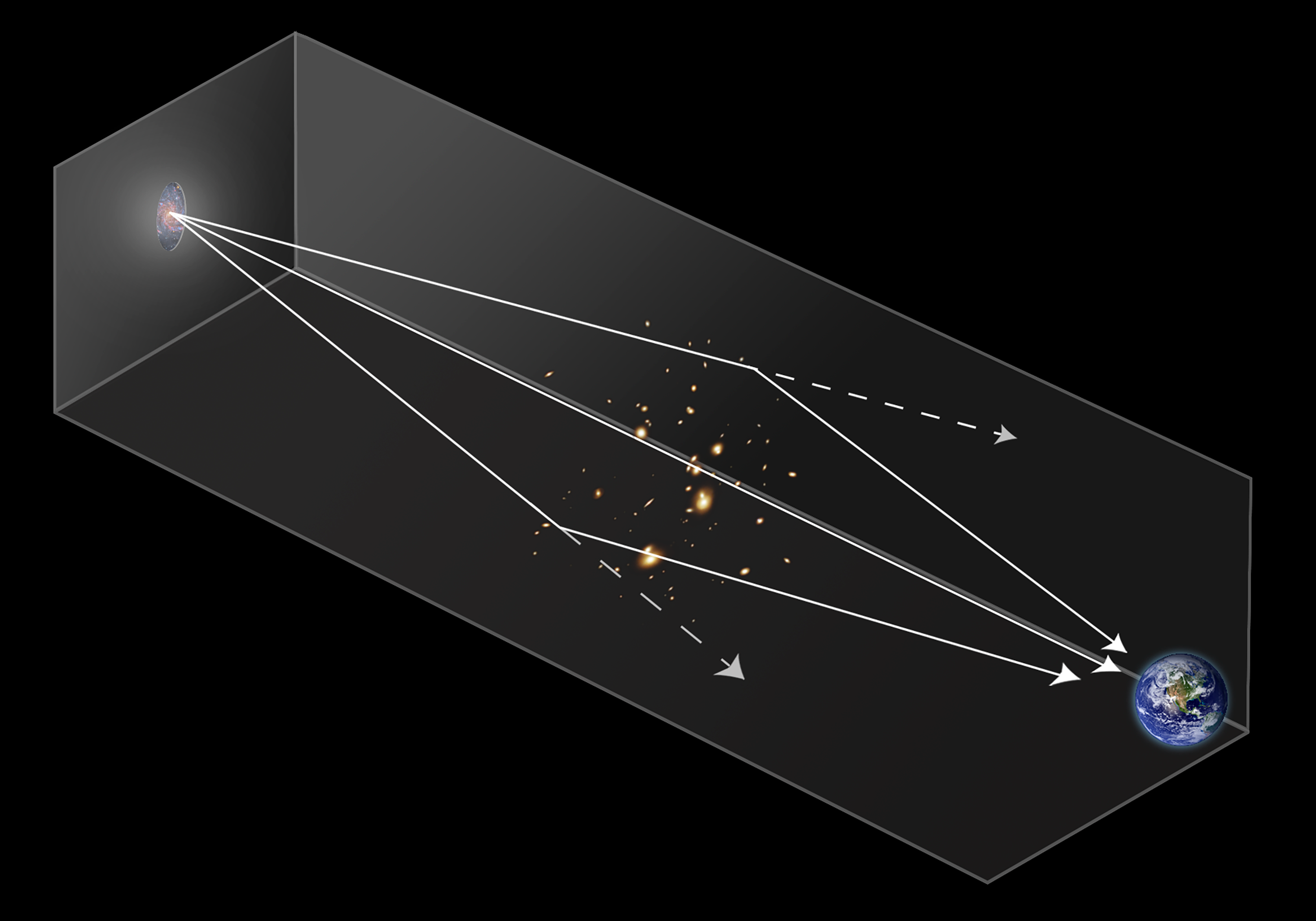 Credits: NASA, ESA, and A. Feild and F. Summers (STScI)
The longer an object shines, the more likely it will drift into alignment with a gravitational lens. First-generation stars are expected to have been both massive and short-lived, lasting for just a few million years before exploding as supernovae. In contrast, a black hole stripping a companion star could shine for 10 times longer, feeding from a steady stream of gas. As a result, Webb might detect more black hole accretion disks than early stars.
The team calculates that an observing program that targets several galaxy clusters a couple of times a year for the lifetime of Webb could succeed in finding a lensed first star or black hole accretion disk. They have already selected some of the best target clusters, including the Hubble Frontier Fields clusters and the cluster known as "El Gordo."
"We just have to get lucky and observe these clusters long enough," said Windhorst. "The astronomical community would need to continue to monitor these clusters during Webb's lifetime."
The James Webb Space Telescope will be the world's premier space science observatory. Webb will solve mysteries of our solar system, look beyond to distant worlds around other stars, and probe the mysterious structures and origins of our universe and our place in it. Webb is an international project led by NASA with its partners, the European Space Agency (ESA) and the Canadian Space Agency (CSA).
Related Links:
NASA's Webb Portal: www.nasa.gov/webb
WebbTelescope link: http://webbtelescope.org/articles/2018-23
Christine Pulliam
Space Telescope Science Institute, Baltimore, Maryland
410-338-4366
cpulliam@stsci.edu
Rogier Windhorst
Arizona State University, Tempe, Arizona
480-540-0816
rogier.windhorst@asu.edu