Javier Ocasio-Pérez uses ingenuity and teamwork to lead integration and testing (I&T) for the Capture, Containment, and Return System (CCRS) for the Mars Sample Return (MSR) Mission.
Name: Javier Ocasio-Pérez
Title: Integration and Test (I&T) Manager; Capture, Containment, and Return System (CCRS) for the Mars Sample Return (MSR) Mission
Formal Job Classification: Aerospace engineer
Organization: Flight Systems Integration and Test Branch, Electrical Engineering Division, Engineering and Technology Directorate (Code 568)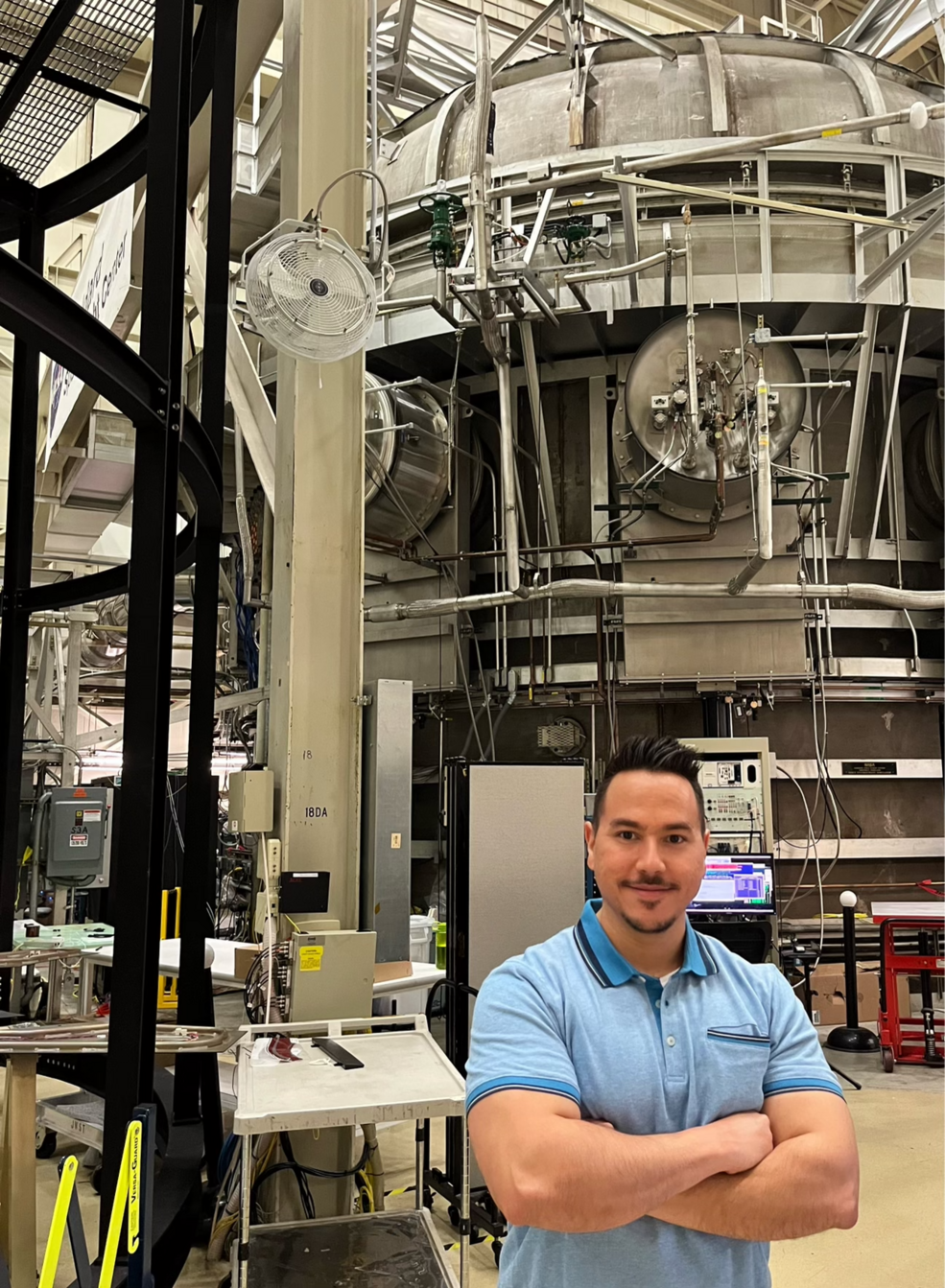 Credits: NASA / Courtesy of Javier Ocasio-Pérez
What do you do and what is most interesting about your role here at Goddard? How do you help support Goddard's mission?
Before a mission can successfully launch and achieve its goals in space, it needs to be assembled, integrated, and rigorously tested through a process called an integration and test (I&T) campaign. As the I&T manager for the Mars Sample Return mission's Capture, Containment, and Return System, I lead this process. When a mission is designed, I am in charge of ensuring that the mission's hardware and software components will all work together. I also plan how to test and prepare all components for the harsh environment of space.
Currently, my team is responsible for the assembly, integration, and tests for MSR-CCRS.
What is your educational background?
I have always been curious about how things work and fascinated with the process of how anything can start from scratch and how you can build upon it to create something truly astonishing. In 2009, I got a bachelor's degree in computer engineering, with a software specialty, from the University of Puerto Rico, Mayagüez Campus.
How did you come to Goddard?
I attended a NASA Goddard summer internship recruitment interview with Dan Krieger, former DEIA program manager. Dan made me feel a sense of inclusion and belonging. I immediately felt part of the NASA family.
In 2007, I began a summer internship at Goddard in the Electrical Engineering Division. My job was to build a software interface with a thermal chamber, my introduction to the electrical engineering world. I was then offered a student position, which meant that I became a government employee while working on completing my bachelor's degree. I joined Goddard as a fulltime permanent employee in 2009.
How does teamwork impact being an I&T manager?
It is a privilege to be in this position. The amazing thing about Goddard is that everything functions in a team environment. I currently lead a large, multi-disciplinary team which is constantly solving complex challenges as we integrate instruments, subsystems, and systems into the launch vehicle. I am very thankful that I get to work with truly dedicated, hardworking, and bright people.
We start the day collaborating and coordinating inputs from the team to decide on the day's priorities. We get things done and accomplish our goals through teamwork. We have big, complex milestones that we must meet. Everyone – from the electrical technician, to the mechanical assembler, the people in the control room – plays a vital role. I may not have all the expertise in an area, but I always know who to talk to and can get the answers I need. We all have a common goal and that is mission success!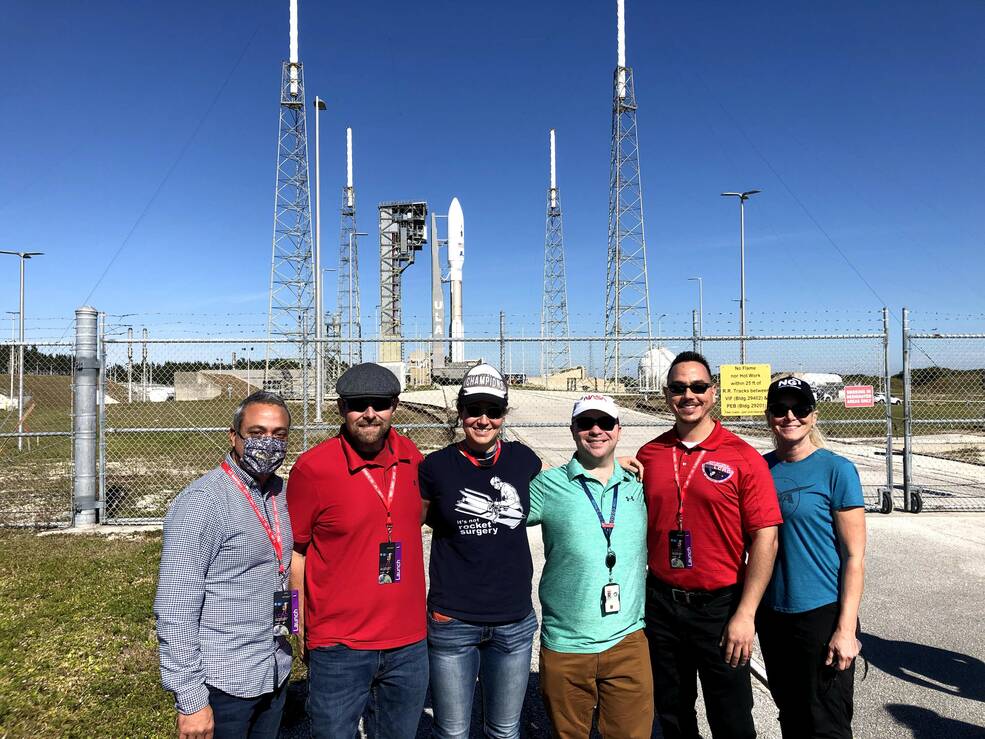 Credits: NASA / Courtesy of Javier Ocasio-Pérez
What else do you love about working at Goddard?
I love that, at Goddard, we are a science-focused center where we can work on every aspect of a mission, from working on a mission concept on paper to making the mission a tangible reality. It is very rewarding and unique to be on a project from concept, design, build, test, launch, and operations.
How does watching a launch of something you helped build make you feel?
The first time I was the I&T manager for a mission was for the Laser Communication Relay Demonstration (LCRD) mission. I got to see the LCRD launch after working for six years on the mission. When the vehicle lit up the dark sky, like a candle, I felt a sense of gratitude, excitement, and peace. After years of hard work and dedication, when the mission is finally launched and everything works, you know the team's effort and sacrifice was worth it.
The second highlight was the launch of the James Webb Space Telescope, my first Goddard flagship mission. I travelled a lot to the ESA (European Space Agency) site in Germany for the integration and testing of the mission. The day of the launch, I was invited to speak about the mission at the Eco-Exploratorio Science Museum of Puerto Rico. I also felt gratitude and happiness as I watched the launch. It felt even more special because I got to share that moment with students and the Hispanic community in Puerto Rico, my home.
Another very special moment in my career, was receiving the 2022 NASA Robert H. Goddard Exceptional Achievement for Leadership Award recognizing my work as the I&T manager for the LCRD Mission and its successful launch. It filled my heart to see that all the sleepless nights, the long days, the challenges faced and resolved were deeply valued by Goddard center management.
What is special about your involvement as a chair of the Hispanic Advisory Committee for Employees (HACE)?
For several years, I have been a co-chair for HACE, setting the priorities for the committee. We also hold monthly meetings with the members; meet with center management including monthly meetings with our senior champion Deidre Healey, director of Goddard's Safety and Mission Assurance Division, and our center director, as well; and plan cultural awareness events.
Our flagship event is during Hispanic Heritage Month (Sept. 15 – Oct. 15). Pre-COVID, we had a luncheon with catered Latin food and live displays of cultural performances. Our keynote speakers have included former NASA Administrator Charlie Bolden, the first Hispanic female astronaut Ellen Ochoa, the Flight Director for the Perseverance rover Diana Trujillo, and the first female meteorologist from Puerto Rico, Ada Monzon.
A special memory from the Hispanic Heritage Month Guest Speaker Event with Diana Trujillo, was feeling a close connection between my work as a Hispanic I&T Manager for the CCRS MSR mission with Diana's leadership with the Perseverance rover. Two Hispanic leaders, one leading the Perseverance rover in the retrieval of Mars rock samples and myself leading the integration and test campaign for the mission that will be returning those same Mars samples back to Earth. A first! Experiencing how special and important both our jobs are and being able to represent our communities reminded me that we hold important roles where others may look up to us. I always like to portray myself as an example to others, especially to other Hispanics, in order to encourage and inspire others when working towards accomplishing their personal and professional goals.
Credits: NASA / Courtesy of Javier Ocasio-Pérez
When you do outreach, what is your message?
I often speak at schools, universities, and career fairs to students ranging from elementary school to college and beyond. One of my primary messages is that representation matters, portraying that anybody, especially from a minority community, such as Hispanics, can have a career at NASA. I show students from minority communities that they can have a NASA career in STEM and related areas such as business. I tell them to believe in themselves.
I typically get a lot of questions and comments from minority audiences regarding how they do not see someone who looks like them in a role such as mine. Some students do not think that careers in STEM are achievable for them. They sometimes do not identify with the people they see in STEM careers because they don't look like them. When the students see me, I notice they get excited and motivated. They see some part of themselves in me. It is in that moment that I become an example of someone like them who was able to make a career in STEM. Sharing my story inspires my audience to pursue their dreams and apply to NASA internship opportunities.
I tell them that hard work and dedication are very important. Nothing comes easy, and nothing will be handed to you. You must be very intentional. You have to put in the work to get the result.
I also tell them to take advantage of the opportunities that present themselves. Sometimes an opportunity may not come again, so you must be willing to step outside your comfort zone in order to make it a reality.
To illustrate, I typically give the example of how I studied computer engineering with a software specialty, and I am currently an aerospace engineer in a leadership position at NASA.
When I was younger, I was always shy and kept to myself. That is why I liked computers. I imagined my job to be mostly in front of a computer with limited interactions with other people because that is what felt comfortable at the time. However, when I came to NASA Goddard, all my experiences pushed me out of my comfort zone. Today my job is to interact with people on a daily basis, and I thoroughly enjoy it.
Who inspires you?
My mother. My dad passed away when I was very young, so my mother raised my two brothers and me by herself in Puerto Rico. She is a very intelligent woman who, because her family was poor, could not afford to go to college. She did everything in her power and made it her mission to put the three of us through college because education was very important to her. I admire her dedication and tenacity.
I am thankful for every sacrifice she made, for teaching me unconditional love, instilling meaningful life values, and making education a priority. I would not be where I am today without her and everything she has done for me and for my brothers. I am forever grateful to my mom for everything!
What do you do for fun?
I love to travel internationally. I just returned from Dubai and Indonesia. I also routinely go to the gym, and I like drawing.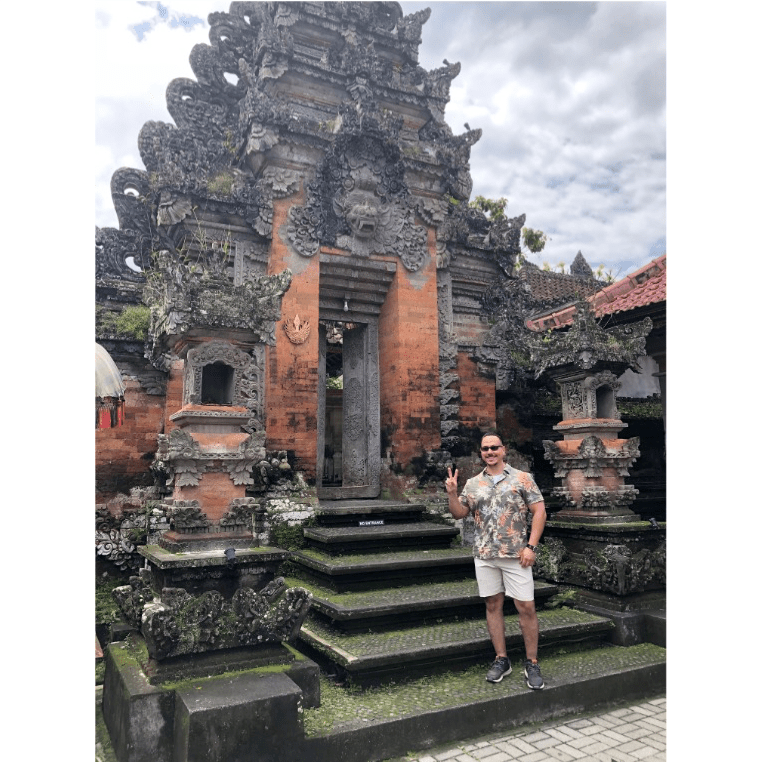 Credits: NASA / Courtesy of Javier Ocasio-Pérez
What is your "six-word memoir"? A six-word memoir describes something in just six words.
Kind. Trustworthy. Caring. Determined. Results-oriented. Passionate.
Conversations With Goddard is a collection of Q&A profiles highlighting the breadth and depth of NASA's Goddard Space Flight Center's talented and diverse workforce. The Conversations have been published twice a month on average since May 2011. Read past editions on Goddard's "Our People" webpage.
By Elizabeth M. Jarrell
NASA's Goddard Space Flight Center