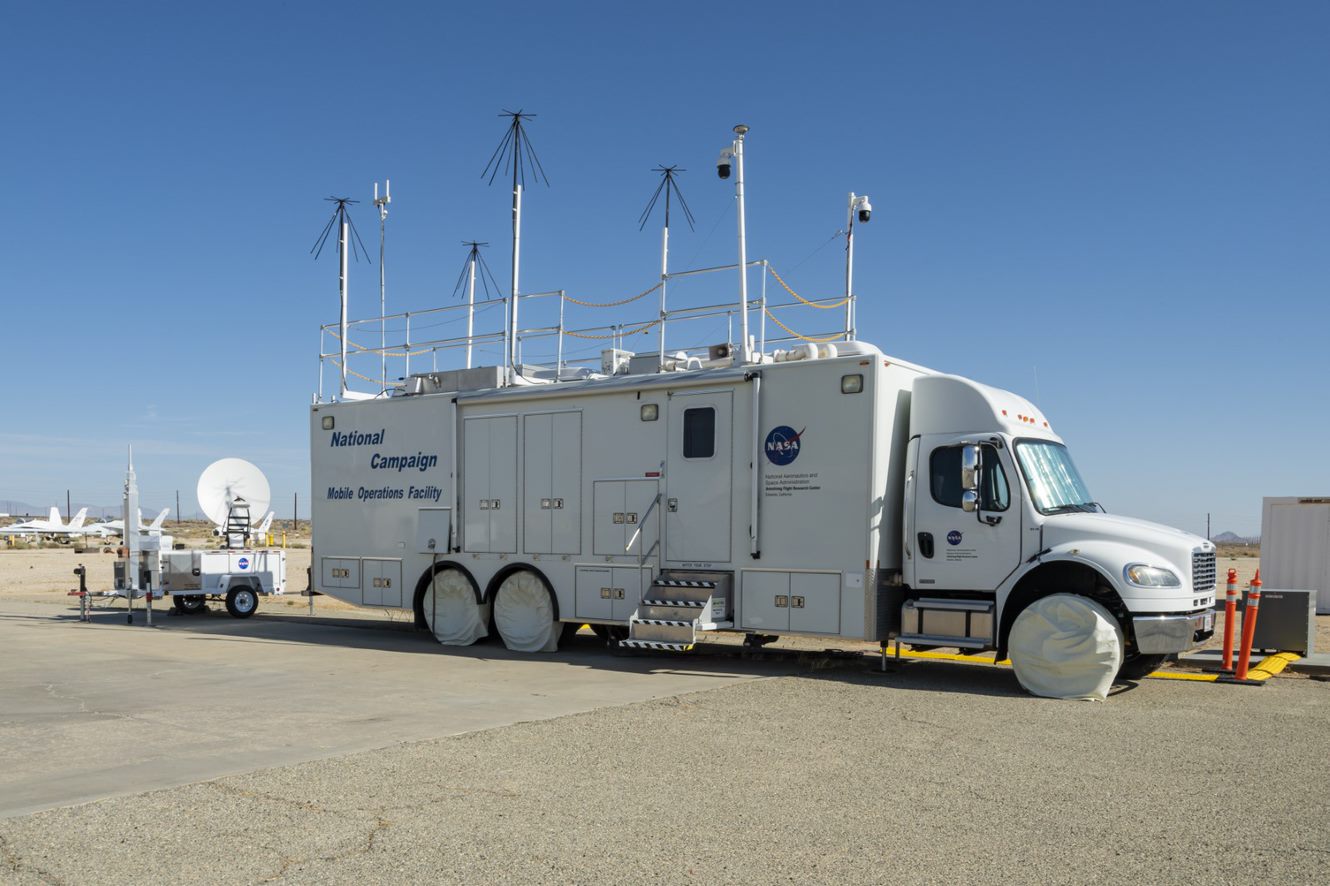 Credits: NASA/Lauren Hughes
NASA recently unveiled a series of upgrades to its Mobile Operations Facility (MOF), a specially outfitted mission control center on wheels housed at NASA's Armstrong Flight Research Center in Edwards, California. NASA's Advanced Air Mobility (AAM) National Campaign will use the MOF to test systems required to integrate air taxis, cargo delivery, and other AAM concepts into the National Airspace System.
The National Campaign project acquired the MOF from NASA Langley Research Center in Hampton, Virginia in 2019 and began a series of upgrades that were completed in August 2021. It was first used during National Campaign Integrated Dry Run testing to track and interact with helicopters standing in for electric AAM vehicles at Armstrong in November 2021.
The heavily modified diesel truck is built to go anywhere, with a portable power generator and satellite data capability enabling real-time monitoring of flight testing. This mobile proving ground – which can adapt to the National Campaign partners' schedules and reach any test location – allows NASA to observe and analyze a broad variety of AAM use cases and vehicles, as well as map potential new airspace procedures in dozens of urban, rural, and intraregional locations.
Modifications were carried out by members of the Hugh L. Dryden Aeronautical Test Range. Several of the MOF upgrades were made in-house using Armstrong facilities like its model shop, which 3D-printed telescoping safety rails for significantly less cost than purchasing them. Other equipment installed included:
Ultra-high frequency/very-high frequency radios to give the team the ability to communicate with the aircraft and ground personnel, as well as track the aircraft via automatic dependent surveillance broadcast
Wireless and wired internet access, satellite data capability, and the ability to record mission, video, and voice data
A new battery system
Air conditioning soft start kits, which will significantly reduce the amperage drawn by the AC compressor during startup
"A diverse and skilled Armstrong team came together to upgrade the MOF to support the National Campaign flight tests," said Sam Simpliciano, NASA Armstrong NC Range Team lead. "Utilizing the Armstrong model shop to 3D-print parts no longer available had a significant impact on the project timeline and cost; the range inter-communications group helped with the installation and check-out; and other offices across the center were also involved with procurement, logistics, and maintenance."
Credits: NASA/Lauren Hughes
The MOF will be used to analyze flight paths, vehicle maneuvers, approach and landing, and other critical data as the National Campaign expands its research activities with partners currently developing electric vertical take-off and landing vehicles and AAM automation software. NASA will share this data with the partners as well as the Federal Aviation Administration and use it to inform community considerations, standards development, and airspace planning for the future of the aviation industry.
By leading the integration of this foundational research and other components necessary to the success of the AAM ecosystem – such as infrastructure development and airspace management – the National Campaign reinforces NASA's commitment to transforming aviation by reducing its environmental impact, while maintaining safety.