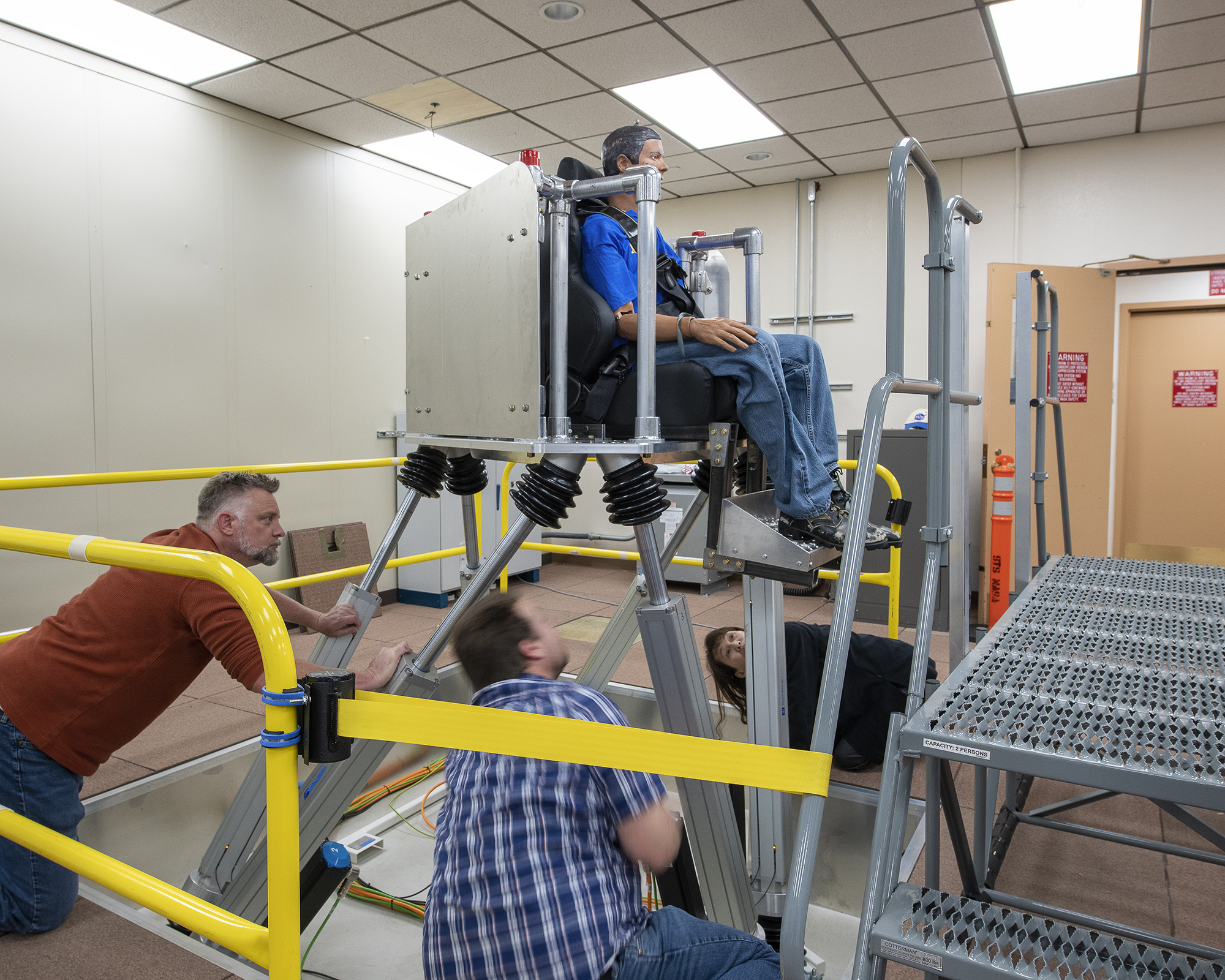 NASA/Genaro Vavuris
To create a future where air taxis are a regular form of transportation, passengers need to be comfortable. That's why researchers at NASA's Armstrong Flight Research Center in Edwards, California are exploring how passengers may experience an air taxi ride by building a custom virtual reality flight simulator.
NASA is currently researching the human physiological response to motion, vibration, noise, and visual stimuli that passengers may experience during an air taxi flight, and the new simulator is a major part of that effort. It includes virtual reality goggles depicting an aircraft cabin and city environment, as well as noise and seat motion, to simulate an air taxi ride. NASA will make data collected with the simulator available to industry and other stakeholders to help shape the design of electric air taxis, locations where the aircraft will take off and land, and desired flight paths through cities.
"In the 1970s, NASA was instrumental in developing passenger ride quality metrics for jet airliner noise, seat vibration, and motion sickness through human subject testing using a unique passenger ride quality simulator located at NASA's Langley Research Center," said Curt Hanson, senior flight controls researcher for this project. "Now, NASA's Armstrong Flight Research Center is taking this technology into the 21st-century."
During an experiment, test subjects will be secured in the seat on top of a platform that can move on six axes to realistically simulate motion in an aircraft and tests will gauge their level of discomfort. They will wear a virtual reality headset and headphones to create a fully immersive experience.
As each subject virtually flies around a projected scene of downtown San Francisco, they will be asked to indicate any time they feel uncomfortable by pressing a handheld button. These discomfort cues can later be correlated with recorded visual and motion stimuli, as well as with physiological measurements, such as heart rate and breathing rate.
NASA researchers will be able to provide guidance on elements of air taxi design like seat placement and window size based on the results of these experiments. It will also help inform where the aircraft will take off, land and fly. This information will help industry and government make informed decisions to ensure a positive experience for future air taxi users.
This simulator testing is one element of NASA's Revolutionary Vertical Lift Technology (RVLT) project. Other focus areas include improving noise, safety, and efficiency for vertical lift aircraft. The research performed by the RVLT project supports NASA's Advanced Air Mobility research to integrate air taxis, drones, and cargo delivery aircraft into our sky.