Humans are returning to the Moon to expand upon the discoveries achieved during the Apollo missions and explore more of the lunar surface than ever before. Landing safely on the Moon's rocky terrain, especially in the dark of the lunar night and in shadowed regions, will be challenging. NASA is looking to businesses, academic institutions, entrepreneurs, and other innovators to advance new technologies that could help human and robotic explorers safely land on the Moon.
As part of the NASA TechLeap Prize, the Nighttime Precision Landing Challenge No. 1 invites applicants to submit proposals for sensing systems that can detect hazards from an altitude of 250 meters or higher and process the data in real time to help spacecraft land safely in the dark. Up to three winners may receive awards of up to $650,000 each to build their payloads, as well as the opportunity to test their technology on a suborbital flight at no additional cost.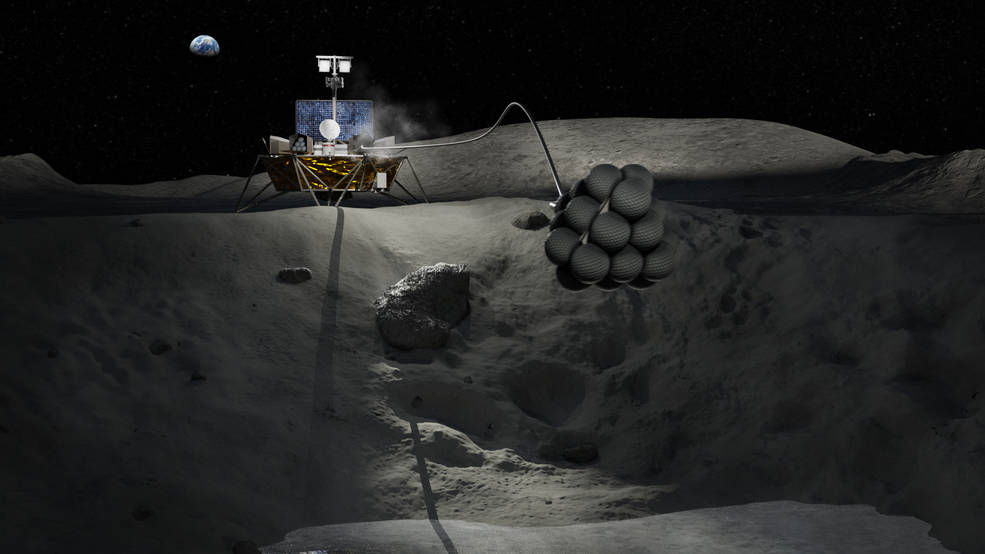 NASA
"This is an exciting opportunity for industry to offer solutions that address one of NASA's critical goals for space exploration and scientific discovery," said John Kelly, program manager for NASA's Flight Opportunities program at Armstrong Flight Research Center in Edwards, California. "This challenge is an important step in the search for innovative technologies that will enable robotic and crewed missions to pursue landings in hazardous terrain."
The challenge addresses the need to safely land in close proximity of targeted exploration sites. The lunar terrain includes hazards like rocks and craters, which in turn create shadowy regions that can harbor water ice – making them important sites for scientific discovery and building a sustained human presence on the Moon. Despite advancements in precise navigation capabilities, challenges remain with the identification of safe landing sites within shadowed and dark surface regions. In addition, the challenge seeks solutions that are smaller, lighter, more cost effective, and straightforward to integrate with a variety of lander vehicles.
Through this challenge, NASA aims to demonstrate sensor systems – which could include radar, lidar, optical, or other measurements – capable of generating three-dimensional maps during rocket-powered landing maneuvers with enough accuracy and resolution to be used for hazard detection and landing site selection in low-light conditions. Successful sensor systems will drive down the size, mass, power, and cost beyond the current state of the art.
NASA
Apply to the Nighttime Precision Landing Challenge No. 1
Registration due: May 5, 2022 at 5pm PDT
Applications due: May 19, 2022 at 5pm PDT
To apply, visit the TechLeap Prize website.
About the NASA TechLeap Prize
The NASA TechLeap Prize, funded by NASA's Flight Opportunities program, was initiated to rapidly identify and develop technologies of significant interest to the agency through a series of challenges. This is the second challenge conducted as part of the NASA TechLeap Prize. The three winners from the first challenge, Autonomous Observation Challenge No. 1, are currently building their payloads and are slated to test them on high-altitude balloon flights in summer 2022.
Flight Opportunities, part of NASA's Space Technology Mission Directorate, helps space technologies reach maturity more quickly by testing them on suborbital flights. These tests can provide critical data and insight into how a technology is expected to perform in its intended space environment, as well as help reduce risk prior to much more costly orbital missions. The NASA Tournament Lab, part of the Prizes, Challenges, and Crowdsourcing program within STMD, manages the challenge. The challenge is administered by Carrot.