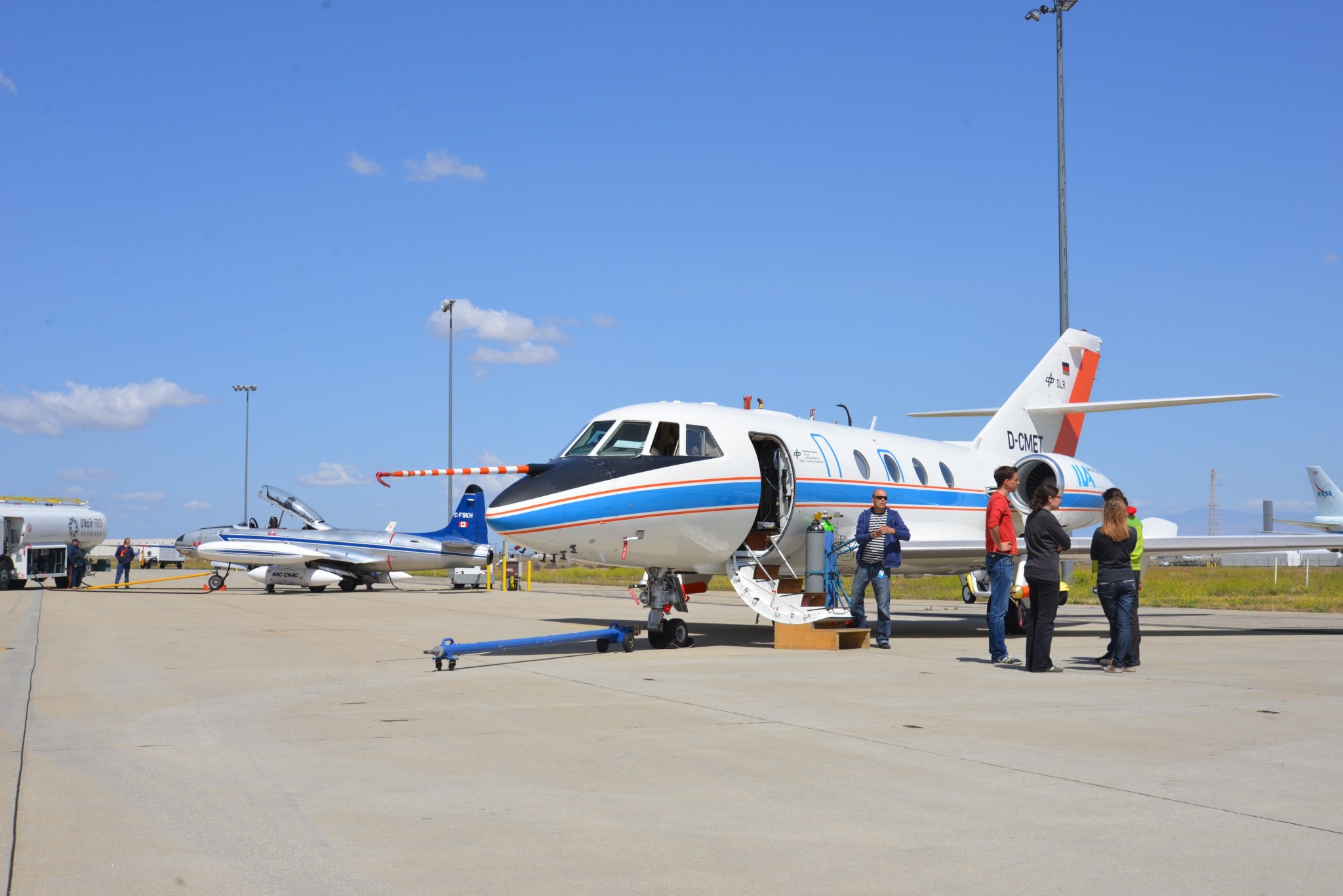 NASA / Peter Merlin
NASA took to the skies today — along with international partners the German Aerospace Center (DLR) and National Research Council of Canada (NRC) — to begin a series of flight tests to gather critical data that may aid in the development of cleaner aircraft fuels.
NASA / Peter Merlin
The flight tests over Palmdale, California, called Alternative Fuel Effects on Contrails and Cruise Emissions II (ACCESS II), include NASA's DC-8 and HU-25C Guardian, DLR's Falcon 20-E5, and NRC's CT-133 research aircraft.
NASA / Peter Merlin
NASA's DC-8 leads the flight formation as the "guinea pig" of this experiment. Its engines will burn various fuel blends, while the Falcon and CT-133 measure emissions and observe contrail formation from the DC-8.
NASA / Peter Merlin
Flying as high as 40,000 feet, the DC-8's four CFM56 engines burn either traditional jet fuel JP-8 or a 50-50 blend of JP-8 and renewable alternative fuel of hydro processed esters and fatty acids produced from camelina plant oil.
NASA / Peter Merlin
"This is a great example of how NASA works with partners around the globe to solve the challenges common to the international aviation community such as understanding emission characteristics from the use of alternative fuels which presents a great potential for significant reductions in harmful emissions," said Jaiwon Shin, NASA's associate administrator for aeronautics research.
NASA / Peter Merlin
Measurements taken during ACCESS I in 2013, showed soot levels were 40 to 60 percent lower in the emissions from burning blended fuels than those of JP-8, according to Bruce Anderson, NASA's principal investigator for the ACCESS program.
"We saw big changes in soot emissions from the DC-8, but we weren't able to make clear ties between the type of fuel burned and formation of contrails," said Anderson. "So for ACCESS II we really want to dig into that."
ACCESS II flights run through May 23.