NASA
Transforming air traffic management to accommodate new air vehicles and demand for increased mobility
Operators of new and emerging aircraft – such as future Advanced Air Mobility vehicles or electric-powered vertical takeoff and landing vehicles – have big plans to fly in the U.S. airspace. But before that can happen, we'll need to work with the Federal Aviation Administration, or FAA, to enable changes to the current airspace system while continuing to keep our skies safe. To make these new and growing aircraft operations a reality – while ensuring efficiency and safety – is where NASA's Air Traffic Management eXploration, or ATM-X, project comes in.
ATM-X is developing innovative technology solutions that remove barriers to transforming today's air transportation system and enabling new aircraft's large-scale access, while also improving current aircraft operations. The end-goal is a digitally-integrated air transportation system that allows for increased mobility and safe, efficient access for both traditional and emerging operations and users – from commercial aircraft to delivery drones and urban air taxis.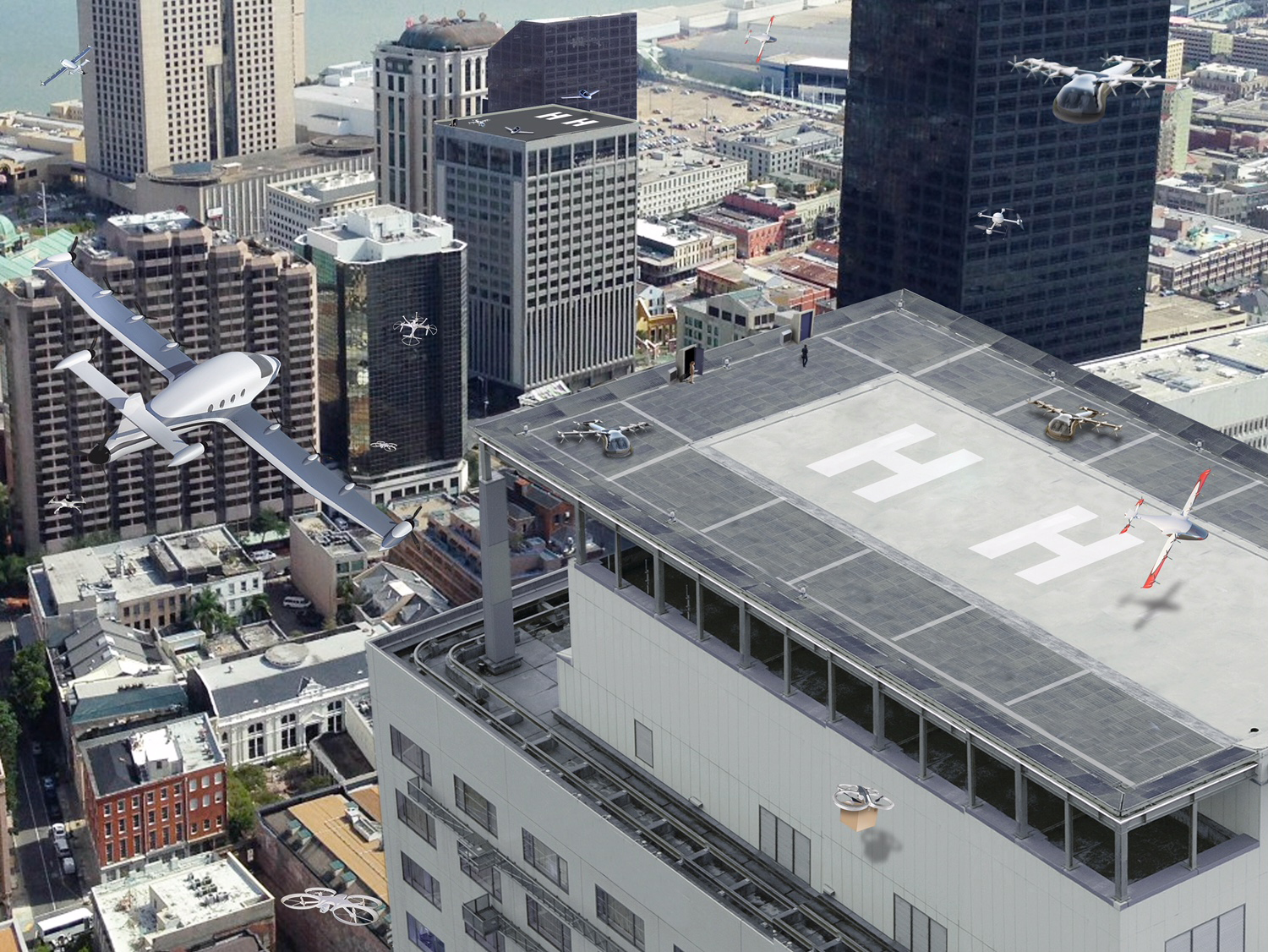 NASA
By collaborating and partnering with a diverse group of industry participants, ATM-X will leverage their expertise to develop technology and define an airspace system that can scale up to handle the load of many and various aircraft. Industry continues to show strong interest by investing in, and contributing to, building airspace management systems. This includes their significant involvement with NASA's Unmanned Aircraft Systems Traffic Management, or UTM. Systems based on the UTM paradigm can accelerate the transformation of the national airspace system in many ways. For example, they can play a role in expanding routine airspace access to more users, developing services to further the use of airspace information for air traffic controllers to service providers, and enabling more flexibility for a variety of piloted and pilotless aircraft to schedule and carryout their missions.
ATM-X leverages the convergence of airspace industry involvement with technological advances in cloud computing, faster computing speeds, communications systems capable of handling more data, and increasingly autonomous technologies. These key assets will unlock an airspace management system architecture that will transform the national airspace.
The ATM-X team works closely with the FAA to envision what the national airspace will be like in the year 2045. Experts anticipate a transformed airspace that will need to serve denser and more diverse flights, while maintaining or improving safety and efficiency. Advanced technologies, changes in market forces, and societal and environmental factors will all play a role influencing how the future system works. The team's efforts will help guide future ATM-X research and development to identify technical barriers and research questions that need to be addressed.
ATM-X research and technology development has four subprojects, each focusing on different domains that contribute to transforming the national airspace, improving airspace access, and making operations more efficient for all users within the airspace system of tomorrow:
Digital Information Platform The Digital Information Platform subproject will develop and evaluate a prototype digital information platform software that takes data from many sources and turns it into easily accessible, easy-to-use digital information. This capability will provide necessary data for airspace management and users of the airspace system of the future.
NASA/Maria Werries
Urban Air Mobility Airspace Management
The Urban Air Mobility Airspace Management subproject is developing increasingly sophisticated airspace management technologies that enable new electric aircraft to conduct passenger and cargo operations in urban areas as they fly at low altitudes, or less than 5,000 feet. The subproject will test airspace management technologies in support of NASA's Advanced Air Mobility Project's National Campaign. The team also will provide industry stakeholders with airspace system requirements and guidance toward a mature Urban Air Mobility airspace system.
Pathfinding for Airspace with Autonomous Vehicles Industry is developing increasingly autonomous aircraft that will revolutionize how we transport goods across the United States. The Pathfinding for Airspace with Autonomous Vehicles subproject will enable this new industry by improving the airspace system to provide routine access for these aircraft. This subproject will collaboratively develop airspace integration solutions to make remotely piloted commercial operations possible and increase levels of autonomous flight.
Extensible Traffic Management
The Extensible Traffic Management subproject is working with the FAA and industry to enable routine access of unmanned aircraft to our national airspace where aircraft fly above 60,000 feet. This work builds on the success of NASA's Unmanned Airspace Systems Traffic Management system for collaborative air traffic management. The team also is identifying additional use cases for a UTM-like extensible traffic management paradigm and how these operations would integrate with current air traffic.
Milestones:
Completed final-stage development, testing, analysis, and knowledge transfer to the FAA of the Integrated Demand Management concept during ATM-X Phase 1 (June 2020)
Completed ATM-X Phase 1, which explored challenging airspace use cases to identify and prioritize the key technical challenges to address in Phase 2, in order to achieve a transformed national air space (September 2020)
Received approval to proceed with ATM-X Phase 2, which tackles these challenges (July 2020)
Completed Urban Air Mobility subproject's simulation activities, called "X3," to assess the prototype airspace software under three flight scenarios (December 2020),
Delivered prototype airspace software to the Advanced Air Mobility Project in support of the National Campaign Developmental Test (January 2021)
The Extensible Traffic Management subproject signed a NASA-FAA Research Transition Team Joint Management Plan to collaborate on research and deliverables for airspace traffic management for aircraft flying above 60,000 feet through September 2025 (January 2021)
The Digital Information Platform subproject released a Request for Information, receiving more than 40 responses, to facilitate partnerships to implement a prototype Digital Information Platform and services that utilize it. This will culminate in a series of collaborative demonstrations beginning in late 2022 (April 2021)
The Pathfinding for Airspace with Autonomous Vehicles subproject will conduct its first simulation, focusing on separation assurance – or making sure aircraft maintain safe distances from other aircraft in the area. This is one of the key barriers identified toward achieving routine access for UAS into the airspace system (September 2021)
The Urban Air Mobility Airspace Management subproject's simulation activities, called "X4," will advance the technology and test new information-sharing requirements – amongst service providers, and between providers and air traffic controllers – to enable safe, efficient urban air mobility operations while staying aware of increasing demands on the airspace. (August-September 2021). The subproject will deliver enhanced software to Advanced Air Mobility Project in support of the first full-scale National Campaign test in 2022.
Collaborators:
The ATM-X project includes team members from three NASA aeronautics centers, including Ames Research Center in California's Silicon Valley; Glenn Research Center in Cleveland; and Langley Research Center in Hampton, Virginia.
ATM-X collaborates closely with sister-projects – System-Wide Safety and Airspace Technology Demonstrations – in the Airspace Operations and Safety Program, as well as Advanced Air Mobility in the Integrated Aviation Systems Program and Revolutionary Vertical Lift Technology in the Advanced Air Vehicles Program. All of these projects and programs fall under the leadership of NASA's Aeronautics Research Mission Directorate in Washington.
ATM-X partners with the FAA to develop new technologies for adoption into their future infrastructure. It also partners with industry stakeholders to collaborate on concept and technology development the community is most likely to leverage.
Learn more:
For researchers:
For news media:
Members of the news media interested in covering this topic should reach out to the Ames newsroom.