When you think about the beneficiaries of NASA Earth observations, does the Atlantic bluefin tuna (Thunnus thynnus) come to mind? It should!
To find more about NASA's connection to the ocean blue, research scientist Maury Estes embarked on a weeklong research cruise in the Gulf of Mexico to learn how fisheries experts, scientists and oceanographers use satellite-derived data in fishery field studies.
Estes is an associate program manager for ecological forecasting in the applied sciences program at NASA's headquarters. While in the field, he will serve as a member of the science team, with regular duties during 12-hour shifts to drop nets and process samples in labs. His thoughts about daily life onboard the research vessel, interviews with crewmembers, pictures and video will be posted here.
Applied Science
ROFFS
You might be wondering what in the world NASA has to do with marine fisheries. The trip is part of ongoing NASA applied science research focused on possible effects of climate change on Atlantic bluefin tuna and other highly migratory fish species in the Gulf of Mexico and surrounding waters. The goal is reliable ecological forecasts that give decision-makers access to science-based tools for understanding changes in living systems.
NOAA's National Marine Fisheries Service (NMFS) routinely uses satellite observations such as sea surface temperature, topography and ocean color in its surveys and stock assessment process for Atlantic bluefin tuna and other highly migratory fish species.
The applied research project led by Dr. Mitchell Roffer of Roffer's Ocean Fishing Forecasting Service in Melbourne, Florida, aims to enhance this innovative habitat model by applying it to possible climate change scenarios. The goal is reliable forecasting of how habitats might change over the next 100 years.
Roffer's delivers information products using NASA and NOAA satellite observations and computer models downscaled to the Gulf region to direct ships where they're most likely to find Atlantic bluefin tuna larvae.
"The purpose of this cruise is to verify our habitat models by analyzing where and under what conditions larvae are," Roffer said.
Better habitat models mean more reliable forecasting. More reliable forecasts give researchers and decision-makers better tools for understanding living systems.
Why Study Tuna?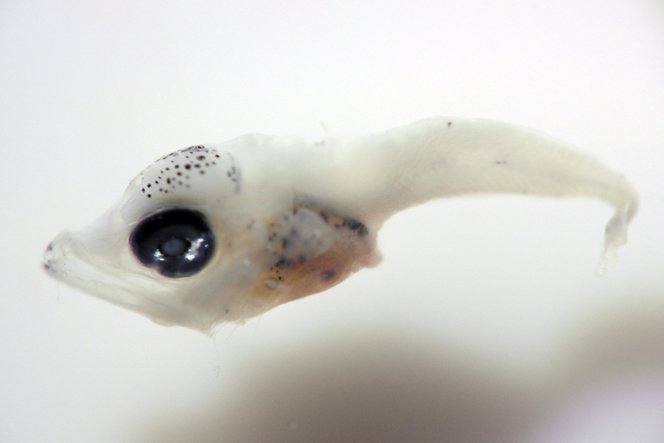 ROFFS
The Atlantic bluefin tuna is one of the largest and most valuable fish in the sea. The species is important to commercial and recreational fisheries in the United States and abroad. The species is slow growing with a long life expectancy, making it susceptible to overfishing. Populations of Atlantic bluefin tuna have been declining since the 1970s, necessitating annual fishing quotas.
Despite climate variability, Dr. Roffer explained that bluefin tuna are managed largely under the assumption that ecological parameters do not change over time.
Who is Involved?
The NASA-funded "applications" research project brings together a multi-sector and multi-disciplinary research team, including government, academic and industry partners. The research team is made up of NOAA government fishery experts, managers and satellite researchers; scientists from University of Miami Cooperative Institute of Marine and Atmospheric Sciences and University of South Florida Institute for Marine Remote Sensing; and Roffers' Ocean Fishing Forecasting Service, Inc.
Bon voyage, Maury! You can follow his travelogue at the links below:
May 11, 2014
May 12, 2014
May 13, 2014
May 14, 2014
May 15, 2014
May 16, 2014
May 17, 2014
May 18, 2014
May 19, 2014
May 20, 2014
May 21, 2014
By Molly Porter
NASA's Marshall Space Flight Center
Media Contact: Janet Anderson
Marshall Space Flight Center, Huntsville, Ala.
256-544-0994, janet.l.anderson@nasa.gov