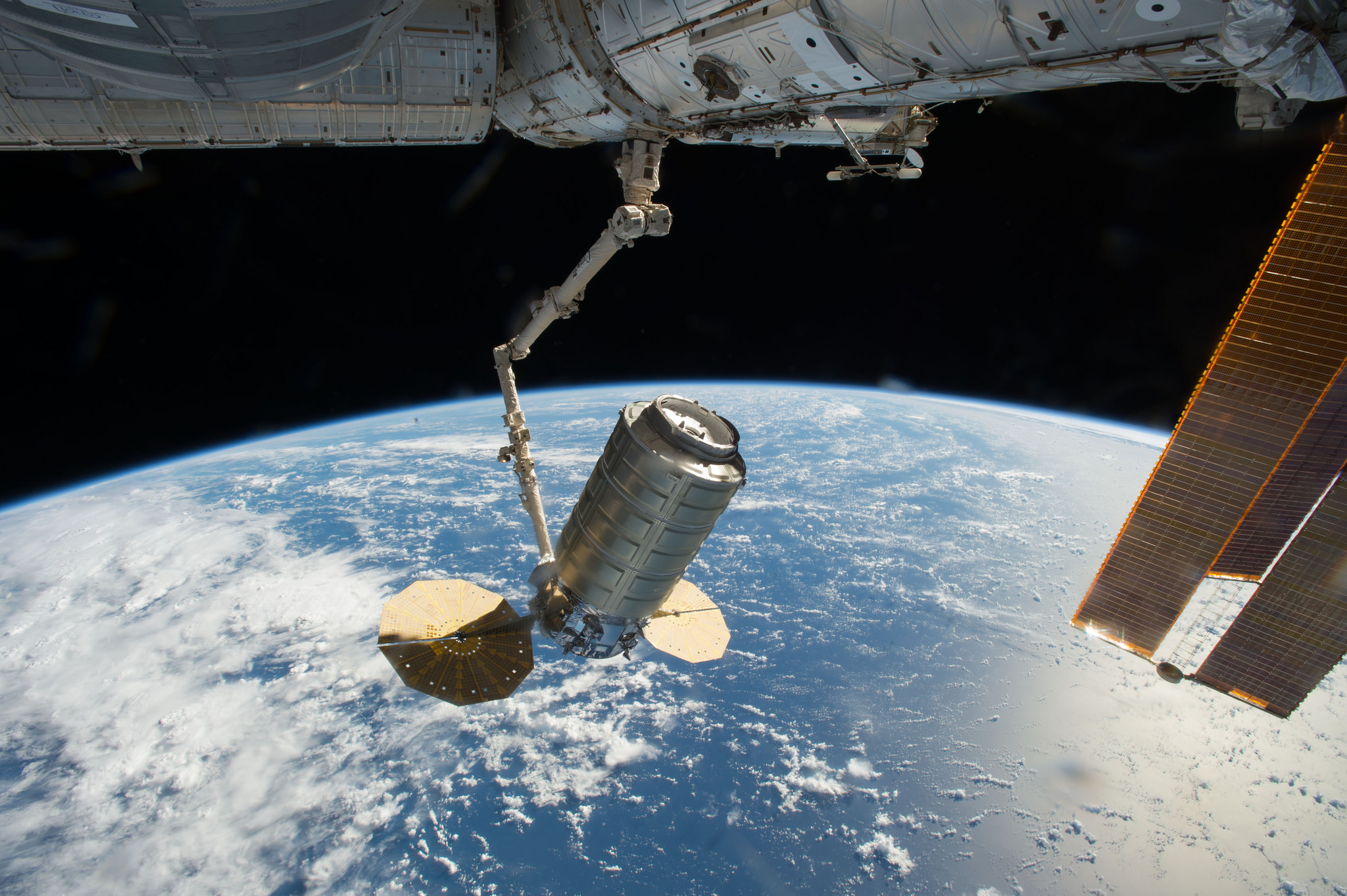 UPDATE: The post-launch press conference with mission managers now will take place at 2:30 p.m. EDT on NASA Television and the agency's website.
NASA commercial cargo provider Orbital ATK is targeting its seventh commercial resupply services mission to the International Space Station for 11:11 a.m. EDT Tuesday, April 18. Coverage of the launch begins at 10 a.m. on NASA Television and the agency's website.
Two prelaunch briefings will air the day prior to launch. At 10:30 a.m., mission managers will provide an overview and status of launch operations and at 1 p.m., scientists and researchers will discuss some of the investigations to be delivered to the station.
Dubbed S.S. John Glenn, the Cygnus spacecraft name is a tribute to the former astronaut and U.S. Senator from Ohio. It will launch on a United Launch Alliance Atlas V rocket from Space Launch Complex 41 at Cape Canaveral Air Force Station in Florida. Coverage of the spacecraft's solar array deployment will begin at 12:40 p.m. April 18, and will be followed by a 2 p.m. press conference with mission managers.
Under NASA's Commercial Resupply Services contract, Cygnus will carry more than 7,600 pounds of science research, crew supplies and hardware to the orbiting laboratory in support of the Expedition 50 and 51 crew members.
The new experiments will include an antibody investigation that could increase the effectiveness of chemotherapy drugs for cancer treatment and an advanced plant habitat for studying plant physiology and growth of fresh food in space. Another new investigation bound for the U.S. National Laboratory will look at using magnetized cells and tools to make it easier to handle cells and cultures, and improve the reproducibility of experiments. Cygnus also is carrying 38 CubeSats, including many built by university students from around the world as part of the QB50 program. The CubeSats are scheduled to deploy from either the spacecraft or space station in the coming months.
When it arrives to the space station, Expedition 51 Commander Peggy Whitson of NASA and Flight Engineer Thomas Pesquet of ESA (European Space Agency) will grapple Cygnus. Pesquet will use the space station's robotic arm, Canadarm2, to take hold of the spacecraft. After Canadarm2 captures Cygnus, ground commands will be sent for the station's arm to rotate and install it on the bottom of the station's Unity module.
Cygnus will remain on the station until July, when it will depart with several tons of trash for a fiery reentry into Earth's atmosphere. Prior to re-entry, a third experiment will be conducted to study how fire burns in space.
This is Orbital ATK's third launch from Cape Canaveral. Missions from NASA's Wallops Flight Facility in Virginia are scheduled to resume for the eighth and subsequent contracted flights.
For an updated schedule of prelaunch briefings, events and NASA TV coverage, visit:
For NASA TV downlink information, schedules and links to streaming video, visit:
Follow countdown coverage on our launch blog at:
-end-
Cheryl Warner
Headquarters, Washington
202-358-1100
cheryl.m.warner@nasa.gov
Amber Philman / Stephanie Martin
Kennedy Space Center, Fla.
321-867-2468
amber.n.philman@nasa.gov / stephanie.a.martin@nasa.gov